The bread turned out the way I remembered it. Soft. Luxuriously soft bread sticks coiled like croissants. Beautifully browned. Buttery and sweet.
The delicate grit of sugar crumbled between my teeth as I took a bite. A ridiculously huge bite, I am embarrassed to admit. I brushed the sugar off my cheeks and took another hefty helping. Before long it was gone and I helplessly craved for more. With my sugar-stained fingers I picked up another piece. This time, I promised myself to relish it and not to rush.
Spanish bread, the popular Filipino sweet bread stick typically enjoyed for breakfast or mid-day merienda, is very similar to the snail-shaped, brioche-like ensaimada but coiled in a different way. The dough is rolled into a sheet, brushed with melted butter and sprinkled with breadcrumbs and sugar, then rolled into a stout stick like a Mexican bigote (bread shaped like moustaches). Why the roll is called Spanish bread is unclear. There is nothing obviously Spanish about it. Its similarity to the Mexican pan dulce and the Spanish sugary ensaimada may very well be the reason it got its name.
I dunked my second piece in the pool of black coffee. Or was it my third? I certainly wasn't counting. Coffee sloppily dribbled down my chin but I didn't care. Instantly, I got lost in the coffee-soaked bite. I savored the butter, sugar, and coffee. Truly gratifying. There was no other place I'd rather be than in my kitchen, next to a pot of hot coffee and warm, homebaked Spanish bread.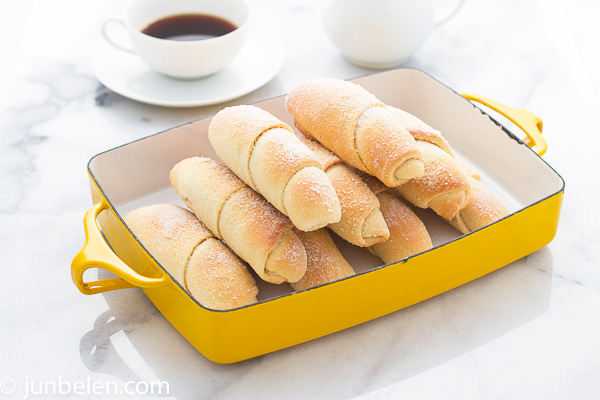 Spanish Bread Recipe
Recipe adapted from The Best of the Maya Kitchen: The Complete Guide to Baking, makes 16 rolls
For the dough

2 tsp or 1 pack instant yeast
1/4 cup tepid water
1 teaspoon sugar
3-1/2 cups all-purpose flour
1/3 cup sugar
1 teaspoon salt
1/2 cup milk
1/2 cup unsalted butter, melted
2 eggs
For the assembly

1/4 cup unsalted butter, melted
1/2 cup breadcrumbs
1/2 cup sugar
Dissolve yeast in tepid water, which is water with a temperature anywhere between 100 and 110 degrees F. To proof yeast, add 1 teaspoon sugar and let stand for 10 minutes. If the mixture doubles in volume then yeast is active.
In a large bowl, whisk together the flour, sugar and salt. Add the milk, melted butter, eggs, and yeast and combine well. On a clean surface dusted with flour, knead the mixture into a smooth elastic dough. Add more flour, if necessary.
Let the dough rest in a bowl greased lightly with canola oil. Cover the bowl with plastic wrap and let the dough rise until the size doubles, about three hours.
Divide the dough into two equal parts. Shape each part into a log and divide into eight equal parts with each piece weighing about 2-1/2 ounces. Roll each piece into a 3- by 5-inch rectangular sheet. Brush with melted butter, sprinkle with breadcrumbs and sugar, and roll the sheet like you would a jelly roll. Start from one corner and roll towards the opposite corner. Then sprinkle the rolled dough with more breadcrumbs and sugar.  Place the pieces with the seam-side down on a greased baking sheet.
Preheat the oven to 375 degrees F. Let the rolls rise for another 30 minutes. Bake until golden brown, about 15 minutes.
Spanish bread freezes very well. Toss a frozen roll in the microwave and reheat for 30 seconds.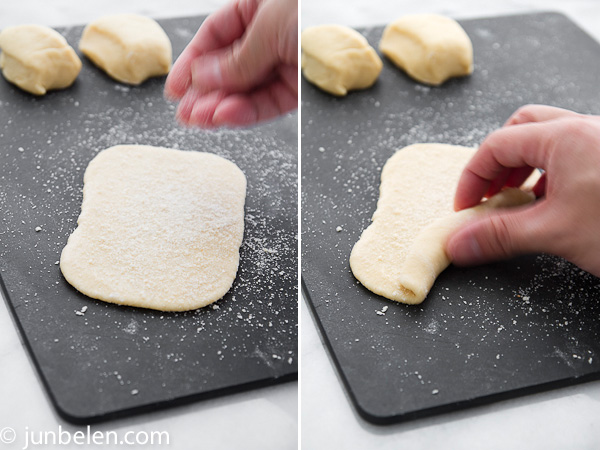 Imagine this. A soft brioche bun lavished with melted butter and a flurry of sugar. Flour, butter, sugar, yolks, and milk are blended together and formed into a deep yellow dough that's rolled and twisted into a beautiful coil, and then baked until its crust turns into a radiant hue of golden brown.
Pan de sal is the classic Filipino bread. It is actually not Spanish in origin, but Portuguese. Pan de sal means salted bread but it is actually sweeter than it is salty. It is traditionally served as a breakfast roll — buttered and dipped in coffee — but it has made its way to the dinner table.