Sprigs of wansoy [wahn-soi]. Slivers of green onions. Garlic crushed and browned. Eggs hard boiled and halved.
I arranged the garnishes neatly on the kitchen counter, next to the bowls of egg noodles. The garnishes replaced the mise en place I prepared the day before: a large yellow onion quartered, carrots, celery, and a leek cut in pieces, a pair of bay leaves, and cracked black peppercorns, which all went into a pot along with chicken bones I roasted in the oven. I simmered the bones and aromatics slowly for hours, letting the flavors meld into a delicate stock for homemade chicken mami.
Mami [mah-mee] is a dish of noodles, chicken, pork or beef, and broth. The origins of the Filipino noodle soup can be traced back to the pioneering Chinese peddlers and restaurateurs who immigrated to the Philippines. Mami is eaten any time of the day, typically paired with steamed pork buns — siopao — or steamed pork dumplings — siomai.
Because it is so simple to make, my mom always insists on making stock from scratch and using it as the base for her noodle soup. I must admit, however, that I've succumbed to the convenience of cubed broth far too many times but stock simmered slowly from bones and aromatics is unmatched. And it's all about the garnish, my mom has taught me. Always with hard boiled eggs. With garlic and green onions, of course. And with fragrant leaves of cilantro, which Filipinos call wansoy.
I ladled the steaming stock into the bowls. I had a whiff of wansoy before I laid the leaves on the bed of noodles. Its strong, heady scent wetted my appetite. I could have a bowl of hot noodle soup everyday, I thought. What could be more simple and more satisfying? Nothing, in my book. Nothing, indeed.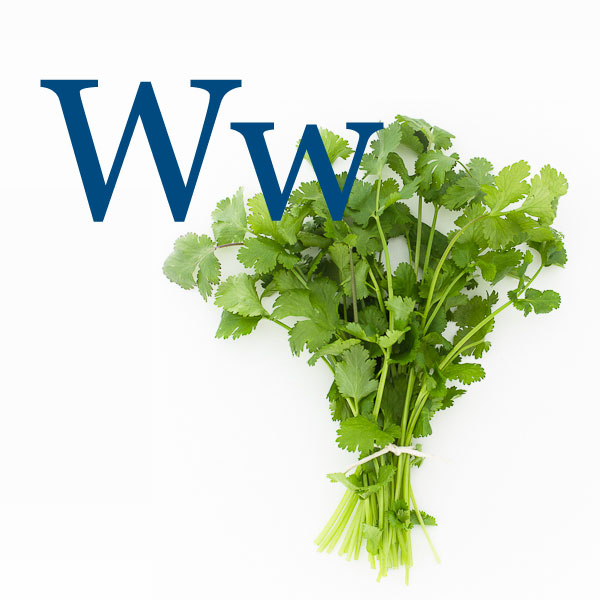 Chicken Stock Recipe, makes 3 quarts
4 pounds chicken bones, necks, backs, wings, and legs
1 large onion, quartered
2 large carrots, peeled and quartered
4 celery ribs, quartered
1 large leek, white part only and halved lengthwise
2 bay leaves
12 black peppercorns, cracked
Preheat oven to 400 degrees F. Cut big bones like backs into smaller pieces and place them on a baking pan. Roast chicken bones in the oven until browned, about 30 minutes.
Put roasted bones and fat in a stockpot. Add onion, carrots, celery, leek, bay leaves, and black peppercorns. Add water, enough to just cover the bones and aromatics, about 3 quarts. Bring to boil, reduce heat and let it simmer gently. Skim the scum from the stock with a spoon occasionally. Simmer for 3 to 4 hours. The longer you simmer, the richer the stock becomes.
Strain stock through a fine mesh strainer into another large stockpot or large bowl. Discard bones and aromatics. Let the stock cool. Cover and refrigerate overnight. Remove solidified fat from surface of stock. Store in containers with lids or ziploc bags in refrigerator for a few days or in freezer for a few months.
Before using as a base for soups and sauces, bring to boil for a few minutes.
Chicken Mami Recipe, makes six servings
1 15-ounce package fresh egg noodles
6 to 8 cups homemade chicken stock
1/2 pound boneless chicken breast
2 tablespoons soy sauce
salt and freshly ground black pepper to taste
3 large eggs, hard boiled and halved
6 cloves garlic, crushed and fried
2 stalks spring onions, green and white parts chopped
1 small bunch of wansoy
Cook egg noodles according to package instructions. Dried noodles can be used in place of fresh noodles. Drain and divide equally into six bowls.
Bring homemade chicken stock to boil in a stockpot. Add chicken breast and boil until cooked through. Drain chicken breast, shred with a fork, and divide equally into the bowls of noodles.
Add soy sauce to stock. Season with salt and freshly ground black pepper to taste. Bring to boil for a few minutes. Ladle stock into the bowls of noodles. Garnish with hard boiled eggs, fried garlic, green onions, and wansoy.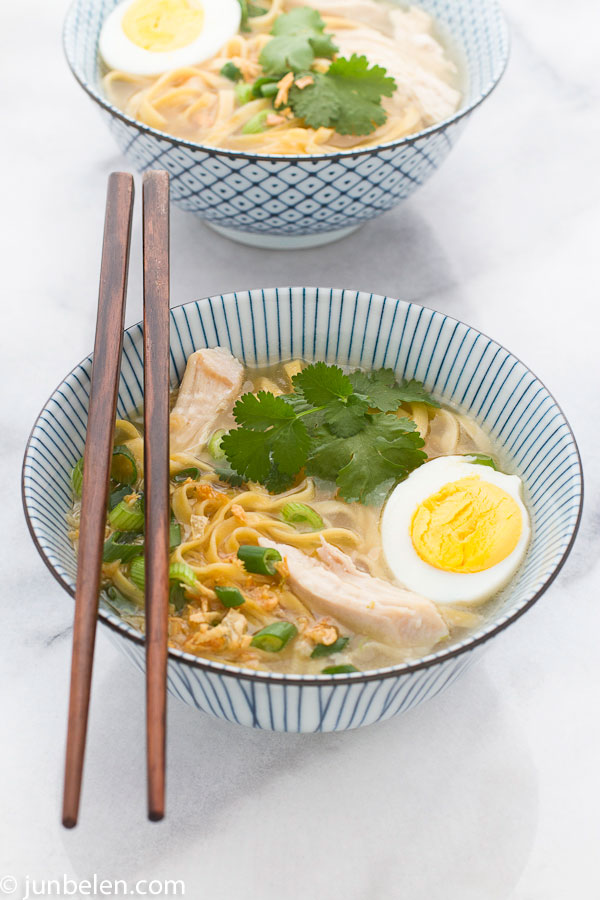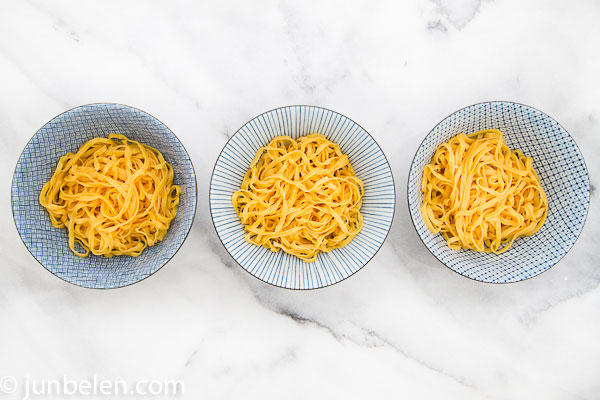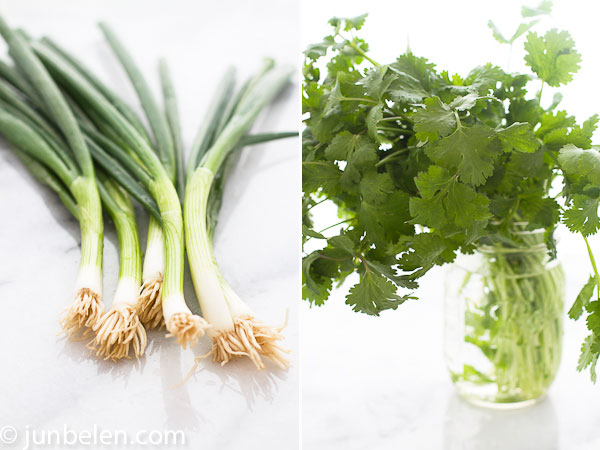 Learn the alphabet of Filipino food through our glossary. So much is lost in translation, I know, but I hope this glossary will help those unfamiliar with Filipino food become more informed.
A is for Achuete
B is for Barako Coffee
C is for Camarón
D is for Dinuguan
E is for Ensaimada
F is for Fish Balls
G is for Gata
H is for Himagas
I is for Itlog na Maalat
J is for Jackfruit
K is for Kamayan
L is for Longganisa
M is for Mani
N is for Noche Buena
O is for Omelet
P is for Pancit Palabok
Q is for Queso
R is for Relleno
S is for Sawsawan
T is for Tutong
U is for Ube
V is for Visayas
W is for Wansoy