My dad was far from romantic. I can count with the fingers of my hand the number of times I remember him showing affection to my mom in front of me and my sisters. My mom would tell stories about how he wooed her back in the day with occasional carry-outs of mami [mah-mee] noodles and siopao [shoh-pou] — two of her favorite things — but he never brought her flowers, never gave her gifts.
He never took me out to dinner, my mom would sometimes say. Fondly, of course. Without a trace of regret. He never took me out to the movies, she would add — which was true. She loved the movies but the only time my dad took her for a movie date, as far as I can remember, was when they went out to see John Travolta in Saturday Night Fever. They brought me along that fateful night that's why I remember it so well. I was five or so back then and smitten by Tony Manero's moves. The disco drama was the very first film I saw and, because of it, I had dreams of cleft chins and mirror balls in my sleep for weeks.
He may not have wined and dined her and may not have showered her with I love you's — as far as I can tell — but my mom didn't love my dad any less. They didn't love each other any less. Theirs wasn't the perfect partnership but they stuck it out together for better and for worse. For richer and for poorer. In sickness and in health. Fifty one years. They stayed together fifty one years until death did them part.
Every now and then I ask myself if I tell Dennis I love him enough or if I tell him I love him too often. Too often that the words begin to lose their meaning, their power. Ours isn't a perfect partnership, too — is there even such a thing? We've been together six years now and, as the years go by, I hope without ceasing that we can have what my mom and dad had. For as long as we can have it.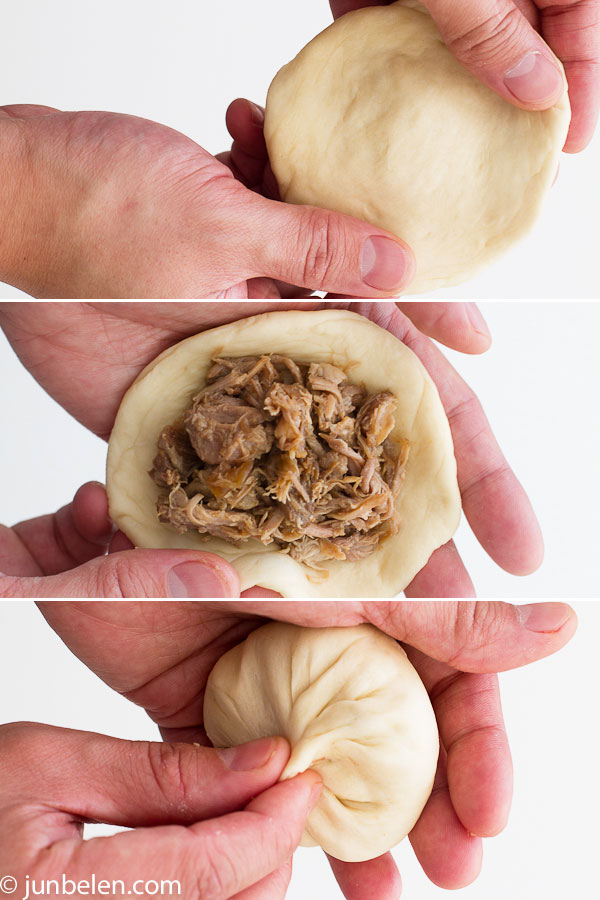 Siopao is steamed pork buns. It is the Filipino version of the Cantonese char siu bao [chahr shoo bou], which is a bun — bao — filled with barbecued pork — char siu — either steamed or baked. Filipinos typically fill their siopao with pork, too, which can be pot-roasted — asado [ah-sah-doh] or ground and shaped like meatballs — bola-bola [boh-lah boh-lah]. Paired with a steaming bowl of mami noodles, siopao is a popular Filipino merienda.
Pork Asado Siopao Recipe, makes 12 buns
Recipe adapted from Nora Daza's Let's Cook with Nora and Andrea Nguyen's Asian Dumplings
For the filling
3/4 pound pork butt or shoulder, cut into large cubes
1 medium onion, quartered
1/2 cup water
1/4 cup soy sauce
1 tablespoon brown sugar
1 tablespoon oyster sauce
1 star anise
1 teaspoon all purpose flour dissolved in 1 tablespoon water
For the dough
1 package active or instant yeast, about 2-1/4 teaspoon
1 cup lukewarm water
2 tablespoons canola oil, more for greasing a large bowl
3 cups all purpose flour
2 tablespoons sugar
2 teaspoons baking powder
Put pork, onions, water, soy sauce, brown sugar, oyster sauce, star anise in a saucepan and cook over low heat until meat is fork tender, over an hour. Drain pork but do not discard the sauce. Shred pork with a fork and set aside. Thicken sauce by whisking in flour and water over medium heat. Whisk sauce until thickened, about one to two minutes. Set aside asado sauce.
Put yeast in a small bowl and add water. Stir to dissolve the yeast. Add oil and stir together. Set aside. Whisk flour, sugar, and baking powder together in a large bowl. Add yeast while slowly stirring until a ragged but soft dough forms. Pat the dough together into a ball with your fingers, transfer to a clean work surface and knead until the dough becomes smooth and slightly elastic, about five minutes. Test the dough if it is done by pressing your finger into it. The dough should spring back with a slight indentation remaining.
Grease a large bowl with canola oil. Place the dough in the bowl, cover the bowl with plastic wrap, put it in a warm, draft-free place such as an oven and let it sit until the dough has nearly doubled, about 1 to 2 hours. You can make the dough in advance but make sure to cover the bowl well with plastic wrap and refrigerate. Let the dough sit at room temperature before rolling it.
Divide dough in half and roll into a log. Divide log into six pieces, about 2-1/2 ounces each piece. Roll each piece of dough into a ball and flatten gently in between your palms. With your fingers, gently shape the dough into a disc — the size of your palm — with a small bulge at the center, which the Chinese calls the belly.
Place a generous tablespoon of pork filling in the center of the dough, right on its belly. Gently tug the edges of the dough toward the center to wrap the filling. Gather the edges together and pinch the top to fully wrap the filling. Lay filled bun on a tray and cover with a towel. Continue shaping and filling the rest of the dough. Set aside filled buns to rise for about half an hour before steaming.
Cut 2-inch square pieces of parchment paper and use these to line the bottom of each bun during steaming. Make sure that there's an inch space between buns inside the steamer. Steam buns until done, about 15 to 20 minutes. Serve with asado sauce.
Buns can be steamed then frozen in ziploc bags. Reheat using a microwave or steamer.