Remember sandwich spreads?
For those of you who don't or, better yet, for those of you who don't have the slightest idea what I'm talking about, sandwich spread is mayonnaise whipped with tangy pickle relish. It's a Filipino favorite that can jazz up any mundane sandwich and give it the oomph it so rightfully deserves.   I grew up with sandwich spread but — my apologies to the sandwich-spread-loving community — absolutely hated it.
I can trace my aversion for sandwich spread back to my aversion for vinegar when I was a kid.  I say "when I was a kid" because I no longer loathe vinegar. I am happy to report that I triumphantly overcame my aversion for vinegar and everything vinegary at some point in my adult life (which I will recount soon.) I detested the smell of vinegar, more than anything. It was piercing and pungent and I simply couldn't stand it. I didn't care for vinegar and I didn't care for relish-laden sandwich spread, too.
So you can probably imagine, you sandwich-spread-ophiles, that my sandwiches were plain and boring. Judge all you want but while I was growing up, fried Spam or fried tocino in between slices of fluffy white bread or pan de sal was perfect and needed nothing more. And so, today I pay tribute to the sandwich of my childhood but with a tad more sophistication: homemade pork tocino in buttery brioche buns with homemade pickled carrots. See, I love pickled stuff now.
Pork tocino is incredibly simple to make at home. It's pork butt, sugar, salt, and red beet powder for color. Here is a recipe on how to make pork tocino at home. Pickled carrots are so simple to make as well. Thomas Keller's basic pickling liquid recipe from his Ad Hoc at Home is great for pickling vegetables like baby carrots, which go wonderfully well with the sweet pork tocino sandwiches. Think atchara, pickled green papaya and mango. Inuyaki makes pork tocino sliders with pickled mangoes, reminiscent of the sandwiches from New York City's Purple Yam.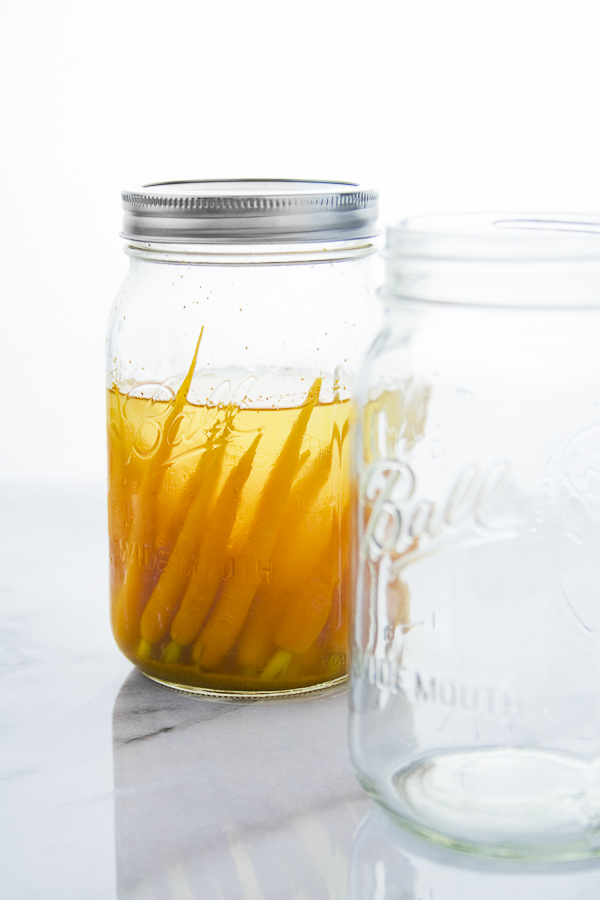 Pickled Carrots Recipe, makes about 2 cups
Recipe by Thomas Keller from Ad Hoc at Home
10 medium carrots or 20 baby carrots, peeled
1/2 teaspoon yellow curry powder or madras curry powder
1/4 jalapeño, seeded
1 cup champagne vinegar
1/2 cup granulated sugar
1/2 cup water
Cut medium carrots on the diagonal into 2-inch sections and then cut the sections lengthwise in half (or into quarters at the thicker end). Trim the green tops of baby carrots to about 1/4 inch and cut the carrots lengthwise in half.
Put the curry powder in a medium sauce pan and heat over medium heat, stirring constantly, for 1 to 1-1/2 minutes or until fragrant. be careful — the curry can burn easily.
Add the carrots, jalapeño, and pickling liquid: champagne vinegar, sugar and water, to the curry, bring to a simmer, stirring from time to time to dissolve the sugar, and simmer for 2 minutes. Pour into a container and let the carrots cool in the liquid, then cover, and refrigerate for up to one month.