Two old cranes loom large over the Dogpatch. You simply can't miss them.
I actually think these old cranes are very cool.  Well, I think the Dogpatch is very cool.  It is a bit rough but, definitely, in a good way.  Old Victorians and old industrial and commercial buildings that survived the 1906 fire and earthquake mixed with new and modern loft apartments and cool cafes and restaurants give this tiny nine-block neighborhood a really interesting character and charm.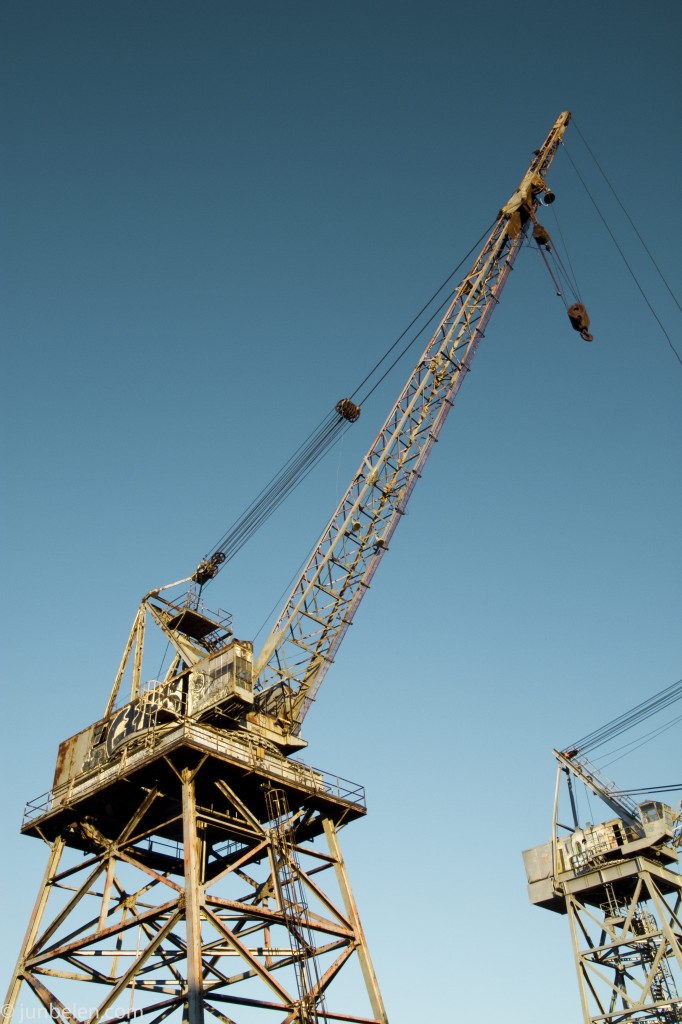 The Dogpatch is an enclave of industrial worker's housing in the once-booming San Francisco Central Waterfront district.  The city recognized it as a Historic District in 2003.  It still feels industrial but it also feels neighborly.  It was recently hailed as one of America's best neighborhoods by Men's Journal and recently featured in the New York Times.
I love its dog-friendly Esprit Park surrounded by quiet streets where dogs can run and play.  I love its 260 sunny days in a year, on average.  And I love its burgeoning dining scene. Fried eggs and cornbread with strawberry jam for breakfast at Just for You.  House-smoked pastrami sandwich with bacon snickerdoodle for lunch at Kitchenette.  A cup of Blue Bottle Coffee at Piccino Coffee Bar.  A bottle of Malbec with cheese and olives at Yield Wine Bar.  And a plateful of fried chicken with red beans and rice and yams for dinner at Hard Knox Cafe.
And if you're feeling a bit more adventurous, the equally cool 18th Street in Potrero Hill is just a quick brisk walk away. Hop on the T to get to downtown or on the 22 to get to the Mission. The choices are endless.
Here is a link to read more about the story behind the city's working class historic district.  It is a great resource about the history and architecture of the Dogpatch.  And here are more information about the restaurants mentioned in this blog.
Just For You Cafe
732 22nd
415.647.3033
Kitchenette SF
958 Illinois
Twitter, @kitchenettesf
Piccino Coffee Bar
801 22nd
415.824.4224
Yield Wine Bar
2490 3rd
415.401.8984
Hard Knox Cafe
2526 3rd
415.648.3770