Nopalito in NoPa is a bit of a trek from the Dogpatch. So whenever we have an unyielding craving for carnitas we make it ourselves with this really simple recipe. It's really simple but it takes quite a bit of time, after all carnitas is slowly braised pork. We like to use pork loin, a leaner cut of meat, bring the tasty fat back in with bacon (anything tastes better with bacon), and then balance the flavor with freshly squeezed orange juice.
Our version of carnitas was actually inspired by my mom's adobo. Dennis fondly calls it cardobo — carnitas plus adobo. For those not quite familiar with Filipino adobo, it's slow-cooked, pickled meat in spices and vinegar. The inspiration does not come from the flavor but comes from the way my mom makes chicken and pork adobo. She slowly cooks the meat in vinegar and water, boils away the liquid and gently fries the meat until they are nicely browned and sometimes, crispy. Perfect with a big heap of steaming hot rice.
Carnitas Recipe

1-1/2 lbs pork loin
2 strips smoked thick-cut bacon
1 large orange, or 1/3 cup fresh orange juice
2 tsp Kosher salt
1/2 tsp garlic powder
1/8 tsp onion powder
freshly ground black pepper
Cut the pork loin into 1- to 2-inch pieces. Place the meat in a large pot, large enough so that the pork pieces rest in a single layer at the bottom. Add water to just cover the meat. Cut the bacon widthwise into 1/2-inch strips. Add the bacon, freshly squeezed orange juice, Kosher salt, garlic powder, onion powder, and black pepper.
Bring to a boil, reduce the heat immediately to a simmer, cover the pot, and cook gently until tender for about 2 hours. Remove the cover, turn up the heat to medium, and allow the liquid to boil away. Once the liquid is boiled away, turn down the heat, and fry the meat gently until they are nicely browned. If you prefer big chunks of meat leave the pieces as they are but if you prefer them shredded then break them up using a wooden spoon. Since pork loin is a leaner cut of meat, we like to stir in all the caramelized goodness and fat with the meat before removing the meat from the pot. Taste a piece and season with salt and pepper if needed.
Serve these tasty carnitas on warm corn tortillas, either by themselves or with rice and beans. Garnish with chopped onions, chopped cilantro, a slice of avocado, and a spritz of lime.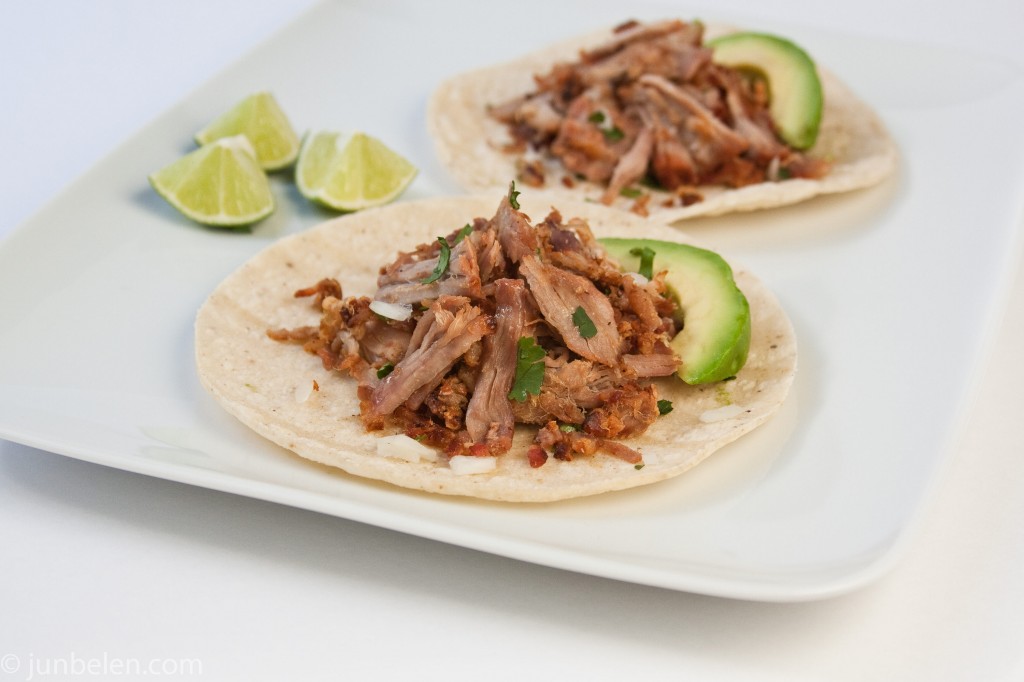 Make a quick and simple pico de gallo by chopping some tomatoes, onions, cilantro, and jalapeños; mixing them all together and adding some lime juice. Top your carnitas with pico de gallo and add a generous heap of easy homemade guacamole made from fresh avocados, chopped onions, chopped cilantro, cayenne powder, lime juice, and salt. So tasty.