In 2006, I ran my very first marathon.  Twenty six miles in four hours and thirty seven minutes.  It was in San Francisco, up and down its daunting hills, across its picturesque landscape. It was a feat so unthinkable for someone like me who was so unathletic.  It took a lot of courage and a lot of hard work.  Early morning runs.  Weekend trainings.  Blistered toes and shin splints.  Sore legs and numb feet.  But I did it.  I pushed myself and did something I thought I could never do.
Running not only keeps me in shape but it clears my mind more than anything else.  It untangles the clutter.  A quick three-mile run makes all the difference whenever I feel I have hit a wall or I am desperately lost.  Running calms me down and keeps me in focus.  Whenever I run, it's just me, my rhythm, and my thoughts without any distractions.  I got so hooked on long-distance running after my first race that I promised myself I would run at least one race every year, either half or full, for as long as my knees could take the pounding.
Lately, however, I seem to have lost the fire for running.  I blame it on so many things, like the stubborn holiday weight that has unwelcomely overstayed.   And then there's the sad fact that there are simply not enough hours in the day to do everything I need and wish to do.  Running always gets banished to the end of my long laundry list of tasks everyday.  Running is a big question mark that's there each and every day, Canadian marathon runner Peter Maher says.  It asks you, 'Are you going to be a wimp or are you going to be strong today?' Sadly, I've been wimping out.
Last weekend, I faced the same haunting question yet again.  It was the weekend of the San Francisco Marathon.  I signed up for the half marathon in January, back when I still had lofty running goals for the New Year.  I had been vacillating between running the race and copping out.  Should I run or shouldn't I?  It would be my sixth straight race in the city if I did choose to run.  Was I going to be a wimp or was I going to be strong?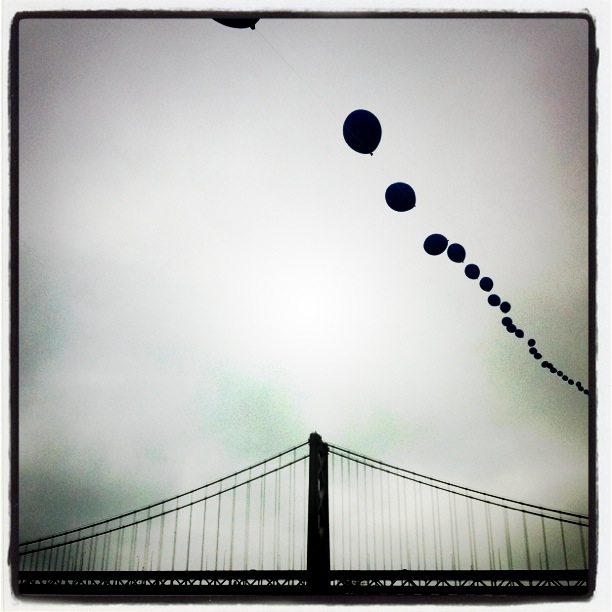 So there I was at Golden Gate Park on a typical gray San Francisco morning.  I anxiously lined up next to thousands of other runners, young and old alike, and waited for my wave to run.  I had an awkward start but eventually found my rhythm.  In long-distance running, it's all about keeping pace.
Everything around me felt familiar.  The Eucalyptus trees in the Park.  The rolling hills in the Haight.  The old cranes in the Dogpatch.  The orange cones and the cheering crowds that lined the course.  I counted down the miles one by one.  The last mile felt longest, as always.  Before long, the festive string of blue balloons at the finish line along the Embarcadero greeted me for the sixth time.  I never felt so welcomed.  I never felt so strong.
Pancakes are our tradition after finishing a race.  For this year's celebratory cakes, Dennis made Cook's Illustrated's Lemon Blueberry Cornmeal Pancakes but instead of lemons he used the last batch of calamansi from our garden.   Souring the milk with calamansi or lemon adds a wonderful layer of flavor to the corncakes.  Buttermilk can also be used in place of milk and citrus.  When fresh blueberries are not in season, Cook's Illustrated suggests using frozen blueberries.  Rinse the frozen berries under cool water in a strainer until the water runs clear, then spread them on a plate lined with a paper towel to dry so that they do not bleed when cooked in the cakes.  The color and texture of these pancakes are simply brilliant.  Make sure you indulge in plenty of butter.  But remember, if you don't wimp out in butter, you shouldn't wimp out in burning them off either!
Calamansi Cornmeal Blueberry Pancakes Recipe
Recipe adapted from Cook's Illustrated, makes sixteen 4-inch pancakes, 4 to 6 servings
1 tablespoon calamansi juice
2 cups milk
1 teaspoon grated calamansi zest
1 cup unbleached all-purpose flour
1 1/2 cups yellow cornmeal (preferably stone ground)
2 tablespoons granulated sugar
2 teaspoons baking powder
1/2 teaspoon baking soda
1/2 teaspoon salt
1 large egg
3 tablespoons unsalted butter, melted and cooled slightly
2 teaspoons vegetable oil
1 cup fresh blueberries or frozen blueberries, rinsed and dried
In medium bowl or large measuring cup, whisk together calamansi juice, milk and zest. Set aside to thicken while preparing other ingredients. In medium bowl, whisk together flour, cornmeal, sugar, baking powder, baking soda and salt. Whisk egg and melted butter into milk mixture until combined. Make well in center of dry ingredients in bowl. Add milk mixture. Whisk very gently until just combined. A few lumps should remain. Do not overmix.
Heat 12-inch nonstick skillet over medium heat for 3 to 5 minutes. Add 1 teaspoon oil. Brush to coat skillet bottom evenly. Pour 1/4 cup batter onto 3 spots on skillet. Sprinkle 1 tablespoon blueberries over each pancake. Cook pancakes for 1 1/2 to 2 minutes or until large bubbles begin to appear. Using thin, wide spatula, flip pancakes. Cook for 1 to 1 1/2 minutes or until golden brown on second side. Serve immediately. Repeat with remaining batter, using remaining vegetable oil only if necessary.