I could hear nothing but the clinking of the spoon against the glass. The sound filled the kitchen as much as the heat of the afternoon did. A strength-sapping kind of heat. I stirred in a spoonful of sugar then added cubes of ice. The clinking continued. Spoon against the ice. Ice against the glass.
The scent of calamansi wafted across the room. Its sweet scent swelled from the paring knife I used to slice them, from the tines of the fork I used to strain their little seeds.
It was maddeningly hot outside and my mind was fixed on one thing. The scent and taste of my beloved limes are tied to memories of summers back home. Relief always came in a cold glass of calamansi juice. Sweetened with sugar and chilled with ice, it gives guaranteed relief from the heat and from the waves of nostalgia, too.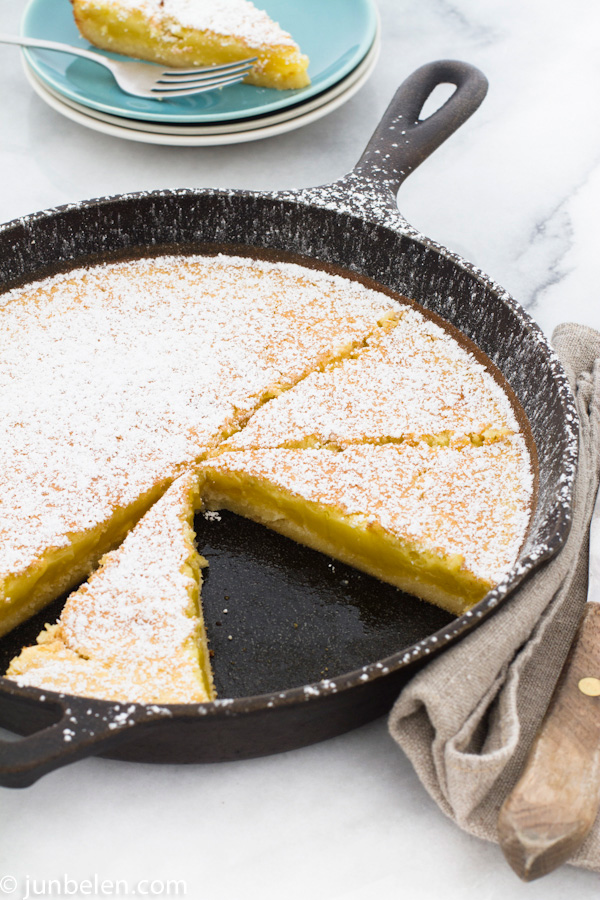 Skillet Calamansi Bars
Recipe Adapted from Ina Garten's Lemon Bar Recipe
For the crust
1/4 pound unsalted butter, at room temperature
1/4 cup sugar
1 cup flour
pinch of kosher salt
For the filling
3 large eggs at room temperature
1-1/2 cups granulated sugar
1/2 cup freshly squeezed calamansi juice
1/2 cup flour
powdered sugar for dusting
Preheat the oven to 350 degrees F.
Cream butter and sugar until light. Add flour, salt, and butter. Mix until just combined. Place the dough in a 9-inch skillet or round baking pan. Press the dough into the skillet, building up a 1/2-inch edge on all sides. Chill.
Bake the crust for 15 to 20 minutes, until very lightly browned. Let cool on a wire rack. Leave the oven on.
Whisk together the eggs, sugar, calamansi juice, and flour. Pour over the crust and bake for 30 to 35 minutes, until the filling is set. Let cool to room temperature. Dust with powdered sugar.
Get your calamansi fix with these citrus bars a la Ina Garten. Calamansi custard on top of buttery shortbread crust. You can double the recipe then use a 9 by 13 by 2-inch baking sheet instead of a skillet.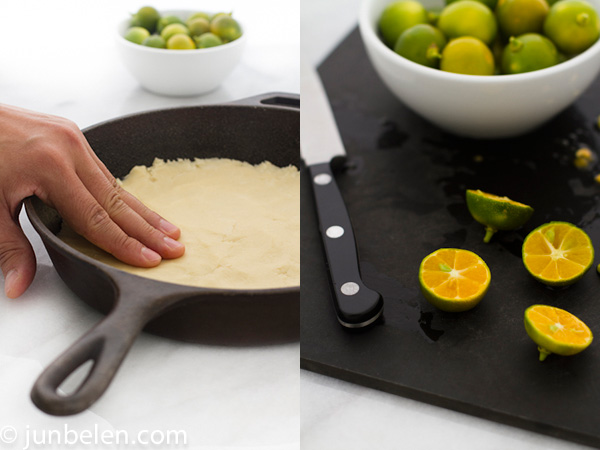 More Calamansi Recipes
I savored the spoonful. The tang. The sweetness. These beguiling, little limes never fail to refresh. Calamansi has this remarkable effect on me. When I was little, my mom used to fix me a glass of freshly squeezed juice every morning. She sweetened it with sugar and chilled it with ice cubes that clinked every time she stirred the juice with a spoon.
With one snip a pair of plump pods fell into my bowl. They were as round and as long as my ring finger. Skins were spotless. Unblemished. The sugar snap peas that we planted from seeds in February had grown heftily into a bush in the garden. It was heavy with fruit, standing just over two feet tall with a little help from a pair of stakes that we crisscrossed and tied together loosely.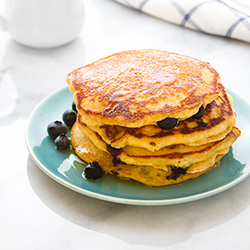 Calamansi Blueberry Cornmeal Pancakes
In 2006, I ran my very first marathon. Twenty six miles in four hours and thirty seven minutes. It was in San Francisco, up and down its daunting hills, across its picturesque landscape. It was a feat so unthinkable for someone like me who was so unathletic. It took a lot of courage and a lot of hard work.