Where can you find the best cornbread in the city?  Just for You Cafe in the Dogpatch.
Just for You is the place-to-be for tasty big breakfasts: fried eggs, ham, home fries and their freshly baked cornbread.  I love my cornbread sweet rather than savory, but not too sweet and I love it moist with a little bit of gritty texture.  Just for You's has all these wonderful elements.  Enjoy it with a generous spread of butter or with their sweet strawberry jam.  The corncakes are equally good, too.  They have that melt-in-your-mouth, buttery and gritty goodness that I love.  And a visit to Just for You is never complete without indulging in their puffy beignets.  So delightful.
Inspired by Just for You's cornbread, I ventured out, bought myself some corn meal and made my own cornbread.  And there's no better way to enjoy a warm, fresh-out-of-the-oven piece of cornbread in this cold winter than to pair it with a tasty bowl of hearty homemade chili.  For that, I solicited Dennis' help to make his mom's homemade chili, the chili he grew up with in chilly Ohio.
Homemade Cornbread Recipe

1-1/4 cup yellow corn meal
3/4 cup all-purpose flour
1/4 cup granulated sugar
1 Tbsp baking powder
1 tsp salt
1 cup fat-free milk
1/3 cup canola oil
1 large egg, lightly beaten
Preheat the oven to 400F. Grease an 8-inch square baking dish.  You can use a pyrex dish, a non-stick baking pan or you can also use a muffin pan to make corn muffins.
Combine the corn meal, flour, sugar, baking powder and salt in a bowl.  Combine the milk, oil and egg in a separate bowl. After mixing them well add the milk mixture to the flour mixture and pour into your baking dish.  Note that the original recipe called for a cup of flour to a cup of corn meal but for a grittier texture I added a 1/4 cup more corn meal and used 1/4 cup less flour in this recipe.
Bake for 20 to 25 minutes or until a knife inserted in the center comes out clean.
Mom's Homemade Chili Recipe

Chili Spices
2 Tbsp chili powder
1 tsp salt
1 tsp garlic powder or freshly minced garlic
1/2 tsp cumin (optional)
1/2 tsp ground black pepper
Great-tasting chili is very much a cook-until-the-way-you-like-it sort of comfort food.  So feel free to experiment with the spices as you wish.
1 to 1.5 lbs of extra lean ground beef
1 can black beans
1 can red kidney beans
1 large can diced tomatoes
1 small can of tomato paste
1 medium to large size onion diced
1-2 green or red bell peppers chopped
Worcestershire sauce (start with 1 Tbsp and then add more to taste)
Cooking time is 2-4 hours.  Slow cooking is best.
Brown the ground beef in a large stew pot over medium heat.  Don't thoroughly cook the meat but only up to a point when most of the fat has come out.  If you prefer a finer texture break up the ground beef completely but if you like a chunkier chili, as I do, break it up in larger bite size bits.
Extra lean beef (less than 5% fat) is recommended, which is the healthiest choice. If you do use extra lean beef there is no need to drain the fat out. Otherwise, drain the beef fat using a colander and return it to the pot. I think it's a smart idea to give up the beef fat so you can indulge in butter with your bread later!
Add the diced tomatoes, tomato paste, onions, and peppers to the browned beef and mix well.  It will be pretty thick but there is no need to add water here as there will be plenty as the vegetables continue to cook.  Add the Worcestershire sauce and chili spices and mix well.  Let this cook and come to a slow boil. Reduce the heat to a simmer.  Add the red kidney and black beans to the mix and stir well together.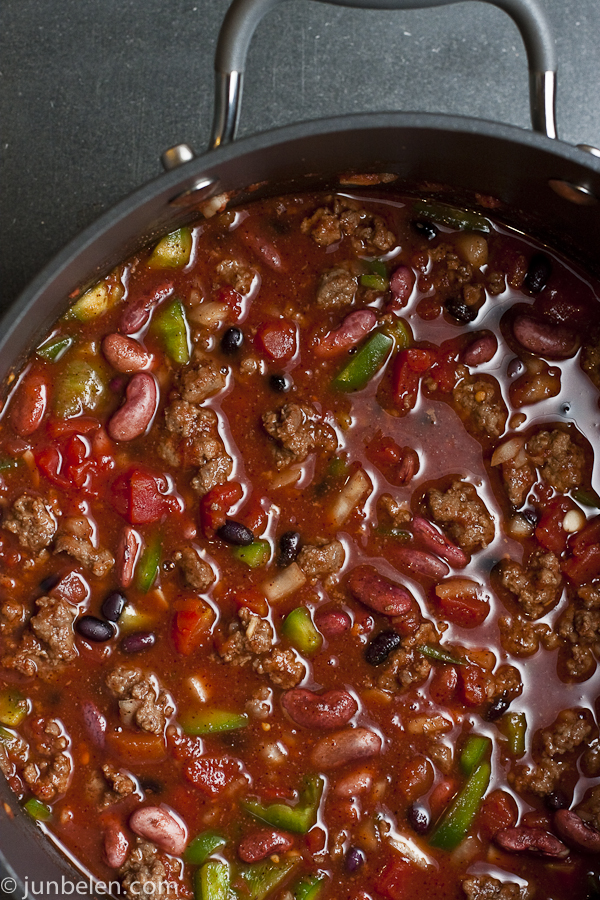 Now, here's the fun part, or well, at least Dennis thinks so.  Take a break and let it simmer for about an hour while stirring it occasionally.  Come back and taste the chili. If you think it needs a little more oomph add more Worcestershire, salt, chili powder and perhaps more garlic powder or freshly minced garlic.  Cook for another half an hour on low heat and stir well occasionally. Continue adding more salt and chili powder if you prefer but remember to stir everything well.  Let it stand for at least 15 minutes before serving.
Great-tasting chili is truly a season-to-taste slow cooked meal.  Chili powders have different levels of potency so feel free to experiment.
Enjoy a bowl of chili with a piece of warm cornbread or some saltine crackers on a chilly winter day. Some folks love red onions or grated cheddar with their chili but I love it just the way it is with some sweet cornbread.  For breakfast, scramble some eggs in butter and top it with chili and a piece of cornbread.
By the way, I don't think I have found the best chili in the city.  San Francisco doesn't really strike me as a city for chili but maybe I'm wrong. What do you think?