Food triggers memories.
Last weekend, I made my mom's pancit and while I was shredding chicken breasts after boiling them to make chicken stock, I suddenly found myself transported back to our tiny kitchen in Manila, on a hot and humid afternoon with our old avocado green electric fan in full blast.  I was doing the exact same thing. I was shredding chicken breasts, gingerly taking the skin and the bones off, and piling them neatly on a white bowl.  I was helping my mom assemble our pancit mis en place.  She was slicing carrots and green cabbage, taking the shells off the shrimp, and washing them clean.  We were making pancit for someone's birthday.  It could be one of my sisters' or it could be my dad's.  Within an hour, the rest of the family would be up from their afternoon siesta, still full from a huge lunch of lechon and sugpo, those giant prawns that I loved growing up.   Within an hour, everyone would gather around the table once more, this time for merienda of pancit and pan de sal, ube ice cream served in coffee mugs and, of course, store-bought birthday cake decorated with colorful candy flowers.  It would feel as though all we did was take naps and eat.
Eggs fried over medium, home fries, longanisa, and cornbread with butter and strawberry jam.  It was our first weekend in our new loft in the Dogpatch.  I remember being so excited about spotting Filipino breakfast sausages in the menu of  Just for You, our favorite breakfast joint a few blocks away from the loft.  Dennis tried their Huevos Rancheros.  He always orders the same thing whenever we try out a new place.    Shortly after breakfast, we took Stanford to Esprit Park to run and play, then walked back home, continued to unpack, did some laundry, and tidied up our new home.  Later that evening, I powered up my MacBook, poured myself a glass of wine, sat in the couch, and wrote my first blog post.  I wrote about how much I loved and missed San Francisco and how much I was excited to be back in the city.  That was exactly a year ago, today.
Green and white asparagus and black truffles topped with foie gras and smoked duck torchon.  It was August, over a month after we moved back to the city.  Dennis and I were celebrating three years together, one year as domestic partners.  It was the evening Dennis proposed.  It wasn't marriage, obviously, not in California.  At least, not yet.  It was a job offer.  Dennis offered me a job as a designer and photographer in his web agency.  Over braised wagyu beef cheeks and stuffed quail, with tears in my eyes and snot in my nose (it was a great thing we were in a dark candlelit corner), we drafted a plan for me to get out of my unhappy Silicon Valley life and pursue my passion a la Julia Child.  Quitting my job and switching careers would mean not being able to afford lavish French dinners again for a while.  And exotic Yucatan trips, too. But I remember feeling extremely fearless that evening.  Fearless of taking the plunge, starting over and reinventing myself.  Fearless but hopeful.
Leche flan.  Lots and lots of egg shells strewn all over the kitchen. And lots and lots of lime peels, too. I remember being so fixated about making candied lime peels as garnish for my flan. Making the flan was easy. It was making those candied lime peels that took forever.  Too bitter. Too thick.  It was getting late in the day and I was still trying to figure out the best way to shoot the damn flan. The candied lime peels looked like ugly dark green tapeworms next to that beautiful creme caramel. I couldn't make it work and I felt so defeated. I couldn't shoot it the way I composed it in my head. It was getting too late and before I completely lose all the natural light I decided to ditch those dark green ugly peels and shoot the flan by itself, in all its simple beauty. It was just the flan sitting on a pool of liquid caramelized sugar on a white plate on a shiny black plexiglass surface. The next day, the great David Lebovitz somehow found his way to my flan and posted it on his Facebook page. "I think these pictures are so simple and beautiful", he said. It was David Lebovitz! It may not seem much (I'm sure by now he has completely forgotten my simple and beautiful flan) but it did matter a lot to me, to someone scrambling for the last ounce of self-confidence left in him. It meant the world to me.
As I look back today to perhaps one of the most difficult years in my life, I look back fondly to how food was a part of it.  How food triggers so many memories, both good and bad.  For me, one of life's great pleasures is the pleasure of eating, the pleasure of enjoying food and enjoying the company I share that food with.  The pleasure of enjoying doughnuts, freshly fried.  Of enjoying sour cherries, freshly picked.  The pleasure of mixing oil and vinegar.  Of mixing soy and vinegar.  The pleasure of growing an herb garden. Of baking bread.  Of roasting chicken.  The pleasure of making and sharing a meal.  A meal that nourishes, that makes people happy.  These, for me, are life's simplest pleasures.  And to share with you the pleasures of eating through stories and photographs is the reason I write this blog, with the hope that you, too, will enjoy the same great pleasures of food.
Carrot cake. It was my birthday. My 28th. It was my first year in graduate school in Santa Barbara. At least five more years before I get my doctorate, I remembered thinking (I did it in four, by the way!) My friend Julie asked me what kind of cake I wanted for my birthday. She promised to bake everyone in our class a birthday cake and it was my turn. I said carrot cake with cream cheese frosting. I remember having two slices of her very moist, the-way-I-love-it carrot cake. I had two and I didn't care. After all, it was my birthday.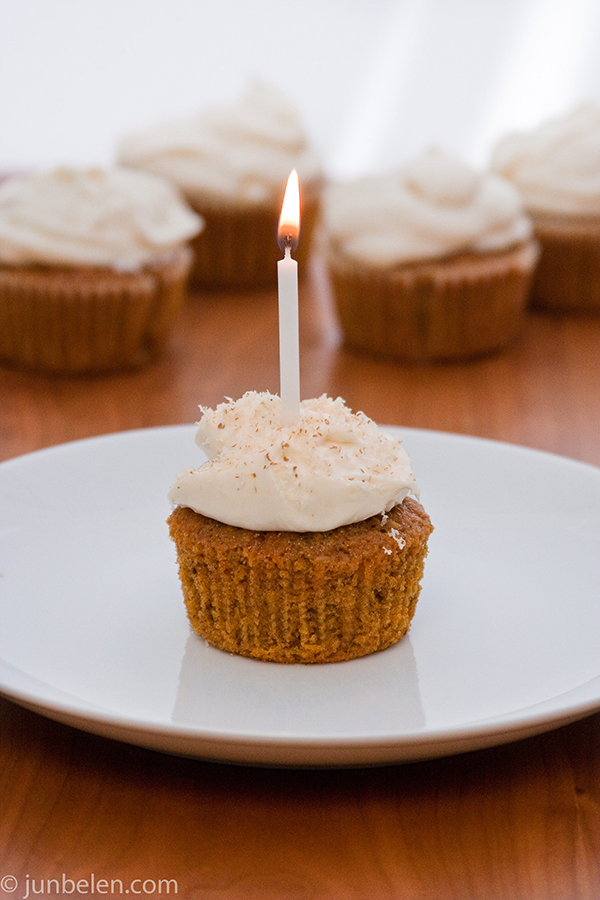 Carrot Cake Cupcakes with Cream Cheese Frosting Recipe
Thomas Keller recipe, Ad Hoc at Home, makes 24 cupcakes
For the carrot cake cupcakes
2 cups cake flour
1 tsp baking powder
1 tsp baking soda
2 tsp ground cinnamon
4 large eggs
1/4 cup whole milk
1 tsp vanilla extract
1 cup granulated sugar
1 cup packed light brown sugar
1 cup canola oil
3 cups finely shredded carrots
1-1/2 cups coarsely chopped toasted walnuts
For the cream cheese frosting, makes about 3-3/4 cups
1-1/2 pounds cream cheese, at room temperature
1/2 pound (2 sticks) unsalted butter, cut into chunks, at room temperature
1-1/2 cups powdered sugar, sifted
1 tsp vanilla extract
Preheat the oven to 350 degrees F. Line 24 cupcake cups with paper liners.
Sift together the flour, baking powder, baking soda, and cinnamon. Set aside.
In the bowl of a standard mixer fitted with the paddle, beat the eggs, milk, vanilla, and both sugars sugars until smooth. Beat in the oil. Slowly add the dry ingredients. Mix in the carrots and 1 cup of the chopped walnuts.
Divide the batter equally among the lined cupcake cups. Bake for 10 minutes. Rotate the pan and bake for another 10 minutes, or until a cake tester or a wooden skewer inserted in the center of the cupcake comes out clean. Remove the cupcakes from the tins and let cool to room temperature on a cooling rack.
Meanwhile, in the bowl of a stand mixer fitted with the paddle, beat the cream cheese at medium speed until smooth. Add the butter and mix until smooth. Beat in the powdered sugar, then add the vanilla. Scrape down the sides and beat for 30 seconds on high speed.
Spread the tops of the cupcakes with the cream cheese frosting and sprinkle with the remaining chopped walnuts.
The cupcakes are best frosted and eaten the day they are baked, but they can be refrigerated for up to two days. Bring to room temperature before serving.