Why do I love a bowl of tortilla soup?
There's plenty of reasons: the crunchy tortilla strips, the hot salty chicken soup, and the endless garnish possibilities that add texture and flavor to this wonderful comfort food.
Squeeze some lime to add a little tang.  Throw in some jicama to add a little sweetness, some radish slices to add a little crunch.  Sprinkle some chopped cilantro.  Garnish with a slice, or two, or three of fresh, heart-healthy, and tasty avocado.  Alice Waters's tortilla soup made with fresh local produce is easy to make and seriously simply delicious.
Tortilla Soup Recipe
Recipe by Alice Waters, makes 4 to 6 servings
For the tortilla strips
4 corn tortillas, cut into 1/2-inch strips
1/2 cup canola oil
For the soup
1-1/2 quarts chicken broth
1 chicken breast (with skin and bones)
2 Tbsp olive oil
1 Anaheim green pepper, seeded and thinly sliced
1/2 medium yellow onion, thinly sliced
2 garlic cloves, thinly sliced
2 large tomatoes, peeled, seeded, and diced (or 3 small canned whole tomatoes, diced with juice included)
1 dried chipotle chile, seeded
sea salt
Recommended garnishes
lime wedges
1/2 cup chopped cilantro
1/2 cup jicama, peeled and shredded
1/2 cup radish, thinly sliced
1 avocado, sliced
chopped green onion
pickled jalapeno and red onion
crumbled queso fresco or grated Monterey Jack cheese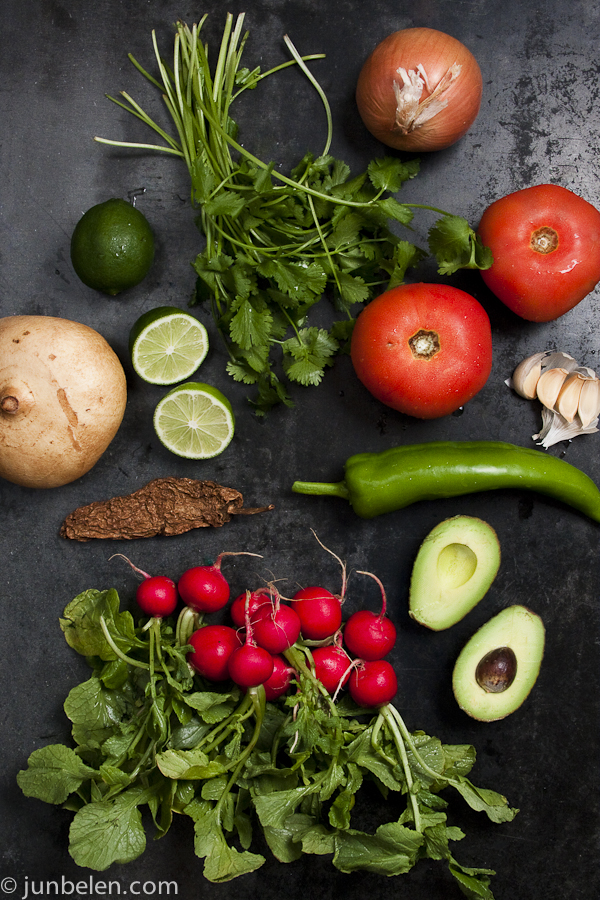 In a small heavy-bottomed pan fry the corn tortilla strips in canola oil over medium-high heat. Fry the tortilla strips in small batches until golden brown and crispy. Be careful not to burn the tortilla. Drain on paper towels and season with sea salt.
In a medium pot, heat the chicken broth to a simmer, add the chicken breast and cook at a bare simmer until the chicken is done, about 20 minutes. Turn off the heat, transfer the chicken breast to a plate and let it cool. Remove and discard the skin and bones and shred the breast meat. I like my tortilla soup a little chunky so shred the meat to your preference.
In a large heavy pot, cook the Anaheim green pepper, onion, and garlic in olive oil until soft, about 5 minutes. Season with salt. Pour in the hot chicken broth then add the tomatoes and dried chipotle chile. Bring to a boil and then turn down to a simmer and cook for 30 minutes.
Add the shredded chicken meat and heat through, but do not boil. Season with salt.  Serve the soup with crispy tortilla strips and little bowls of your favorite serve-yourself garnishes.
Waters recommends adding cooked and drained black beans and sauteed chard to make a heartier soup.
Spring is a great season to enjoy tortilla soup when sweet radishes and California avocados are in season.