I'll be a granduncle soon. Yes, you heard right. I'll be a very young granduncle soon. The news actually didn't make me feel old. Okay, maybe it did. Just a little. But it certainly felt strange to acknowledge the fact that time has slipped by so quickly. It seemed like only yesterday when everyone in the family was doting over Isabel, my niece, all dressed in yellow, her mom's favorite color. She's now all grown up with a good head on her shoulders and ready to start a family of her own.
"Isabel's due the first week of March," my mom said. "It's going to be a girl."
"Wow! You must be thrilled," I told her. "She'll be your first great granddaughter. That's a fine accomplishment!"
"I know. Time flies. I'm sure your dad would be proud of his great granddaughter, too, if he were still alive," she said with a tinge of nostalgia. "I'm sure he would," I replied, echoing her bittersweet sentiment.
I was ten when my niece was born and I remember how proud my parents were of their very first grandchild. They had always been very generous in helping take care of their grandchildren — all ten of them. My mom, who raised five daughters and a son, helped in every way she could like the time when Isabel was born. My brother-in-law was in Germany to attend graduate school and so my sister and niece had to stay with us for a while. My mom pitched in and looked after Isabel while my sister went to work. I remember looking forward to coming home from school because it meant spending the rest of the afternoon with my niece. She was like my little sister and I adored her.
Last weekend, I made my mom's pesa [peh-sà], boiled fish and vegetables in a simple ginger broth. Pesa reminds me a lot about home with my nieces and nephews. I remember sitting next to my mom in the kitchen table with my niece on her lap. We would have rice and pesa or tinola, boiled chicken soup, for dinner while we waited for my sister to come home from work. The soup has a mild ginger flavor. Water that is used to wash uncooked rice before it is steamed is used to boil the fish and vegetables. Fish sauce spiked with calamansi or miso, fermented soy bean paste, sautéed with garlic, onions and tomatoes is typically served with the soup as a dipping sauce.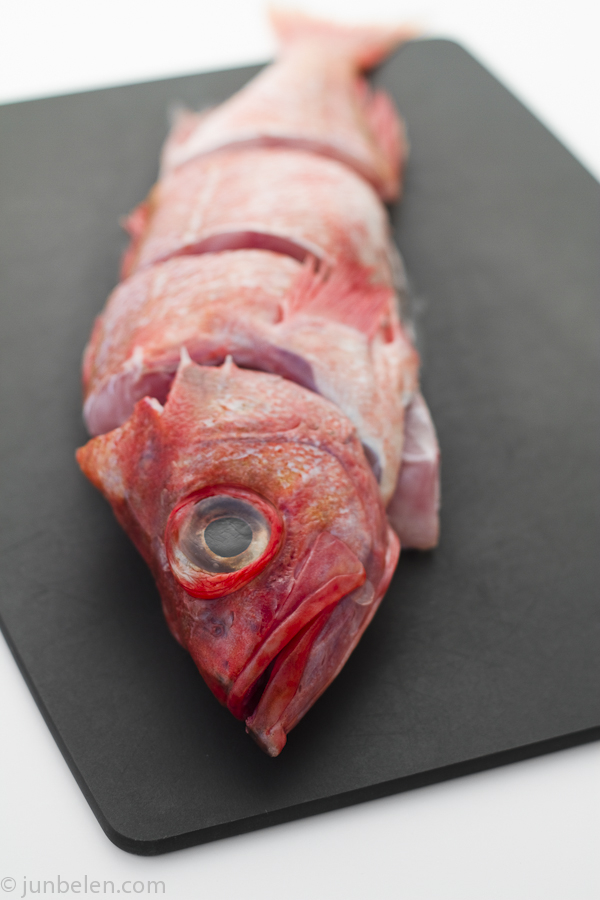 Making Pesa, Boiled Fish and Vegetables in Ginger Broth, makes 4 servings
4 to 6 cups rice-water, water used for rinsing uncooked rice
1 teaspoon salt
1/4 teaspoon whole black peppercorns
1 inch knob of ginger, around 1 tablespoon finely chopped
1 leek, cut into 1-inch pieces
1 large rockfish, 1-1/2 to 2 pounds, cleaned, scaled and cut into 3 to 4 portions
1/2 small head of cabbage, cut into 2-inch pieces
4 to 6 pieces young bok choy
fish sauce and calamansi or sautéed miso
Combine rice-water, salt, black peppercorns, ginger, and leeks in a soup pot. When the water starts to boil, add the fish and cabbage. Cover and let the fish cook through, around 5 to 7 minutes.
Add the bok choy, place the lid back, and let the vegetables cook through, around 2 minutes.
Serve with fish sauce and calamansi or sautéed miso.
Cooking Notes:
1. I used whole rockfish but my mom loves to cook with whole red snapper (maya-maya), grouper (lapu-lapu) and tilapia. Always make sure that the fish you cook with was sustainably caught. The Monterey Bay Aquarium has an excellent guide on sustainable fishing. Check the latest information from their website here.
2. Do not overcook the fish and vegetables. Young bok choy cooks very quickly. Add them towards the end and let it boil for just a few minutes.
3. The origin of the dish is Chinese. According to Filipino food writer Doreen Fernandez, the original term in Chinese is peq sa hi, which means plain boiled fish. Filipinos have extended the technique to cooking with chicken. Pesang isda is boiled fish while pesang manok is boiled chicken.
1/2 tablespoon canola oil
1 clove garlic, minced
1 small onion, chopped, around 1/3 cup
1 small tomato, chopped, around 1/3 cup
1/3 cup miso
water, optional
Sauté garlic, onions and tomato in hot oil in a pan over medium to high heat. Once onions have turned translucent, around a few minutes, add miso and sauté for a few minutes more. Add water to make the miso sauce thinner.