"It must be borne in mind that the tragedy in life doesn't lie in not reaching your goal. The tragedy lies in having no goal to reach." — Benjamin E. Mays
I knew it wasn't going to be easy. My legs burned as I dragged them out in the cold. All I could think about was my ginataang bilo-bilo [gi-nah-tah-ahng bee-lo bee-lo] waiting for me at home. Soft, chewy bilo-bilo — sticky rice dumplings — stewed with jackfruit in coconut cream. The thought of a bowl of ginataan as my reward for running on that cold morning was the only thing that kept me going.
I had been dreading running again after the long holiday break. Christmas came and went and I promised myself I'd return to my routine in the New Year. The New Year came and went and I haggled for more time but I knew I'd be digging myself deeper and deeper into a funk if I didn't bite the bullet. And besides, I need to get back in shape if I'm dead serious about running another marathon before my fortieth. Yes, I cannot believe it, too. We're both stumped. I just turned 39.
I can think of a million excuses not to pursue it. A marathon is no walk in the park. I've run three in the past and it's a huge commitment, without a doubt. Between my nine-to-five and my blog, I hardly have the time to pursue other things, let alone train for a marathon. But I am not giving up. I've made the mistake of conceding defeat without even trying far too many times. A marathon is a perfect goal to reach before I turn forty.
I ran three miles that morning. I huffed and I puffed the entire time but I pulled it off and it felt great. Running always has a calming effect on me. It clears my mind. It boosts my confidence. It was a small victory but a victory nonetheless. A hard-earned victory to boot. It made the sweet reward of ginataang bilo-bilo even sweeter.
Ginataang Bilo-Bilo Recipe, makes six servings
For the bilo-bilo, sticky rice dumplings
1-1/2 cup glutinous rice flour
3/4 cup water
For the stew
2 13.5-ounce cans coconut milk
1 cup water
1/2 cup uncooked small sago (tapioca pearls)
1/2 cup jackfruit, sliced lengthwise into strips
1/3 cup sugar
Knead the rice flour and water in a mixing bowl to make a smooth dough that holds together and separates cleanly from the bowl. With floured hands, pinch off a small piece of dough, roll into a ball like a marble roughly the size of a penny. Place the rolled dough on a plate and cover with a damp towel until they are all ready to be cooked.
Bring coconut milk and water to a boil in a large pot over medium to high heat. Add sago and simmer covered over low heat for 20 minutes. Add bilo-bilo, jackfruit, and sugar. Simmer until sago and bilo-bilo are cooked through, about 20 minutes more. Stir occasionally to keep sago and bilo-bilo from sticking to the bottom of the pot. For a thinner stew add more water and adjust the sweetness by using more or less sugar.
Ladle the stew in bowls, serve warm with more sliced jackfruit.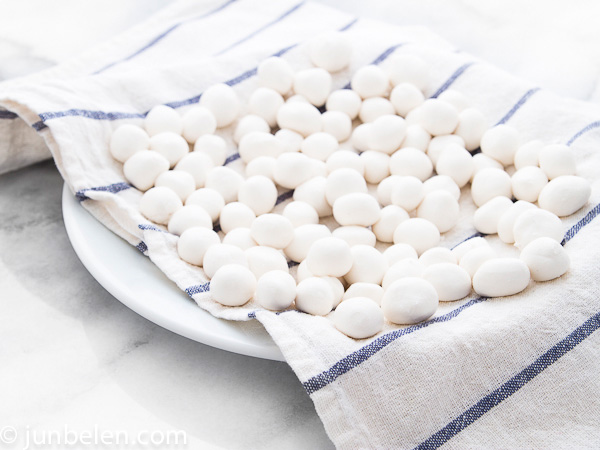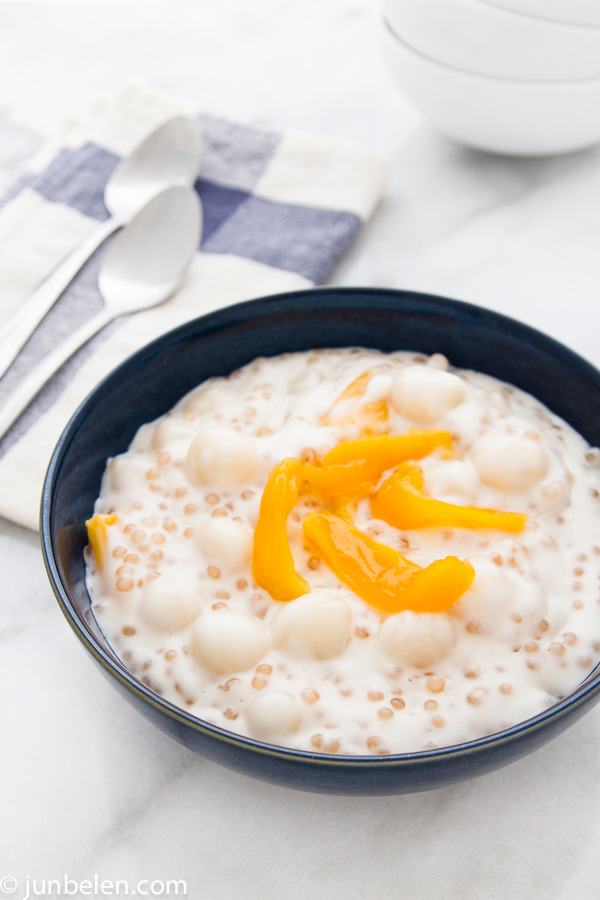 More Gata Recipes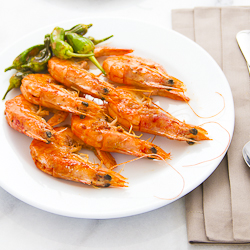 Ginataan is the general term for cooking in gata. Practically anything from fish and shellfish to chicken, pork, and vegetables can be cooked in coconut milk. The dishes are typically savory like ginataang hipon, shrimp cooked in coconut milk and flavored with funky bagoong.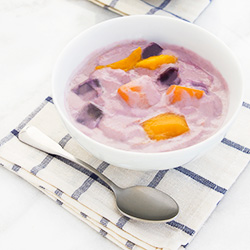 When the temperature dips, I find comfort in my mom's ginataang halo-halo. Like the Filipino favorite halo-halo, ginataang halo-halo is a veritable mix of fruits and tubers but instead of enjoying them with shaved ice and milk the mix is slowly cooked in coconut milk.