"Something came in the mail this morning." My mom greeted me with the news as she handed me a letter.  I could still remember that day, thirteen years ago.
"It's from Stanford University," my dad who was waiting next to her said excitedly.
My heart suddenly skipped a beat.  The return label read Graduate Admissions Office. "I think this is it," I told them.  It was the letter I had been anxiously anticipating all summer.
I slipped my finger through the envelope's unsealed corner and swiftly slid my finger across to tear it open. I started to take the letter out but I hesitated. "I think I'm going to my room for a moment, if you don't mind," I told them. "Of course. Take your time," my mom replied.
I flicked the light switch on and laid the letter on the desk next to my tired, bulky computer. The heat of the afternoon sun lingered in my tiny room. I wiped the sweat off my temples with my handkerchief and turned on the electric fan. A million things raced through my mind as I sat on my bed and stared at the letter. I wasn't worried about rejection. Life would go on sans Stanford education. It wouldn't be the end of the world, I convinced myself. But I yearned for change. I was clearly unhappy despite a secure job, a supportive family, and a tight-knit circle of friends. I felt trapped in some profound emptiness and I was determined that moving to California and starting over would fill that void.
I picked up the envelope, took a deep breath and read the letter.
"It looks like I'm headed to Stanford in September," I told my mom and dad as I stepped out of my room.
"That's fantastic, Jun!" I could tell that my mom was trying to hold back her tears. I showed them the letter and before long I teared up, too.
To celebrate the wonderful news, my mom made sotanghon guisado [soh-tang-hon gee-sah-doh], fried mung bean noodles. The glass noodles are boiled in chicken stock, flavored with soy sauce and fish sauce, stir fried with wood ear mushrooms and vegetables, whichever are in season, and topped with slivers of scrambled egg.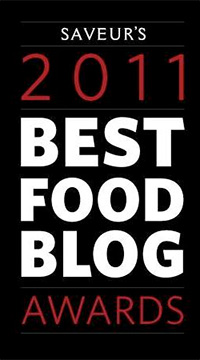 For my family, noodles are synonymous with celebrations — birthdays, anniversaries, and holidays. My mom makes pancit to celebrate even the littlest victories and achievements. Last week, I made her sotanghon guisado because there was once again reason to celebrate. My humble blog was selected as a finalist for Best Regional Cuisine by Saveur Magazine. The news was truly unexpected and I am deeply honored and thankful, beyond words. The nomination is huge for Filipino food. I am thrilled that the flavors and ingredients I grew up with and have always loved are slowly getting noticed. Thank you so much, Saveur.
And I am thankful, beyond words, to all of you dear friends, who keep coming back for the stories and recipes, and for the photographs, post after post. Our love for food and our love for the people we share that food with bind us together. This nomination is for all of you.
I invite you to visit Saveur.com to discover the impressive collection of food blogs from around the world. Winners for the Best Food Blog Awards are chosen by reader vote. You need to register to vote but signing-up is free, quick, and simple. Voting ends on May 12th and winners will be announced on May 17th.
By the way, for those living outside the United States and Canada, choose Not Applicable for State, United States for Country when you sign up.
Sotanghon Guisado Recipe, makes 6 servings
2 tablespoons vegetable oil
2 cloves garlic, minced
1 small onion, thinly sliced
1 medium carrot, thinly sliced, about 1/2 cup
small bunch asparagus, about 12 spears, trimmed and cut into 2-inch pieces
1/2 cup wood ear mushrooms, coarsely chopped
1 boneless chicken breast, boiled and shredded
3 to 4 cups chicken stock
3 tablespoons soy sauce
1 tablespoons fish sauce
1 8-ounce package sotanghon noodles
sea salt and freshly ground black pepper to taste
1 egg, scrambled, sliced into thin strips
1 stalk spring onions, thinly sliced
2 calamansi limes
Soak sotanghon noodles in about a quart of water until it softens, about 10 minutes. Cut noodles into 6-inch lengths.
Heat oil in a large pan over medium-high heat. Saute garlic until lightly browned. Add onions and saute until fragrant and softened. Add carrots, asparagus, and mushroom and stir fry for a few minutes. Add chicken and stir fry until well combined. Transfer meat and vegetables to a bowl and set aside.
Pour chicken stock into the pan and bring to a boil. Add mung bean noodles, soy sauce, and fish sauce. Turn the heat to medium and let the noodles simmer, stirring frequently until approximately 1/4 cup stock remains. Add the meat and vegetables back into the pan and stir fry everything together until all the stock has boiled off. Add salt and pepper to taste. Top with scrambled eggs and spring onions and serve with a squeeze of calamansi.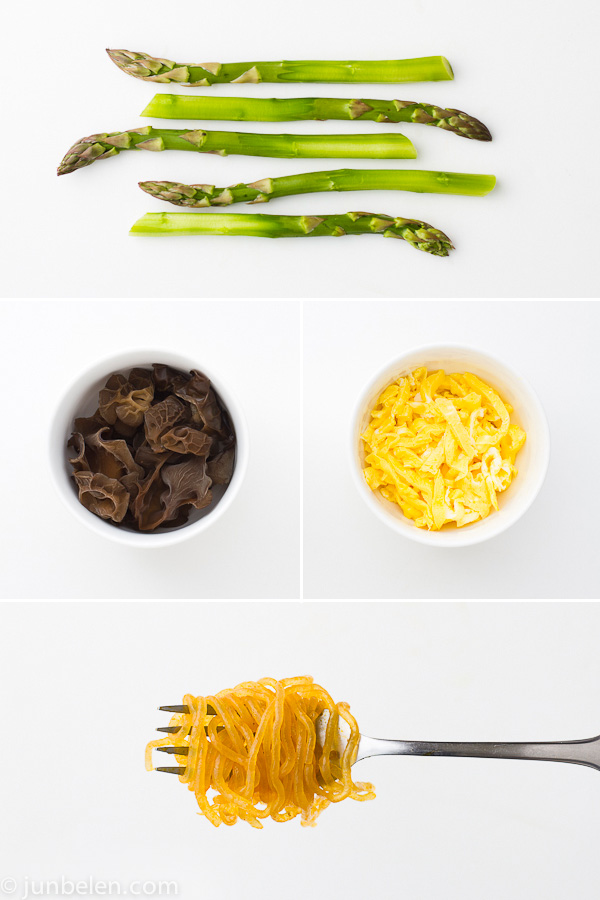 Cooking Notes
1. Wood ear mushrooms come fresh or dried. Soak dried mushrooms in water until they are reconstituted, about 10 to 15 minutes. Wood ear mushrooms are commonly called tenga ng daga in Filipino, which means rat ears because they are so shaped.
2. Use fresh vegetables that are in season. My mom makes sotanghon guisado with carrots, cabbages, and snow peas. Stir fry green beans, Brussel sprouts, or asparagus in pancit when they are in season.