I tiptoed precariously to reach the bright red cherries at the top of the tree.  I glanced around and saw Dennis picking cherries effortlessly.   "It pays to be tall, doesn't it?" He teased and flashed an impish smile at me.  "Sure, it does. But only when picking cherries." I rebutted.
It was a glorious Sunday.  Hot but not scorching.  Dennis and I took my mom to a farm in Davis, an hour and a half drive east of the city, to pick cherries.  My mom and I had never picked cherries before and so we thought it would be a fun way to spend a beautiful day in the country.  We circled around peach trees, nectarine trees, and blackberry bushes then stumbled upon a row of sour cherry trees heavy with fruit.
"These are so sour," my mom cried after she tried her first sour cherry.  I remembered how much my mouth puckered and my eyes squinted last summer when Dennis first introduced sour cherries to me at the Alemany Farmers' Market.  I grew up back home with cherries that came canned in a hodge podge of cloyingly sweetened fruits.  Cherries never came fresh.  Never sour.
Our loot weighed a little over three pounds.  Some were brighter than others while some were darker but all were delightfully tart.  "These will be perfect for a pie," Dennis promised my mom.  And, indeed, the cherries were.  Vividly red summer fruit in a pool of tartly sweet syrup beautifully bled out of the delicate crust.  "I've never tasted anything like this before," my mom yelped in delight.
"I grew up with sour cherries back in Ohio," Dennis told my mom.  He fondly recalled how he and his two older brothers picked cherries during summertime when they were kids.  With plastic bags tucked in their pockets, they climbed up the old cherry tree in their yard, picked cherries all afternoon and returned to the kitchen with bagfuls of fruit, which their mom baked into pies.  "If I'd have to pick a favorite summer fruit, it'd have to be sour cherries," he said.
As I took another another big bite of pie, I sweetly remembered my own childhood summers.  They weren't all about an unbearable ennui, you know.  While Dennis picked sour cherries in Ohio I drowned myself with sweet mangoes halfway around the world.
"Remember our summer picnics in Antipolo?" I asked my mom. "And those mangoes we buy right outside the old church? Those mangoes in huge bamboo crates?"
"Of course, I do," my mom replied.  "The sweetest mangoes are those picked in May."
We then indulged ourselves in remembering summers of long ago.  Hikes on a trail next to a river that fed a waterfall.  Picnics under a mango tree.  Pork adobo and pancit in plastic containers.  Sticky rice cakes wrapped in young palm leaves — suman sa ibus. Jars of coconut jam.  And mangoes chilled in cold river water.   I could almost smell and taste the mango's golden, buttery flesh as I reminisced.  Its sweet juice slowly dripping down my chin.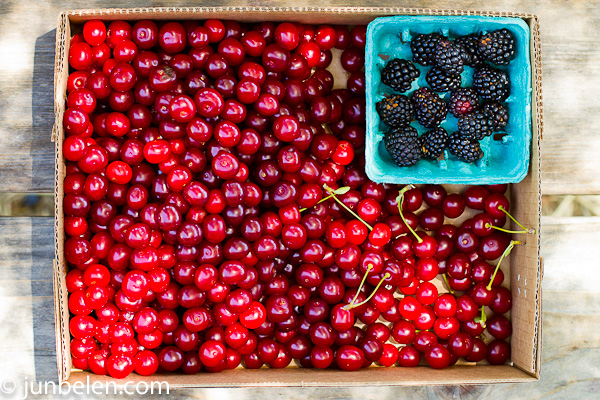 I can't believe it's almost July!  I hope you're enjoying a beautiful summer so far. Not too hot, I hope.  And not too wet from the monsoons for those back home.  I can't believe half of the year's gone.
It has been an incredibly busy June for us.  For starters, we have been busy packing for a big move.  In a few days, we'll be saying our bittersweet goodbyes to our loft in the city and we'll be driving across the Bridge to a bigger home in Oakland Hills.  It'll have a bigger kitchen — with windows this time — and a bigger garden! We are so excited!
Then there's my television debut.  Food Network Canada recently featured William Pilz's Hapa SF on Eat Street and I was there to talk about Hapa SF's groundbreaking modern Filipino food.  I actually haven't seen the episode myself but for our readers in Canada you can catch the full episode here.  For our readers in the United States you have to wait for it in July on the Cooking Channel.
Then there's the exciting launch of Gojee. It's a cool, new cooking site where you can get mouthwatering recipes handpicked just for you.  I am one of the featured writers and I am so proud to be part of the Gojee family. Then there's the invitation to be part of Getty Images' select pool of photographers.  I am so honored to be recognized and invited. Soon you can find my photographs at Getty Images.  Then there's the release of Steven Gdula's, new book, Gobba Gobba Hey: A Gob Cookbook, in August.  I am thrilled to be part of my good friend's new book. So honored to photograph his gobs.
And, finally, there's Jun-blog's second anniversary.  Yes, Jun-blog will turn two soon! And I can't wait to celebrate it with all of you, my dear friends and readers. You all have been immensely gracious.  Stay tuned for more delicious news but, for now, I leave you with sour cherry pies and sticky rice cakes.
Have a wonderful Fourth of July!
Suman Inantala Recipe
Recipe adapted from Gerry Gelles's Filipino Cuisine, makes 6 servings

1 cup sticky rice, washed and drained
1 can coconut milk
1 teaspoon salt
2 frozen banana leaves, thawed and washed
coconut jam
2 Manila mangoes, peeled and sliced into cubes
Bring sticky rice, coconut milk, and salt to a simmer in a wok or pan, stirring occasionally.  When rice is almost dry, transfer to a plate.  Line the wok with banana leaves, pour the rice back on top of the leaves, and cover completely with remaining leaves.  Cover the wok with its lid, lower the heat, and let the rice cook for thirty minutes.
Spoon the sticky rice cakes into bowls. Top with coconut jam and sliced Manila mangoes.
Traditional suman inantala is rice cakes wrapped into a roll in banana leaves and then steamed.  I veered away from tradition by skipping the wrapping steps and cooking the sticky rice cake in banana leaves in the wok.  The recipe is simpler and the cakes are just as good.  Remember though to let the rice cook over a gentle flame.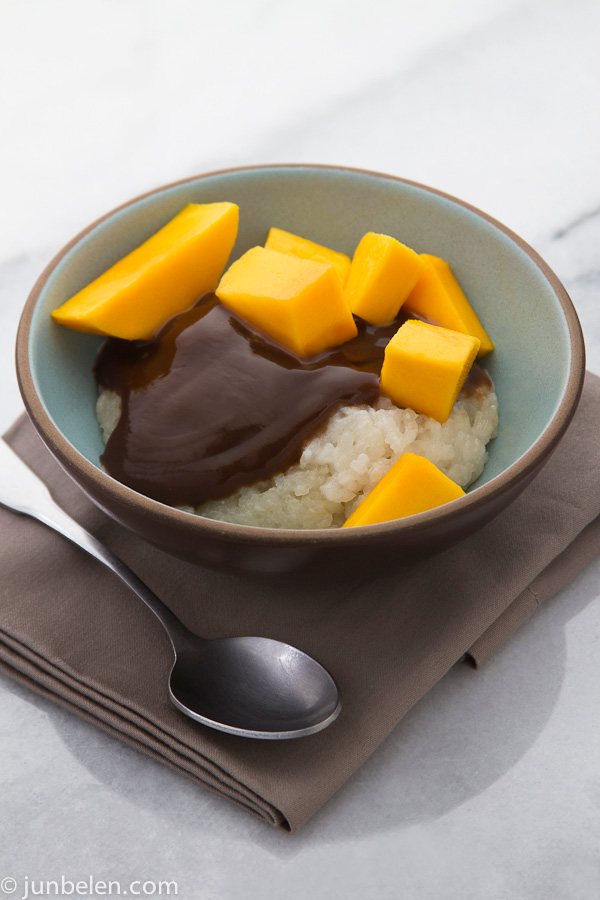 Sour Cherry Pie Recipe
Recipe adapted from Irma Rombauer's Cherry Pie and Basic Pie Dough from The Joy of Cooking, makes one 9-inch pie
For the Pie Crust, makes one 9-inch double crust
2-1/2 cups all-purpose flour
1-1/4 teaspoon salt
3/4 cup chilled lard or vegetable shortening
3 tablespoon cold unsalted butter
6 tablespoon ice water
For the Sour Cherry Pie Filling
1 cup sugar
3 Tbsp cornstarch
1/4 teaspoon salt
1/8 teaspoon ground cinnamon
1 teaspoon vanilla extract
1 teaspoon lemon juice
2 pounds fresh sour cherries, pitted (about 6 cups)
2 tablespoon unsalted butter, cut into small pieces
1 large egg, lightly beaten
Making the Dough
Preheat oven to 375 degrees. Place a sheet of foil at the bottom of the oven to catch any juices.
Sift together the flour and salt. Mix the chilled shortening and butter.
Cut half of the shortening mixture into the flour mixture with a pastry blender or work it in lightly with the tips of your fingers until it has the consistency of cornmeal. Work it in lightly and do not overwork the dough because it will become dense and greasy. Cut the second half of the shortening mixture into the dough until it is pea-sized. If you don't have a pastry blender, you can use a fork. Leave it in firm, separate pieces, some fine and crumblike and the rest the size of peas.
Sprinkle the dough with ice water. Blend the water gently into the dough until it just holds together. You may lift the ingredients with a fork, allowing the moisture to spread. If necessary add another teaspoon to a tablespoon of ice water to hold the ingredients together. It is important to add only enough water to make the dough hold together but be careful not to put so much as to cause excessive gluten to develop, which would make the pie crust hard or chewy and breadlike. As a rule of thumb, the flour and fat mixture should be moistened only to the point where it forms small balls that hold together when pressed with your fingers.
Divide the dough in half, shape each into a disk, wrap in plastic wrap and refrigerate. Chilling the dough up to 12 hours tenderizes it, helps keep it from shrinking during baking, and makes it easier to handle. If the dough has been chilled longer than 30 minutes, let it stand until it feels firm yet pliable, like modeling clay, when pressed. If it is too cold, the dough will crack around the edges when rolled.
Rolling the Dough
Roll the dough on a pastry cloth, pastry board, marble slab or on clean smooth countertop away from anything hot in your kitchen to avoid melting the fat. If the dough becomes too soft while rolling, loosen it from the work surface, slide a rimless cookie sheet beneath it, and refrigerate until it firms up.
Lightly flour the work surface and the dough. Roll the dough from the center out in all directions, stopping just short of the edge.
Check to make sure that the dough does not stick to the surface by sliding your hand beneath it. Scatter a little more flour on the work surface if it becomes too sticky. Rolling dough is like modeling clay. Seal cracks and splits by pushing the dough together with your fingers. Patch any holes, tears, or thin spots with dough scraps. Moisten one side with cold water and then firmly press them into place, with the moistened side down.
Shaping and Trimming the Dough
Roll the dough into a circle roughly 3 to 4 inches larger than your pan to allow plenty of dough for a rim. The best way to make sure that you rolled the right size is by inverting the pie pan and placing it in the center of the rolled dough. Transfer the rolled dough carefully into the pan and press it firmly into the pan. Trim the edges of the dough with a pair of scissors or a small pairing knife, leaving a 3/4-inch overhang.
Making the Cherry Filling
Toss the fresh pitted cherries with vanilla and lemon juice.
Combine sugar, cornstarch, salt, and cinnamon in a large bowl. Add the cherries, and toss. Pour cherry mixture into prepared pie plate. Dot the top with butter. Lightly brush exposed edge of crust with egg.
Making the top crust
Roll the other half of the dough to make the solid top crust. Cut the rolled dough 1 inch larger than the pan.
Brush the overhang edge of the bottom crust with cold water. Place the top crust over the pie. Firmly pinch the edges of both crusts to seal. Trim the edge of both crusts to a 3/4-inch overhang then tuck the overhang underneath itself so that the folded edge is flush with the rim of the pie pan. To allow the steam to escape during baking, using a sharp paring knife, make three or four 2-inch vents in the top crust.
Lightly brush the top crust with milk or cream and sprinkle with sugar.
Bake the pie until crust is golden brown and juices are bubbling. Start checking the pie after an hour. Let the pie cool slightly on a wire rack. The pie can be stored at room temperature for up to a day.