It was a typical gray San Francisco summer morning.  I was walking down 24th Street in the Mission with my camera and lighting gear in tow.  I was on my way to La Victoria to photograph Hapa SF, William Pilz's popular Filipino food truck.  I was looking forward to meeting and working with William, a talented and down-to-earth chef who worked at Citizen Cake before launching Hapa SF three months ago.  And, obviously, I was looking forward to photographing his food, which I am a huge fan of.  Hapa SF is what I think modern Filipino food should be — locally and sustainably sourced, refined and sophisticated with clean and bold flavors that remain faithfully Filipino.
It was a quarter till eight that morning and there was absolutely no sign that the sun was going to break out of the clouds anytime soon. I love lots of natural light in my photographs and I was a bit worried that there wouldn't be enough light for my shoot.  As I stepped in La Victoria's bustling kitchen, I quickly spotted a window behind the huge refrigerator next to William's kitchen space. The light from the window would be perfect, I thought. We rolled the heavy refrigerator out of the way and flushed a table with a beautiful butcher block-esque top against the window.  It was actually a good thing that the sun had not come out yet since the summer fog diffused the light perfectly.  I set-up an additional light and a couple translucent diffusers, and hooked up my MacBook to my Canon to complete my makeshift studio.  In the next few hours, William cooked and plated while I styled, photographed, and desperately controlled myself from reaching in and grabbing the handsome plates of Filipino food staring temptingly back at me.  There was the plate of colorful pinakbet, stewed eggplants, biter melons, tomatoes and other vegetables  — a Filipino ratatouille;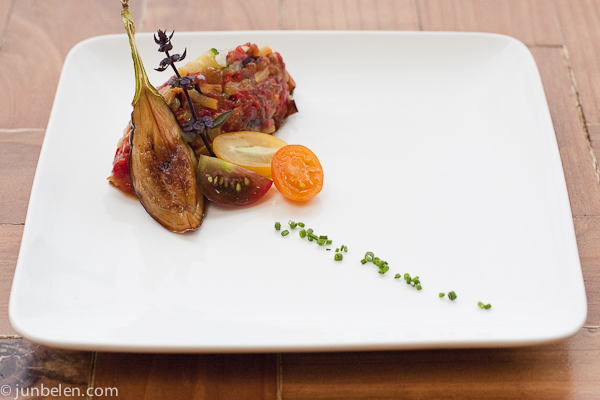 the plate of sisig, thrice-cooked, lime-soy-and-shallot-seasoned pork shoulder, cheeks and jowls, with steamed rice and poached egg;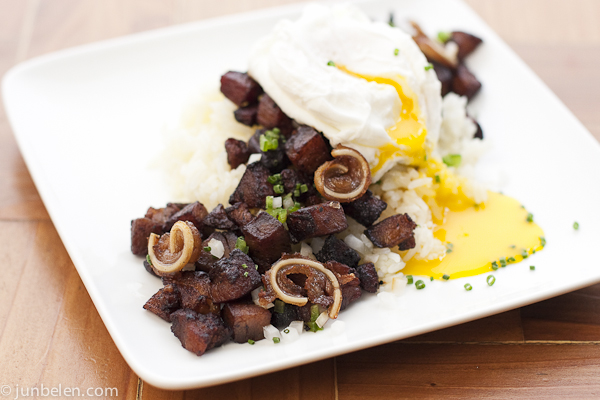 and the plate of ukoy, crunchy red and yellow beet and mackerel fritters with lime, soy and vinegar.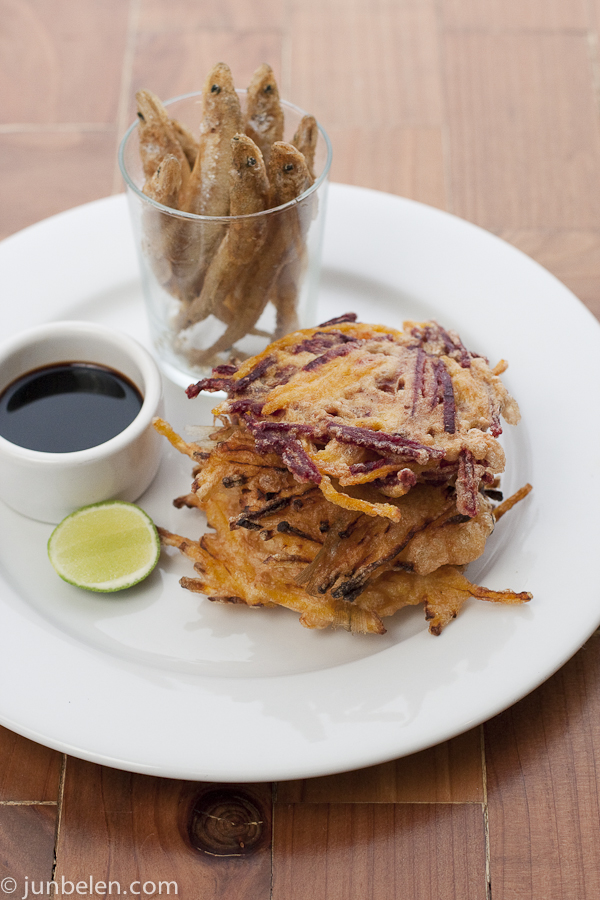 We continued the shoot the following week inside William's burgundy-colored taco-truck.  I drove down to Brisbane, 15 minutes south of the city, and met William in his taco truck stationed next to Curry Up Now, an Indian food truck, in a parking lot not far from the Brisbane Marina.  I also met Jose that day.  He is William's trusted sous chef of many years.  I had not been inside a taco truck before and so it was a treat to actually climb in one.  The kitchen did not feel cramped at all perhaps because everything was efficiently and optimally arranged — two giant rice cookers (one for white and the other for brown), pots of chicken adobo and sisig, a deep-fryer for lumpia, a portable gas stove for pancit, and a clean, narrow work table flushed against one side of the truck for plating and garnishing.  William and I leisurely chatted while I snapped photos.  But at a quarter till noon chaos ensued.  Chaos of the good kind, of course.  Organized chaos, I thought. Orders kept on coming, one after the other without any break.  I wanted to lend a hand so badly but I knew I was going to screw something up if I did.  And so I stood in one corner, watched and admired William's and Jose's graceful rhythm in the kitchen.  It was absolutely a treat.
The organized chaos eventually tapered off around one in the afternoon when the last order of sisig was plated and handed out through the taco truck's small window up front.  It was one of their busiest Wednesdays, according to William.  Within an hour they would be loading up their taco truck again with more adobo and sisig to prepare for a gig in the city that evening.  Then it would be another lunch gig the following day and Off the Grid at Fort Mason two days after.  William could not be more thankful that people are enjoying and embracing his food.  I told him he definitely deserved it.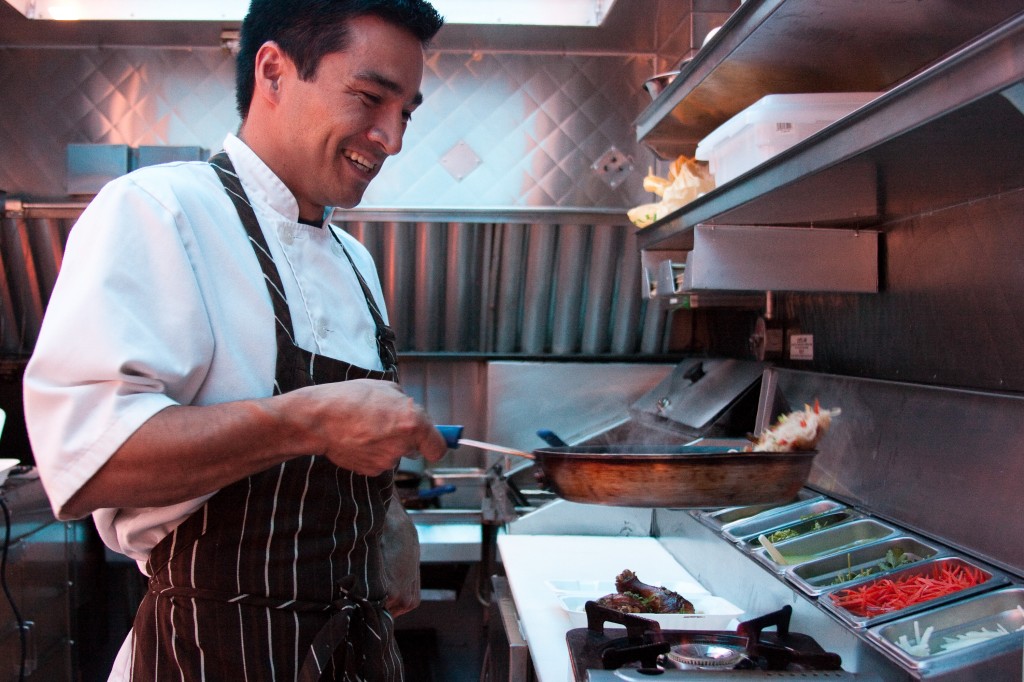 To view my photographs and to learn more about Hapa SF visit the website here.
Experience these Filipino dishes in San Francisco in Hapa SF's first pop-up dinner at La Victoria this Saturday, August 14th.  It will be an evening showcasing modern versions of classic pulutan dishes — Filipino small plates typically served with ice cold beer and enjoyed in the company of friends and family.  Click here to view the complete pulutan dinner menu.