With my short, stubby spatula I tried to scrape the last few ounces of the thick, sweet milk off the can. It proved too cumbersome and when I used a butter knife instead it got all the more frustrating. I didn't mean to overly scrimp although I actually do pinch pennies when it comes to food, trying to salvage the very last piece of produce in the crisper and use it in a sauté or in a stew. But it was sweetened condensed milk! It was different. It wasn't just another celery stalk. I've always felt compelled not to let a drop of the sweet milk go to waste.
Blame it on my insatiable sweet tooth but sweetened condensed milk is one of the (many) things I cannot live without. Milk came in cans while growing up back home. It came powdered, evaporated or condensed and the kind that's thickened and sweetened has always been my favorite. Condensed milk drizzled over hot pan de sal or slices of white bread bought fresh from the neighborhood bakery was a childhood staple. And then of course there's the miscellany of sweets, from sticky rice cakes and creamy custards to festive flans and fruit salads that helped celebrate the holidays. Our pantry's never complete without those indispensable cans of condensed milk.
And so I threw the sticky spatula and knife in the sink and washed them. I washed my hands and dried them off. I poked my finger inside the tin can, swirled it around, and licked it clean. I poked my finger inside the can once more, swirled it around, and licked it clean. It certainly couldn't get better than this.
In his gorgeous book and my new favorite, The Sweet Spot, Asian Inspired Desserts, pastry chef Pichet Ong pays tribute to the milk of my childhood with his Condensed Milk Pound Cake, a buttery cake rich in texture and wonderfully light. Slice the cake and serve with a dollop or two of Condensed Milk Chantilly and some macerated strawberries for a luxurious dessert.
Condensed Milk Pound Cake Recipe,
Recipe by Pichet Ong from The Sweet Spot, makes one 8-1/2 by 4-1/2-inch cake, about 12 servings
1 cup unsalted butter at room temperature, plus more for greasing the pan
1-1/3 cups all-purpose flour
3/4 teaspoon baking powder
1/2 cup sugar
1 vanilla bean, chopped, or 2 teaspoons vanilla extract
1/2 teaspoon salt
3/4 cup sweetened condensed milk
3 large eggs
Preheat the oven to 325 degrees F. Generously butter an 8-1/2 by 4-1/2-inch loaf pan and set aside.
Sift together the flour and baking powder and set aside.
Put the sugar and the chopped vanilla bean, if using, in the bowl of a food processor fitted with the metal blade and pulse until the vanilla bean is finely ground. Sift through a fine-mesh sieve and return the sugar mixture to the food processor. If not using the vanilla bean, just put the sugar in the processor.
Add the butter and salt and process until light and fluffy, about 2 minutes, scraping down the sides and bottom of the bottom occasionally. Add the condensed milk and pulse until well incorporated, about 15 times, scraping down the sides of the bowl once. Add the sifted dry ingredients and pulse until no traces of flour remain, about 10 times. Add the eggs and pulse just until combined, about 5 times. Scrape down the sides and bottom of the bowl, add the vanilla extract, if using, and finish mixing by hand to fully incorporate the eggs.
Transfer the batter to the prepared loaf pan. Bake until the top is dark golden brown and a tester inserted in the center comes out clean, about an hour. Cool completely in the loaf pan on a rack, then unmold.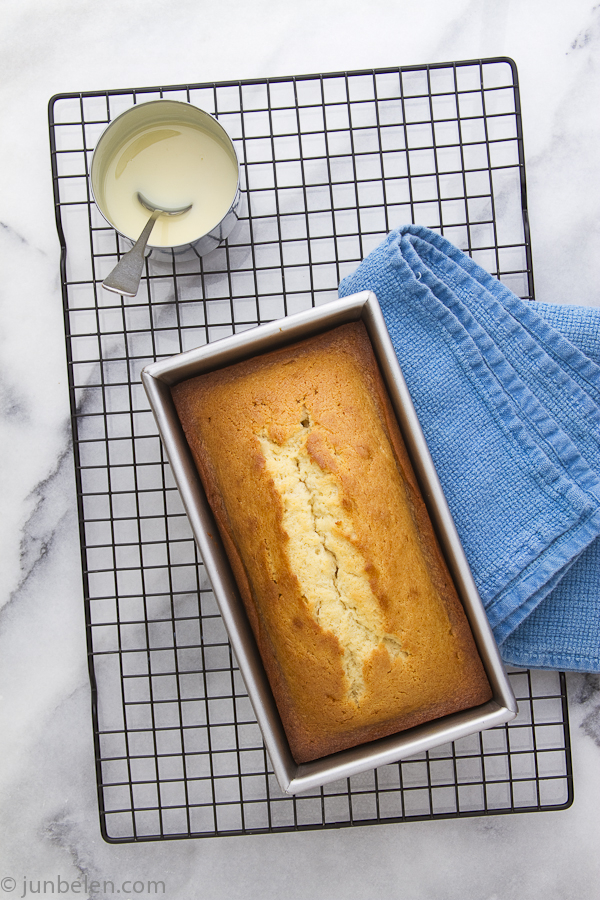 Sweetened Condensed Milk Chantilly, makes 2 cups
Recipe by Pichet Ong in The Sweet Spot
1 cup heavy whipping cream
2 tablespoons sweetened condensed milk
1/8 teaspoon salt
Whisk the cream until soft peaks form. Add the sweetened condensed milk and salt and whisk until medium-soft peaks form. (When you lift the whisk from the cream, a peak should form and the very tip should fall back down.)
Macerated Strawberries
Recipe inspired by Martha Stewart in MarthaStewart.com
2 cups fresh strawberries
2 tablespoons sugar
2 tablespoons freshly squeezed orange juice, or an orange liqueur like Grand Marnier
Hull strawberries, cut in half, and place in a bowl. Add sugar and orange juice, and mix until well combined. Refrigerate until strawberries are very soft and juicy, stirring occasionally with a fork, about 4 hours.