Dennis was right, his nephew was charming. He was three when I first met him a few years back on a visit to Ohio for the holidays. "It's your nephew's Filipino genes that make him handsomely charming," I've always teased him ever since I learned about his Filipino sister-in-law. Knowing I won't be the lone Oriental in his family thrilled me — they embrace diversity! — but knowing I won't be the lone Filipino thrilled me even more. I took it as a good sign while we were still dating. A very good sign. "So your family's familiar with rice cookers and fish sauce," I asked. "Well, I'm not so sure about that," he replied. "My mom has yet to buy her own rice cooker despite my sister-in-law's proddings."
Dennis' oldest brother used to travel extensively for work in China and met his Filipino wife in one of his trips. They fell in love and got married and now live in Cleveland with their son and daughter, both adorable and both incredibly smart.
"Uncle Dennis is here!" The kids' frenzy greeted us the morning after our long journey from San Francisco to Ohio. His nephew in his oversized red sweater and khaki pants sprinted towards Dennis to give him a hug and started right away to show off his family's karaoke machine. Karaoke? The sign of a truly Filipino household, I thought.
He was a bit timid with me at first like most kids. He probably was wondering who I was while I chatted with his mom in Tagalog. But by the end of the day we warmed up to each other and became the best of friends. Thanks to a box of chocolate covered Pocky sticks, we bonded effortlessly. "Do you want some Pocky?" He asked in his most charming way. Even if all I wanted was a dose of caffeine, there was no way I could refuse his irresistible offer plus it thrilled me to know we shared something in common! We fondly shared the love for thin, crisp biscuit sticks covered with creamy milk chocolate. "Well, of course I want some Pocky. Would you have some with me?" I asked. He held my hand and pulled me in one corner. We snacked on Pocky sticks while we watched his choo-choo train go round and round.
In his wonderful book, The Sweet Spot, Asian Inspired Desserts, pastry chef Pichet Ong recreates Pocky, the beloved Japanese chocolate covered cookie sticks in a simple yet sophisticated recipe for the home. The cookie sticks is a sweeter version of Sherry Yard's breadsticks covered in bittersweet chocolate. I suggest using San Francisco's TCHO chocolate with 60% cocoa. Enjoy these homemade Pocky sticks with a glass of Straus organic milk.
Oh, and by the way, I'm just curious to know: are you a Pocky or Yan Yan fan?
Chocolate-Covered "Pocky" Sticks, makes 32 sticks
Recipe by Pichet Ong from The Sweet Spot
1/4 cup sweetened condensed milk
2 tablespoons water
1 cup all-purpose flour
1/2 teaspoon baking powder
2 tablespoons sugar
1/8 teaspoon ground cardamom
1/8 teaspoon salt
1/4 cup unsalted butter, at room temperature
1 large egg white, beaten
3-1/2 ounces bittersweet chocolate, chopped
1 ounce milk chocolate, chopped
Mix the sweetened condensed milk with water and set aside.
Put the flour, baking powder, sugar, cardamom, and salt into the bowl of an electric mixer fitted with the paddle attachment. Mix on low speed until well mixed. Add the butter and mix until the mixture resembles cornmeal, about 5 minutes. With the machine running, add the condensed milk mixture all at once and continue mixing until it is fully incorporated and the dough forms a ball around the paddle, 5 minutes. Transfer to a large sheet of plastic wrap, pat into a 1-inch-thick disk, and wrap tightly in the plastic. Refrigerate for 20 minutes.
Preheat the oven to 300 degrees F. Line two large baking sheets with parchment paper and set aside.
Divide the dough into quarters and divide each quarter into 8 pieces, Roll one piece into a ball, then stretch it and roll it under your palms into a 10-inch stick, about 1/4 inch in diameter. Transfer the stick to a lined baking sheet and repeat with the remaining dough, setting the sticks 1/2 inch apart. Refrigerate the sticks, uncovered, for 10 minutes.
Brush the sticks with the egg white, and bake until golden brown and crisp, about 25 minutes. Cool completely on the pans set on a rack.
Melt the bittersweet chocolate in a double boiler or heatproof bowl set over a saucepan of very hot water, stirring just until smooth. Add the milk chocolate and continue stirring until the mixture is completely melted and smooth. Transfer the chocolate mixture to a long, shallow dish.
Lay out a sheet of parchment or foil. Dip the cooled cookie sticks into the chocolate, leaving a couple of inches uncovered, and place on the parchment paper or foil. The chocolate will harden as it cools. The cookie sticks can be stored in an airtight container for up to 2 days.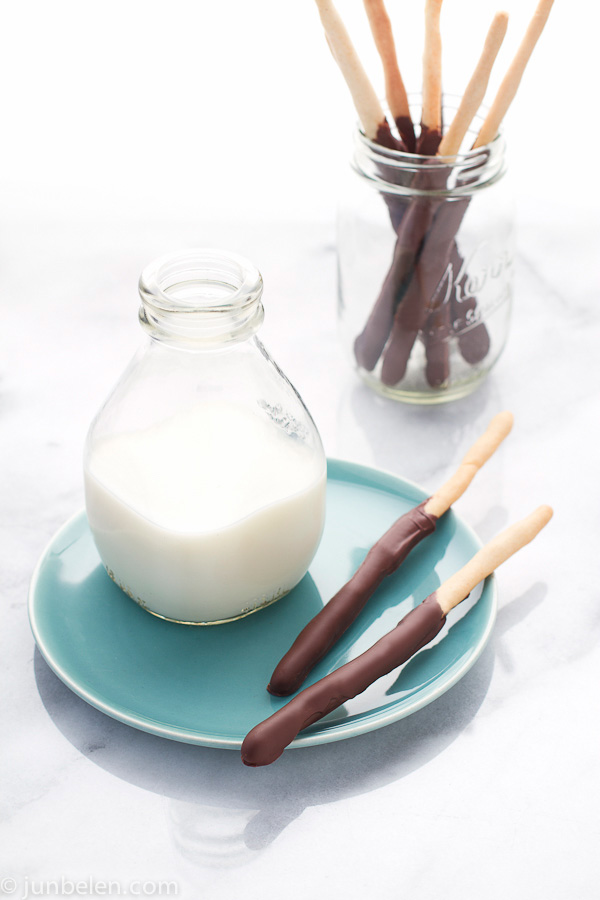 If you enjoyed this recipe, you may also enjoy Pichet Ong's condensed milk pound cake with condensed milk chantilly and macerated strawberries.