The sun must have felt really good. Neither the rustling of spoons and bowls nor the scent of scones baking in the oven made him budge. Not even an inch. Stanford remained glued to his spot in the kitchen flooded with morning light. He looked content. Peaceful. He held his handsome face high and closed his eyes as he basked in the glorious sun.
The clouds had cleared at last and the long spell of rain had ended. At least, I hoped it had. The past weeks had been riddled with on and off showers stitched together by uninspiring, gray days. The rain had thankfully given our garden a good soak but it's time for it to go. The stormy weather had kept us from working on the girls' coop. Of course, being the perennial worrier that I am, I dwelled on thoughts that we may have bitten off more than we can chew when we decided to build the chicken coop ourselves. But, truth is, the coop is coming along just fine. Slowly but surely. Thanks to Dennis for all of his hard work.
I held the strainer firmly on top of the bowl of powdered sugar and, one by one, I squeezed the juice out of the calamansi limes I just picked from our tree. The fragrant scent of citrus wafted to my nose. I always get a kick out of cooking with calamansi grown in our garden. I feel so fortunate I can grow it here. My mom would be particularly impressed that our tree this year is heavy with fruit. Yes, she is visiting very, very soon. She flies in the night before Easter and will be spending the next several weeks with us. We are so excited! There'll be plenty of time for catching up beyond hurried phone calls. Plenty of time for cooking and eating, of course.
I stirred in the juice with a spatula until the glaze was smooth and thick then drizzled it on the scones in zigzagging strokes. I pinched a small piece off one of them to have a taste. The scone was surprisingly light and the calamansi glaze was perfect. Sweet and tart. My mom would love these, I thought.
I poured myself a cup of coffee to enjoy it with the morning's treat. And as my cup and saucer clinked on the kitchen counter, Stanford came trotting toward me. So much for the sun, I guess. It's time for scones.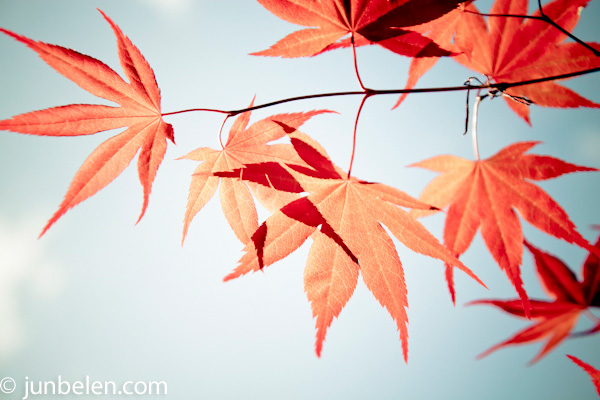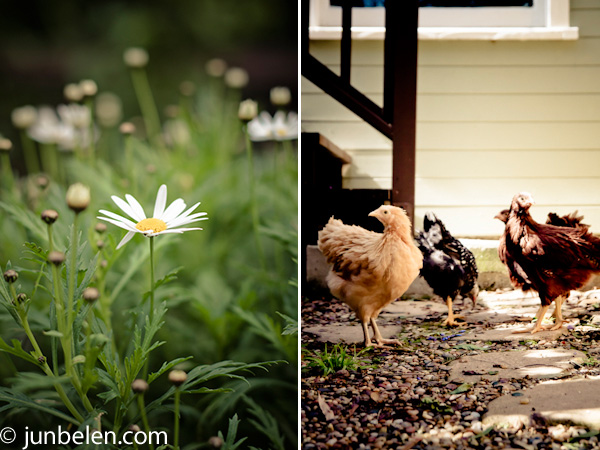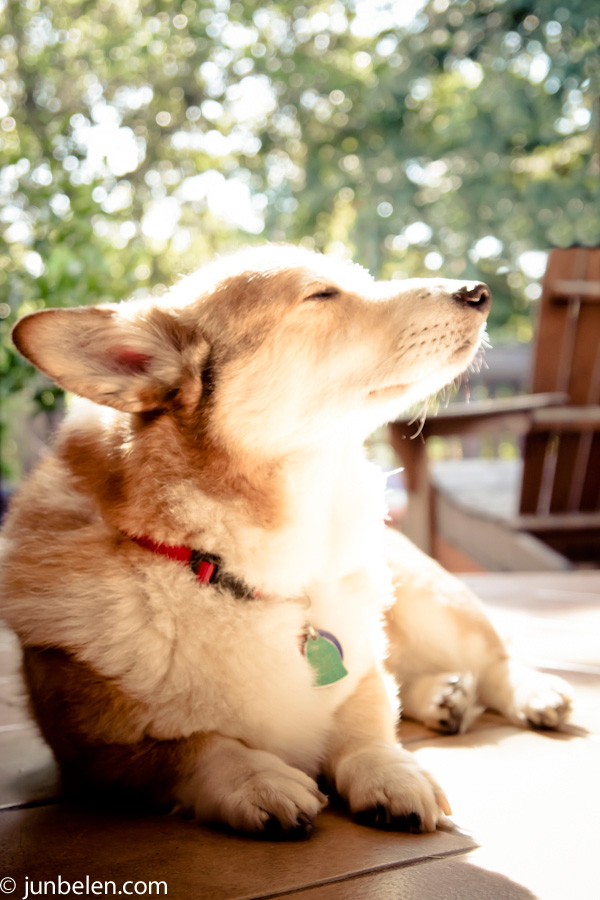 Honey Calamansi Scones Recipe
Recipe adapted from Alice Waters' The Art of Simple Food
, makes 8 servings
For the scones

2 cups all-purpose flour
2-1/2 teaspoons baking powder
1/2 teaspoon salt
1/4 cup honey
1-1/3 cup cream
1 teaspoon grated calamansi zest
2 tablespoons butter, melted
1-1/2 tablespoons sugar
For the calamansi glaze

3/4 cup powdered sugar
2 tablespoons calamansi juice
Preheat the oven to 400 degrees F.
Mix flour, baking powder, salt in a large bowl. Stir in honey, cream, and calamansi zest. Mix until the dough just starts to come together. It will be sticky. Turn it out onto a floured surface and knead briefly, just enough to bring the dough completely together. Add more flour if the dough is too sticky. Pat it into an 8-inch circle. Brush with melted butter and sprinkle with sugar.
Cut the circle into 8 wedges and place the wedges 1 inch apart on a baking sheet lined with parchment paper or a silicone liner. Bake for 15 to 20 minutes or until golden brown.
Meanwhile, place the powdered sugar in a small bowl. Pour and stir in the calamansi juice until the glaze is smooth. Adjust the sugar or juice until the glaze is thick but pourable.
Drizzle over the scones once they are ready and serve warm.