The quiet click of the rice cooker is music to my ears. It is unassuming, almost unnoticeable unless, of course, you wait for the flip of the switch with steadfast anticipation, like I always do. The click heralds good news. It means the rice is ready. The meal can now commence. The meal is now complete.
I've owned two rice cookers in my adult life. My first was a welcome gift I received when I moved to California, a hand-me-down from one of the older graduate students in the university. It was sadly short-lived; it lasted only a few months before it stopped working. My second still sits on my kitchen counter now. It's a four-cup rice cooker I bought at an Asian discount store. It has a glass lid with a small opening where the steam billows out and a single switch on its face that toggles between cooking and keeping cooked rice warm. My trusted rice cooker still works after all these years, dependably delivering comfort food to my table.
Back home, cooking rice isn't as simple as a flip of a switch. Back home, cooking rice is a ritual. It begins with choosing and buying rice at the market — a full sack in times of plenty and a humble kilo when times are tough. My mom prefers Sinandomeng and the more fragrant but more expensive Dinorado. Sinandomeng swells up substantially when cooked and the cooked grains are tender. Cooked Dinorado is firmer than Sinandomeng but my mom likes how the Dinorado grains smell like bagong ani, or fresh harvest.
Bigas, or uncooked rice, can come with husks and dirt leftover after threshing palay, or unhusked rice just harvested from the palayan, or the rice fields. The husks and dirt are picked tediously by hand before bigas is measured, washed, and cooked. I have memories of sitting on our kitchen steps when I was little, with my mom sitting next to me holding a metal bowl of bigas. I remember watching her with curious fascination while she deftly tosses the grains upward with a brisk shake of the bowl, then gracefully combs through them with her fingers.
My mom measures rice using an empty tin milk can. A can filled to the brim with grains is isang gatang, or one measure, which is roughly equivalent to one cup. She pours the grains into a heavy metal pot and washes them thoroughly with running water. She washes the grains three times, tossing the water after each wash down the sink or reserving the starchy hugas bigas, or rice wash water, later for use in poaching whole fish for pesa or sinigang. After the grains are washed, she fills the pot with water and then dips her hand in the pot, fingers first and fingers straightened. She uses the folds of her middle finger as her guide to make sure she adds ample water. Too little leaves the grains parched. Too much makes the rice malata, or too mushy like the consistency of arroz caldo.
At times, my mom adds a knot of pandan to give kanin, or cooked rice, a subtle, sweet fragrance. She ties the long, narrow, blade-like leaves into a simple knot and buries a knot or two underneath the bed of rice. The scent of pandan in a pot of cooked rice is one of my earliest and fondest recollections of food as a child. Pandan is the fragrance of a home-cooked meal, the fragrance of home.
As soon as the water in the pot begins to boil, my mom calms the flame and lets the rice simmer slowly until the rice is inin, or fully cooked. If the flame is too strong, a scorched crust forms at the bottom of the pot called tutong, or burnt rice. A liberal douse of sarsa, or sauce, from a braise like caldereta or mechado fixes the flaw. For some, tutong is not even a flaw but the sought-after part of the entire meal.
Rice leftover from a meal is saved as lamig, or cold rice, stowed in the refrigerator or on the kitchen counter until it is consumed cold or fried with salt and garlic for breakfast the following morning. Sinangag, or fried rice, with fried eggs and fried fish or fried pork is Filipino breakfast bliss.
This is how my mom cooks rice, how she taught me to cook rice. The Filipino staple is ever present on our hapag kainan, on our table, in every meal. She often tells stories about the most trying of times when I was little, when rice was all my family had to eat, when cooked rice doused with water and salt was all my family had to make it through another meal. Doreen Fernandez writes that rice is the Filipinos' deepest comfort food. Indeed, rice satisfies. Rice feeds the Filipino soul.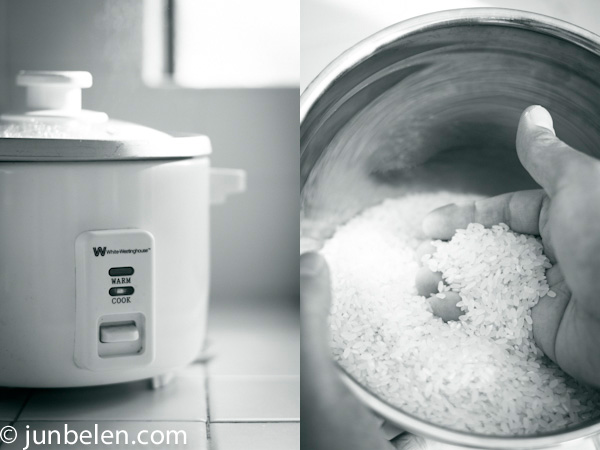 Three hundred posts. My winning essay about the Filipino staple is my 300th post. When I started writing my blog nearly five years ago me winning a Doreen Gamboa Fernandez Food Writing Award one day did not cross my mind. My blog lasting this long did not either. I have to admit juggling my blog with the demands of work and life has become more and more difficult through the years. A lot has changed after three hundred posts but there are things that remain the same, things that remind me why I blog — the memories of food and of home and the happiness these memories bring.