Where do you get Dungeness crabs in the city?
The first place that comes to mind is, obviously, Fisherman's Wharf teeming with seafood street vendors and restaurants.   But the Wharf gets extremely crowded most of the time unless you go on a rainy weekday.  A great alternative is the city's Asian supermarkets.  There's certainly Chinatown, but there are two new cool neighborhood discoveries I recently made: Clement Street in Inner Richmond and Manila Oriental Market in Excelsior.  Start at Clement and Arguello, walk westward down Clement and you'll hit a goldmine of all things Asian.  And there's Manila Oriental Market along Mission Street in Excelsior, a place that definitely reminds me of home with aisle after aisle of Asian goodies like oyster sauce, tapioca starch, bibingka mix, dumpling wrappers, saba bananas, fresh whole fish and, of course, live crabs.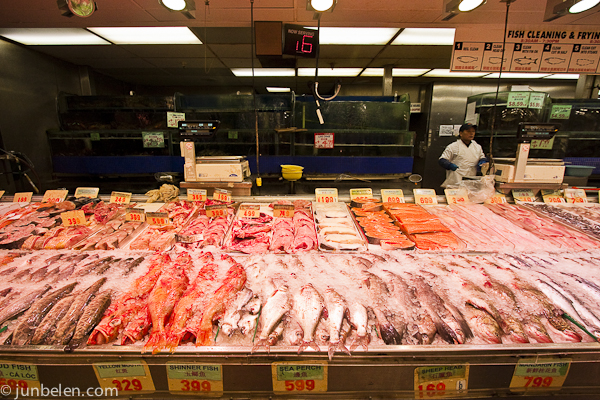 And if you feel like indulging in Dungeness crab cakes but don't have the luxury of time to make them, where do you go for crab cakes in the city?
Here's another surprising discovery: the Castro.  Instead of taking the cable car to Fisherman's Wharf, hop on the Muni and head over to the Castro and enjoy delicious crab cakes either at Woodhouse Fish Company along Market Street or Anchor Oyster Bar along Castro Street.  Their cakes are fresh and tasty.
Here are more information about the supermarkets and restaurants mentioned in this blog.
Where to buy Dungeness crabs
Wing Hing Seafood Market
633 Clement St between 7th Avenue and 8th Avenue
San Francisco, CA 94118
415.668.8986
Richmond New May Wah Superemarket
707-719 Clement Street and 8th Aveue
San Francisco, CA 94118
415.221.9826
Manila Oriental Market
4175 Mission St between Ney and Trumbull Streets
San Francisco, CA 94112
415.337.7272
Where to enjoy Crab Cakes
Woodhouse Fish Company
2073 Market St between 14th and Reservoir Streets
San Francisco, CA 94114
415.437.2722
Anchor Oyster Bar
579 Castro St between 18th and 19th Streets
San Francisco, CA 94114
415.431.3990
I want Jun-blog!

Jun Belen is the voice behind Jun-blog, a mouthwatering and heart-warming journal of Filipino home cooking nominated for Best Culinary Blog by the IACP. Subscribe to Jun-Blog and receive new posts by email.