Ever since I discovered King's, the humble hole-in-the-wall Chinese bakery in the heavily Hispanic Mission neighborhood, I cannot stop raving about their coconut buns — soft buns filled with sweet buttery coconut filling that are truly addicting.
These buns are actually reminiscent of the coconut buns I grew up with back home — pan de coco, which is basically a roll the size of a pan de sal but filled with the same sweet buttery coconut filling.  I can still recall how much I went crazy over a brown paper bag filled with warm freshly baked pan de coco that my mom brings home from the neighborhood bakery.  It was the perfect snack.
For Jun-blog reader Jessica who writes,
"Do you know of anyone who knows how to make these coconut buns?  There are no Chinese bakeries where I am [in Newfoundland] and I love them.  Any help?",
here is my take on this seriously addicting sweet treat.

Coconut Buns Recipe,
Dough Recipe adapted from The Best of the Maya Kitchen: The Complete Guide to Baking, makes 10 to 12 buns
For the dough
2 tsp or 1 pack instant yeast
1/4 cup tepid water
1 tsp sugar
1/2 cup milk
1/2 cup melted unsalted butter
2 eggs
3-1/2 cups all-purpose flour
1/3 cup sugar
1 tsp salt
For the egg wash
1 egg
1 Tbsp water
For the topping
white sesame seeds
For the coconut filling
1 cup coconut flakes
3 Tbsp melted salted butter
5 Tbsp honey (or brown sugar)
1 egg yolk
Dissolve yeast in tepid water, which is water with a temperature anywhere between 100 and 110 degrees F.  To proof yeast, add 1 tsp sugar and let stand for 10 minutes. If the mixture doubles in volume then yeast is active.
In a large bowl, whisk together the flour, sugar and salt.  Add the milk, melted butter, eggs, and yeast and combine well.  On a clean surface dusted with flour,  knead the mixture into a smooth elastic dough.  Add more flour, if necessary.
Let the dough rest in a bowl greased lightly with canola oil.  Cover the bowl with plastic wrap and let the dough rise for about an hour or until the size doubles.  While the dough is rising, make the coconut filling.
Most grocery stores carry fine coconut flakes.  If only coarser ones are available, use a food processor to grind them into finer flakes.  In a small bowl, mix the coconut flakes, melted butter, honey, and egg yolk until it has a paste-like consistency.
Punch the dough and divide it into two.  Roll each half into an 8-inch log and cut into 3- to 4-oz pieces. There will be around 5 to 6 pieces.
Roll each piece into a 5- by 3-inch rectangle.  Place 1-1/2 tablespoon coconut filling lengthwise along the center. Bring the the long sides up and over the filling and pinch all the edges to seal. Make sure the edges are adequately sealed to prevent the coconut filling from spilling out while the buns are baking.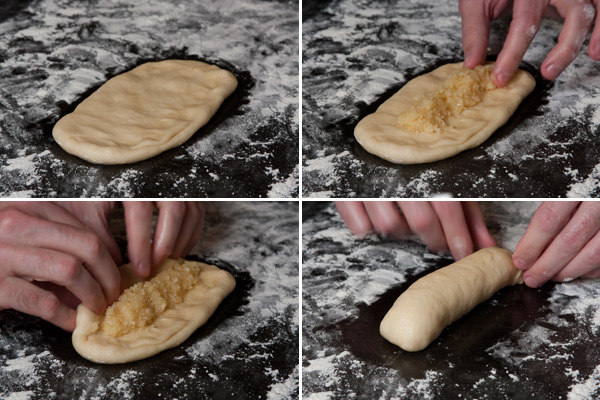 Place the pieces with the seam-side down on a greased baking sheet with around a 1/2-inch space between buns.  Let the buns rise for another 20 minutes.  Preheat the oven to 375 degrees F.
To make the egg wash, whisk the egg and water together in a small cup.  Lightly brush the buns with the egg wash and sprinkle with sesame seeds on top.
Bake for 20 minutes until golden brown.