The holidays is seven months away and why am I suddenly nostalgic about ube? I blame it on Gobba Gobba Hey's fabulous ube gobs.
Gobba Gobba Hey aka Steven Gdula is one of the city's most innovative street food chefs and a talented food writer.  Back in March, I raved about Steven's coconut lime gobs with ube frosting that he made for a Filipino street food event in the city.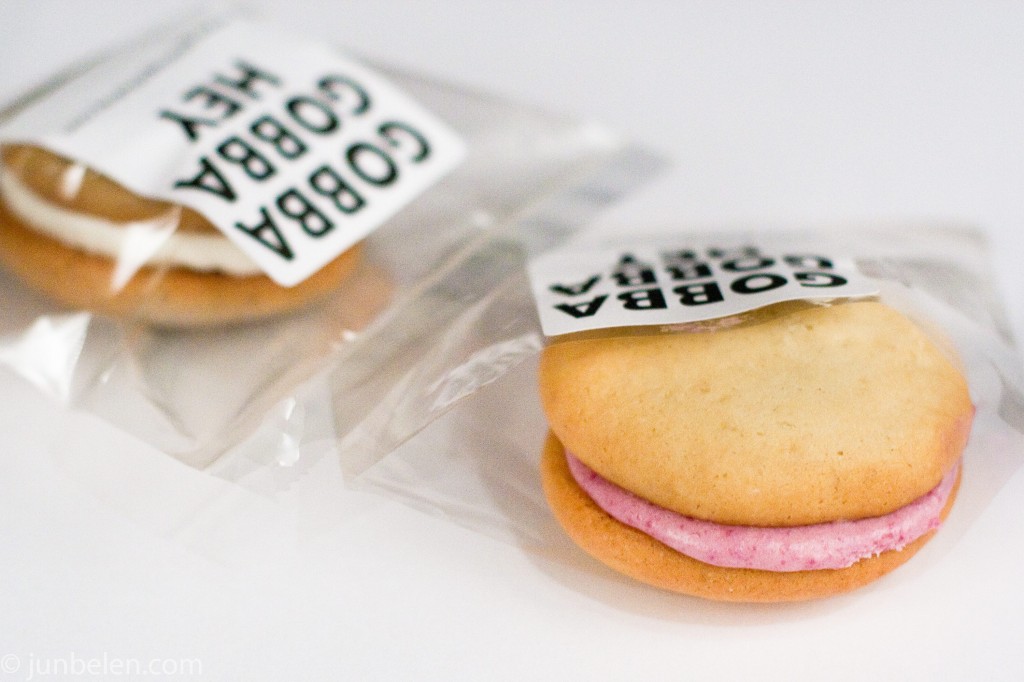 He already had me at chocolate and vanilla but I was so impressed when he created something very purple and very Filipino.  I was even more impressed when I read about his struggles with the stubbornly starchy purple yam.
"I prepared the ube as I would any filling that I was going to add to my gob batter. But ube was proving it wasn't just any old gob filling. For one thing, even after boiled down, its starchiness made it quickly coagulate into one gigantic mound. For another, that same tendency for its pieces to become part of a whole again, made it almost impossible to disperse. What I hoped for was a rich, purple batter. When I had, instead, was a gray mix with tiny points of the yam, scattered like drops of violet mercury, throughout." – Steven Gdula
After his efforts of incorporating ube in the gob batter proved futile, he made an ube frosting instead and sandwiched it between coconut lime cakes.  The ube frosting didn't have the rich purple hue like the ube cakes I grew up with but his flavors were spot on.  Ube goes wonderfully well with coconut but adding a hint of lime in his gob cake was genius. It was something I have never tasted with ube before.
Ube or purple yam is only available in the U.S. either frozen or powdered.  Fresh ube bought from the farmers' market is definitely one of the many things I miss about home.  The closest to purple yams here in California are the Okinawan purple sweet potatoes, which are grown in the warm climates of Hawaii. Purple yams have a dark brown skin and a purple flesh that transforms into an even deeper purplish-blue color when cooked.  Purple sweet potatoes, on the other hand, have a fainter purple core wrapped in a paler, whiter skin.  And if I remember ube's taste and texture correctly, purple sweet potatoes are just a tad sweeter and denser than their Filipino counterparts.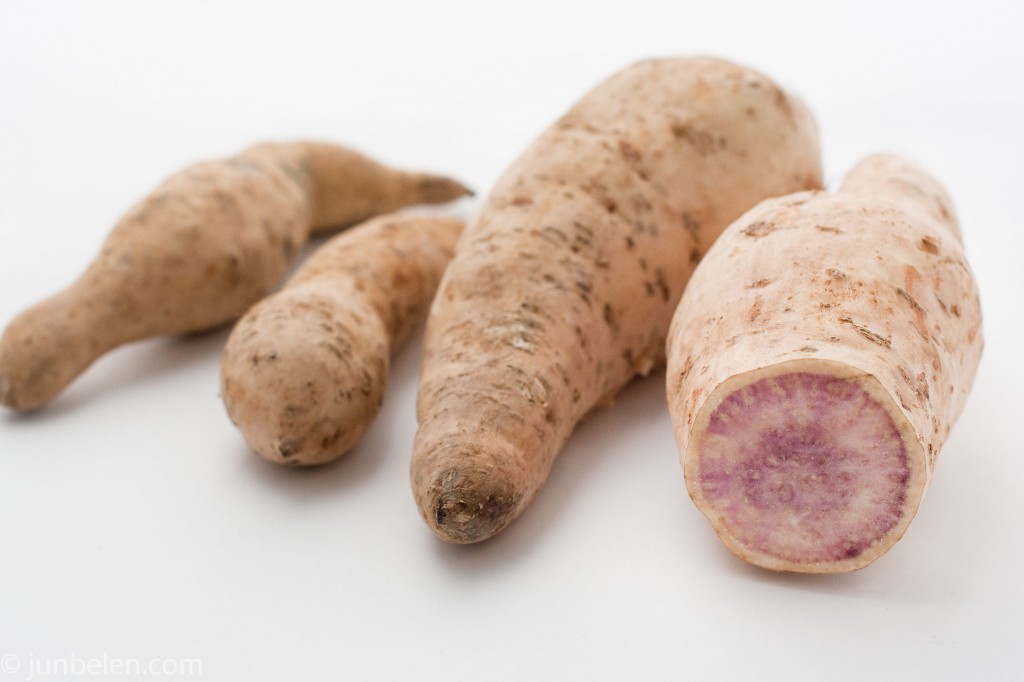 I recently discovered — scratch that — Steven recently discovered an organic farm in Sacramento that grows and sells purple sweet potatoes at the Alemany and Berkeley Farmers' Markets.  I was so thrilled to hear about these locally grown purple gems, which meant only one thing: I can finally try my mom's purple yam jam recipe and see if purple sweet potatoes can be a worthy substitute.
Inspired by another talented street food purveyor, Wholesome Bakery and her addicting vegan baby sweet potato pies, I made purple sweet potato baby pies.  I used my mom's recipe for purple yam jam and used it as filling for the pies.  I really enjoyed the texture of the cornmeal crust I used for my mango-rhubarb pie and so I reprised it here.
For the Purple Sweet Potato Filling, makes 10 to 12 mini pies
1-1/2 lb purple sweet potatoes
1/2 cup coconut milk
1/2 cup condensed milk
1/2 cup melted unsalted butter
For the Cornmeal Pie Crust
1-3/4 cups all-purpose flour
3/4 cup yellow cornmeal
1/3 cup confectioner's sugar
1-1/4 tsp salt
3/4 cup chilled lard or vegetable shortening
3 Tbsp cold unsalted butter
6 Tbsp ice water
Making the Filling
Boil the sweet potatoes until tender.  Let them cool then peel and cut into small cubes. One and a half  pounds of sweet potatoes will yield around 1 lb or roughly 3 cups cubed cooked sweet potatoes.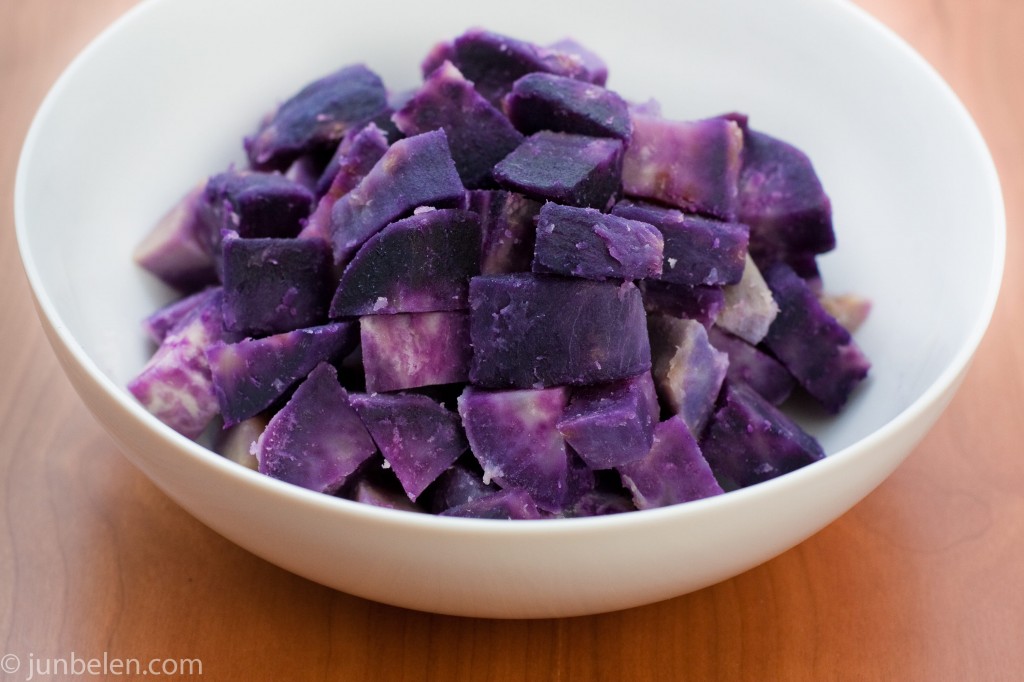 The richness of the purple color really depends on the potatoes.  Some turn deeper purple than others but I didn't really see any clear correlation between color and, for instance, size or softness.  However, it is interesting to note that the organic California-grown sweet potatoes I bought from the Farmers' Market had the deepest purple hue when cooked compared to the ones I bought from Berkeley Bowl and Ranch 99 Market.  Unlocking the mystery of the purpleness of these purple sweet potatoes could very well be a blog post in the future.
Grind the cubed boiled sweet potatoes in a food processor.  Add the coconut milk, condensed milk, and melted butter and mix well.  My mom uses either coconut milk or evaporated milk but she says whole milk can be used as well.  Adjust the sweetness by adding more or using less condensed milk.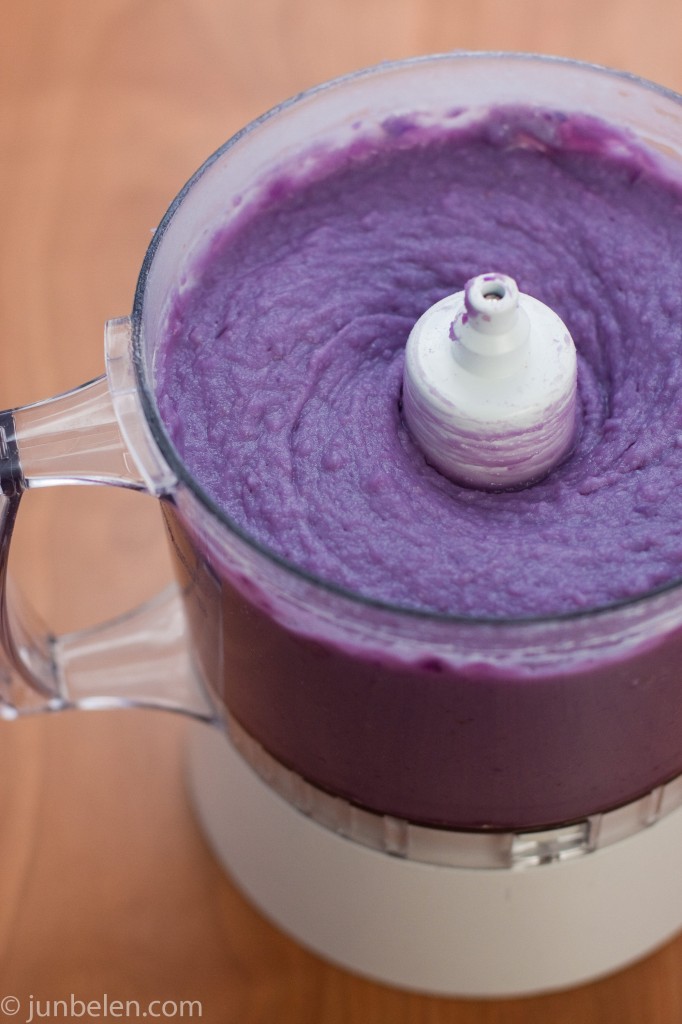 Position a rack in the lower third of the oven. Preheat the oven to 350 degrees F.
Making the Pie Crust
Here is a link to step-by-step instructions on making the cornmeal crust.
Roll the dough like you would when making a crust for a 9-inch pie.  Cut 5-1/2- to 6-inch diameter circles using a paring knife and parchment paper (or a plastic container lid) as a guide. This size will give your baby pies a pretty little overhang on top.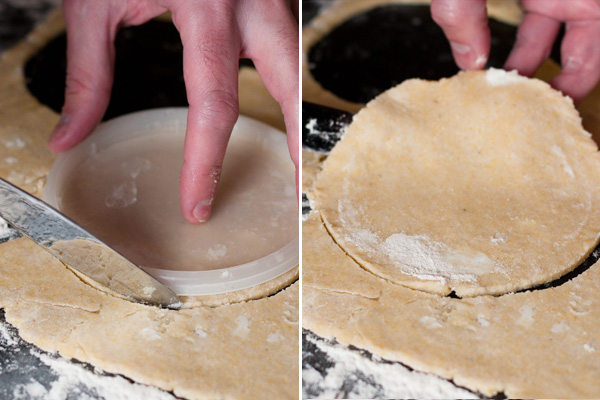 Transfer the cut dough carefully into the pockets of a regular 12-cup muffin pan and press it firmly. Pour 1-1/2 to 2 tablespoons of the purple sweet potato puree on top of the crust.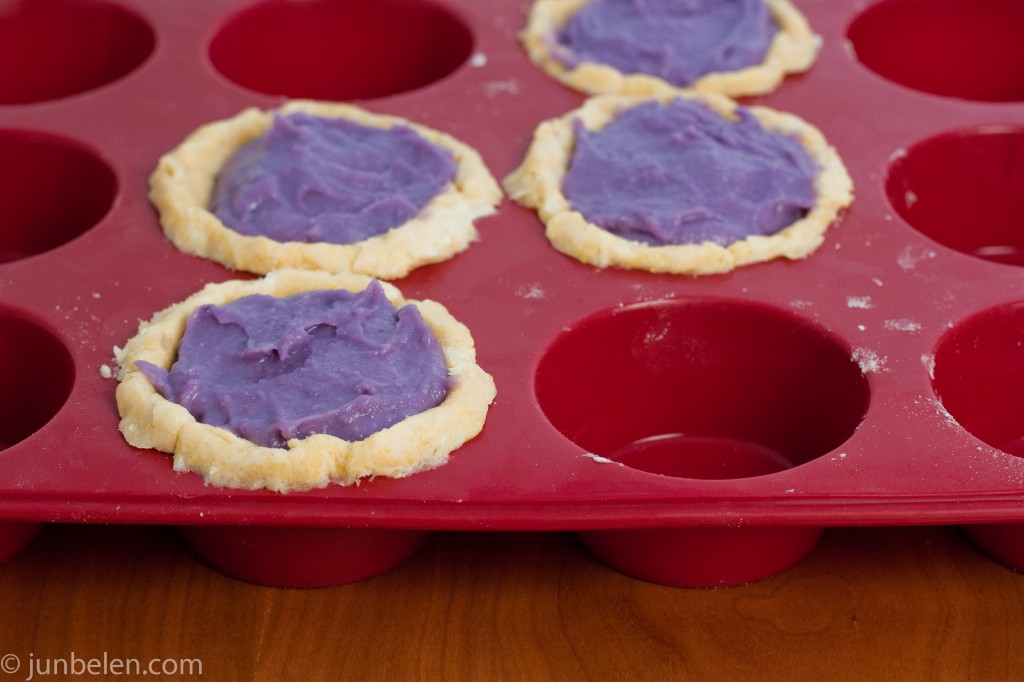 Bake the baby pies for 45 to 55 minutes until the crust is golden brown. Cool completely.
To add some crunch, sprinkle crushed walnuts on top.  Alternatively, top these baby pies with strands of delicious macapuno or sweetened young coconut, which is traditionally paired with ube jam.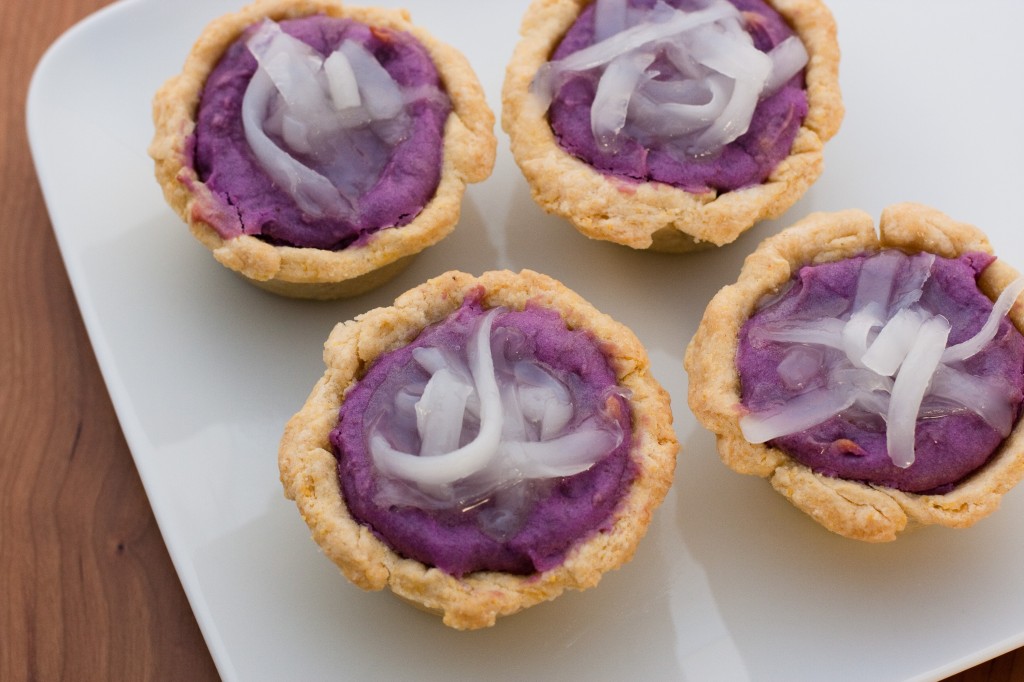 The purple sweet potato pies were delicious but the question remains: can purple sweet potatoes substitute for purple yams? Absolutely.
Purists may disagree with me and argue that ube is ube but, seriously, everything about my purple sweet potato pie reminded me of the ube flavors I grew up with and enjoyed as a kid.  I am so thrilled that I can now enjoy ube jam and all the delicious ube-ness here in the city using organic local purple sweet potatoes.  These wonderful ube baby pies will definitely be in my dinner menu for New Year's Eve this year.
To my fellow ube fanatics, it will really be cool if you can try out this recipe and send me your thoughts. I really would appreciate it.
For the Cornmeal Pie Crust, makes one 9-inch or 10-inch double crust
1-3/4 cups all-purpose flour
3/4 cup yellow cornmeal
1/3 cup confectioner's sugar
1-1/4 tsp salt
3/4 cup chilled lard or vegetable shortening
3 Tbsp cold unsalted butter
6 Tbsp ice water
Making the Pie Crust Dough
Sift together the flour, cornmeal, sugar and salt. Mix the chilled shortening and butter.
Cut half of the shortening mixture into the flour mixture with a pastry blender or work it in lightly with the tips of your fingers until it has the consistency of cornmeal. Work it in lightly and do not overwork the dough because it will become dense and greasy. Cut the second half of the shortening mixture into the dough until it is pea-sized. If you don't have a pastry blender, you can use a fork. Leave it in firm, separate pieces, some fine and crumblike and the rest the size of peas.
Sprinkle the dough with ice water. Blend the water gently into the dough until it just holds together. You may lift the ingredients with a fork, allowing the moisture to spread. If necessary add another teaspoon to a tablespoon of ice water to hold the ingredients together. It is important to add only enough water to make the dough hold together but be careful not to put so much as to cause excessive gluten to develop, which would make the pie crust hard or chewy and breadlike. As a rule of thumb, the flour and fat mixture should be moistened only to the point where it forms small balls that hold together when pressed with your fingers.
Divide the dough in half, shape each into a disk, wrap in plastic wrap. and refrigerate. Chilling the dough up to 12 hours tenderizes it, helps keep it from shrinking during baking, and makes it easier to handle. If the dough has been chilled longer than 30 minutes, let it stand until it feels firm yet pliable, like modeling clay, when pressed. If it is too cold, the dough will crack around the edges when rolled.
Rolling the Dough
Roll the dough on a pastry cloth, pastry board, marble slab or on clean smooth countertop away from anything hot in your kitchen to avoid melting the fat. If the dough becomes too soft while rolling, loosen it from the work surface, slide a rimless cookie sheet beneath it, and refrigerate until it firms up.
Lightly flour the work surface and the dough. Roll the dough from the center out in all directions, stopping just short of the edge.
Check to make sure that the dough does not stick to the surface by sliding your hand beneath it. Scatter a little more flour on the work surface if it becomes too sticky. Rolling dough is like modeling clay. Seal cracks and splits by pushing the dough together with your fingers. Patch any holes, tears, or thin spots with dough scraps. Moisten one side with cold water and then firmly press them into place, with the moistened side down.