Every New Year's Eve, it has been my mom's tradition to gather 12 round fruits to bring us good luck in the coming year.  It has to be twelve, she says, one for each month of the new year.  And it has to be round-shaped for prosperity, abundance and wealth.  So she buys grapes, oranges, melons and even watermelons to ring in the new year.
This year, I'm starting my own tradition. I'm gathering 12 round shaped sweet treats to welcome the New Year!  These are my San Francisco favorites culled from past blogs plus teasers for future posts.  It's definitely not a comprehensive list since I can only cram twelve.  And I guess, that's what the New Year is for, a whole new year to try new tasty treats!  Send me a note and let me know what's on your list.
And by the way, I define round shaped very loosely here.  It can be spherical or circular in shape or served in a spherical or circular container.
Fried Dough.
1. Dynamo Donut's maple glazed bacon apple doughnut. "The saltiness of the little chunks of crispy bacon complements the sweetness of the maple glaze very well, which makes the maple glazed bacon apple an instant favorite."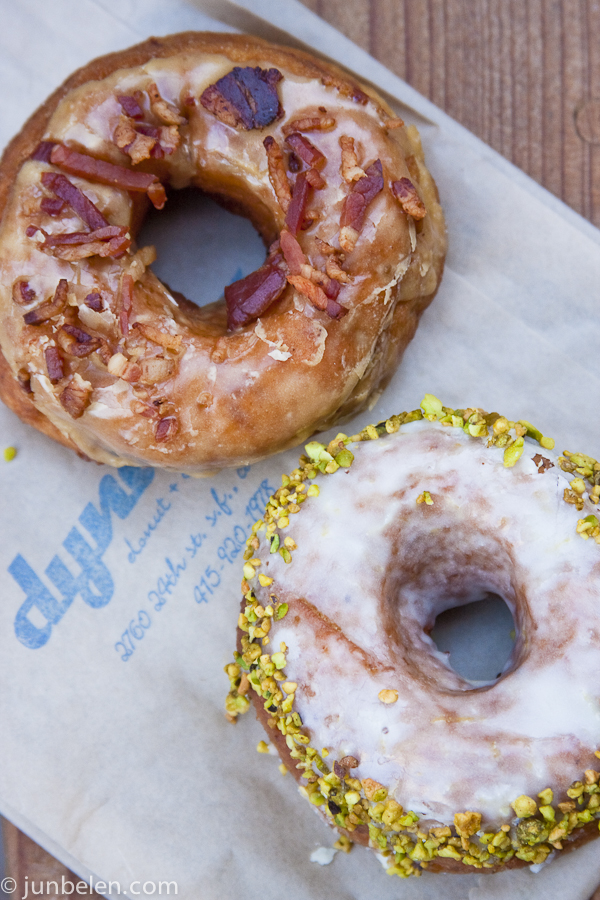 2. I Preferiti di Boriana's bomboloni. Italian doughnuts filled with chocolate ganash and tossed in sugar. Pure bomboloni bliss.
Street Sweets
3. Creme Brulee Cart's Cap'n Crunch Creme Brulee. "But as he sprinkled colorful Cap'n Crunch pieces on my cup, for some reason, I got so excited. I knew I was in for a sweet treat!"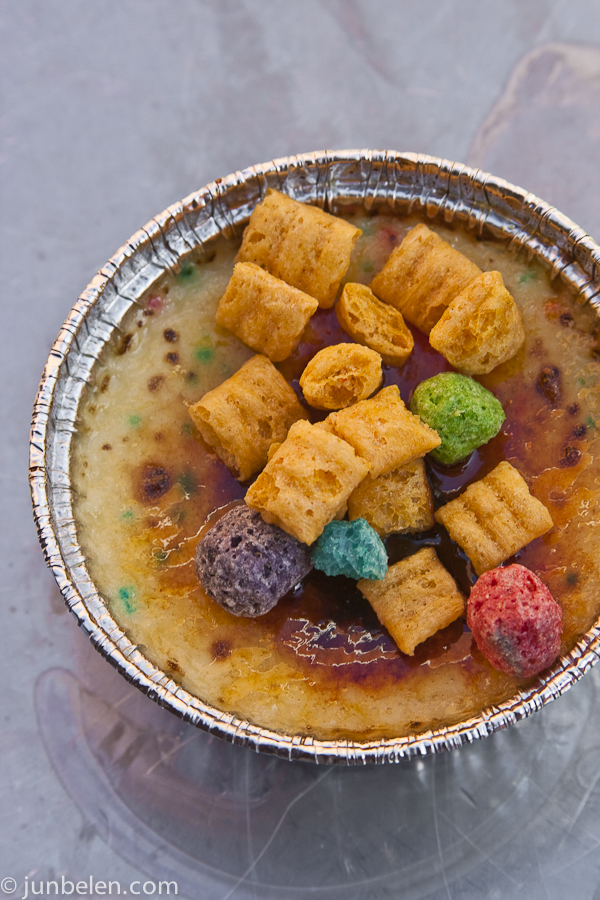 4. Wholesome Bakery's Sweet Potato Pie. Healthy baby sweet potato pies that actually taste great.  The sweetness of the sweet potato shines.
I Scream for Ice Cream
5. Bi-Rite Salted Caramel Ice Cream. "One of the best things in life is real good ice cream. And Bi-Rite Creamery's artisanal ice cream is beyond good."
6. Humphry Slocombe's Ice Cream. Yes, you read it right: salt-n-peppa ice cream. Crazy, one-of-a-kind and out-of-this-world, yummy flavors are what makes Humphry Slocombe truly special.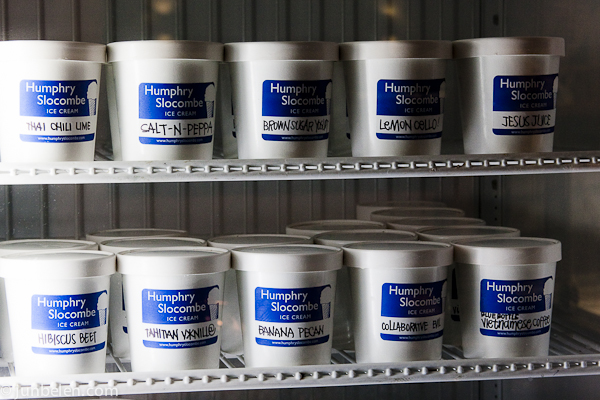 Cupcake Heaven
7. Kara's Cupcakes. "A pink box full of Kara's pumpkin spice cupcake, moist carrot cupcake, and banana cupcake with caramel filling, all topped with Kara's silky smooth cream cheese frosting, makes me extremely crazy, stupid happy."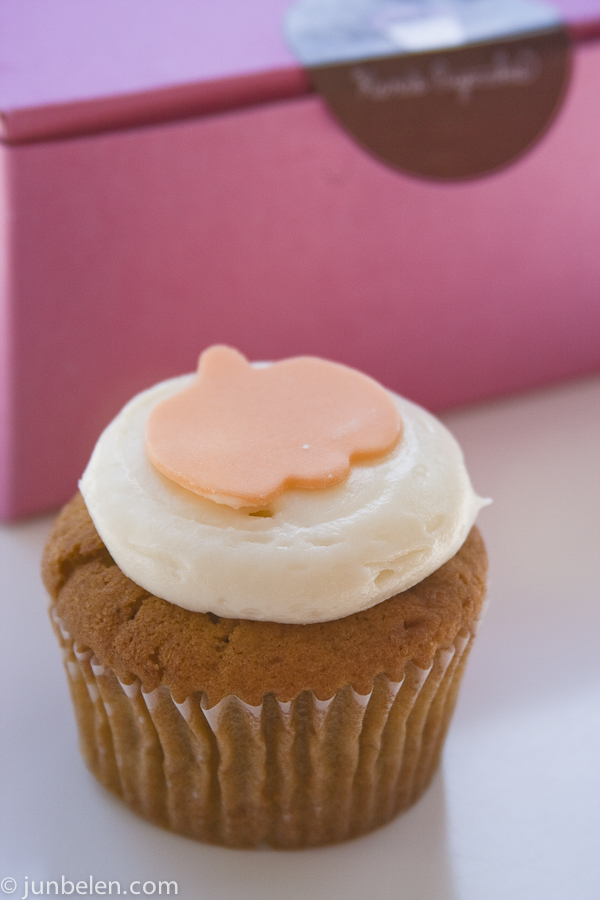 8. Baked's Red Velvet Cupcake. This small bakeshop in Potrero Hill is a real neighborhood find with baked treats like cookies, peanut brittle, and delightful red velvet cupcakes.
Filipino Finds
9. House of Silvanas Bakeshop's Ube Silvanas. "They are best enjoyed frozen. The crunchy wafers and the yummy buttercream just delightfully melt in your mouth."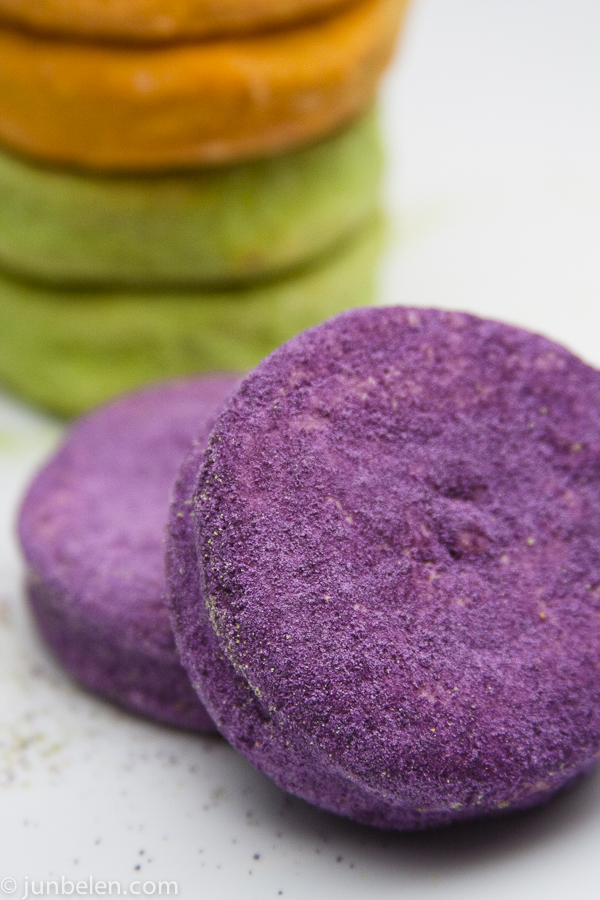 10. Hilda's Hopia. Hilda's Filipino favorite bean filled pastry is flaky, buttery and sweet.
Breakfast Bites
11. Dottie's Pumpkin Chocolate Chip Pancakes. "The neighborhood may be dicey and the wait may be long but breakfast at Dottie's is always a treat. The food is simply scrumptious."
12. Tartine's Bread Pudding with Apples. There are so many tasty treats to try at Tartine (and a lot of alliterations, too); from delicious croissants and tarts to amazing bread pudding.