You won't find a cardamom doughnut with dried apricots and currants. Nor a doughnut that's frosted with cheesecake, topped with shortbread crumbs and filled with strawberry and rhubarb. Their chocolate doughnuts are glazed with chocolate and not with rose water. And you won't find bacon on their doughnuts, either.
Instead, what you will find in Seattle's Top Pot is a fresh, delicious spin on the classics — the doughnuts we've always loved since we were kids.  From old-fashioneds and apple fritters to crullers and cakes.  Take for example their classic sprinkles, cake doughnuts with pretty pink-colored vanilla frosting studded with a million rainbow candy sprinkles.  It's virtually straight out of Homer Simpson's dreams.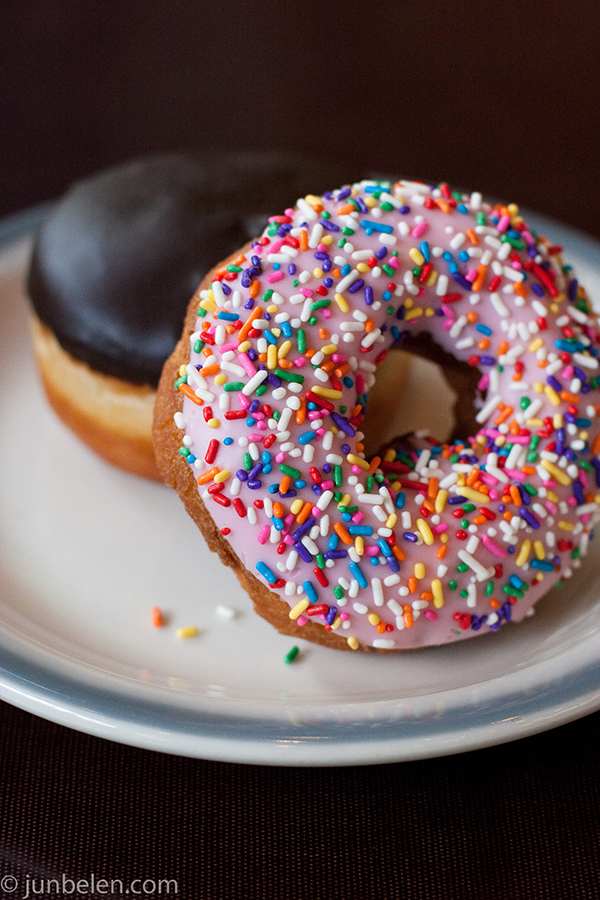 If candy sprinkles are not your thing, there are cake doughnuts topped with delicious coconut shavings, so playful and flamboyant like a pink feather boa.
But what makes Top Pot truly topnotch is their Bavarian crème doughnut.  Pillowy soft — thick and chewy — frosted with creamy chocolate and filled with sweet, smooth Bavarian crème.  And what's the best way to enjoy this insanely delicious doughnut?  With a cup of tasty Ovaltine latté, without a doubt.  Now that's a flashback to my childhood right there: visions of little Jun-bug stuffed with [Dunkin' Donuts] Bavarian crèmes and Ovaltines after a long day at school.  I would go straight from school to the tiny Dunkin' Donuts store just across the street, buy a half dozen doughnuts and walk excitedly back home.  My mom and I would split the loot between us and if we felt generous we would leave some for my sisters and my dad.  I would wolf down those doughnuts and finish it up with a creamy cup of hot chocolate.  Oh my, just the thought of that sugar rush sends shivers down my spine.  However, I must admit, I grew up with Milo and not Ovaltine but every now and then my mom would buy the orange can instead of the green one.
Top Pot is in Seattle.  To read more about Top Pot check out this link to their website.  There's another great vegan doughnut shop in Seattle, Mighty-O, which we missed when we were in Seattle.  Has anyone tried them? Too many doughnuts, too little time.