I wanted a simple dessert.  The fresh pasta for the lasagne would take quite a bit of my time to make and so I wanted something simple.   Simple and yet elegant.   Store-bought gelato with almond cookies crossed my mind but I wanted to make something homemade, something with fruits.  I toyed with the idea of making zabaglione and serving it over sliced peaches in dainty glass cups but I had not made zabaglione before and I didn't have enough time to experiment.  I turned to Marcella Hazan once again and found the perfect, simple dessert.
"This tender, fruity cake has been described as being so simple that only an active campaign of sabotage could ruin it," she writes.
I already felt incredibly invincible after I finally learned how to make fresh pasta but in the remote case of an active campaign of sabotage, it was comforting to be assured that this dessert would not fail.  And it certainly did not.
The tart is not at all rich and buttery.  Its sweetness is subtle, which I loved.  The sweet pockets of fruit strewn throughout makes it elegant and refined.  It is a light and fruity dessert that is perfect after a rich and savory meal.  And it holds up wonderfully well for breakfast the following morning.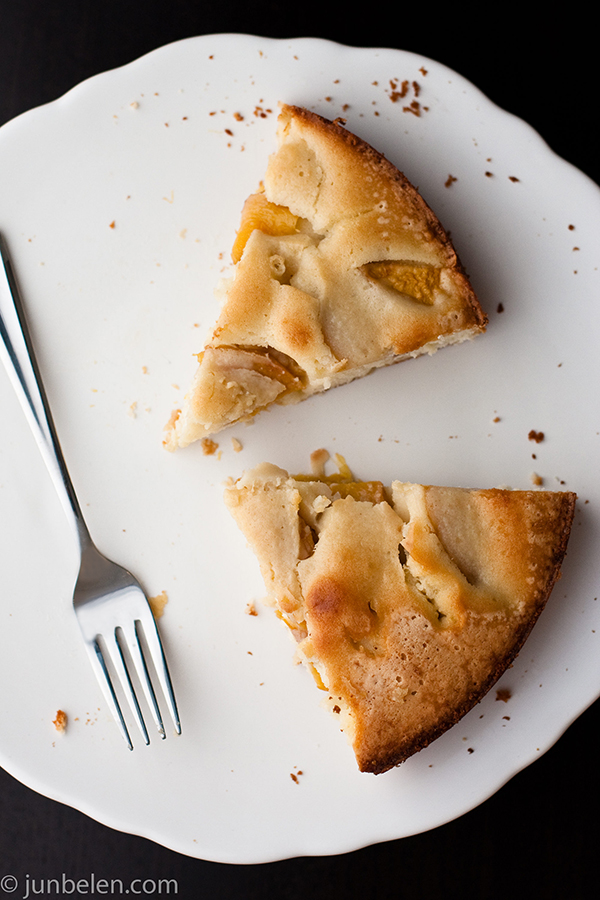 Farm Wife's Fresh Pear Tart Recipe
Recipe adapted from Marcella Hazan's Essentials of Classic Italian Cooking

2 eggs
1/4 cup milk,
1 cup granulated sugar
salt
1-1/2 cups all-purpose flour
2 pounds fresh pears
butter for greasing the pan and dotting the cake
1/2 cup dry, unflavored bread crumbs
1 dozen cloves, optional
Preheat the oven to 375 degrees
Beat the eggs and milk together in a bowl. Add the sugar and a tiny pinch of salt, and continue to beat. Add the flour, mixing it in thoroughly to produce a compact cake batter.
Peel the pears, cut them lengthwise in two, scoop out the seeds and core, then cut them into thin slices about 1 inch wide, Add them to the batter in the bowl, distributing them evenly.
Smear a 9-inch cake pan generously with butter, sprinkle lightly with bread crumbs, then turn the pan over and give it a sharp rap against the counter to shake loose excess crumbs.
Put the batter into the pan, leveling it off with the back of a spoon or a spatula. Make numerous small hollows on top with a fingertip and fill them with little bits of butter. Stud with the optional cloves, distributing them at random, but apart. Place the pan in the upper third of the preheated oven and bake for 50 minutes, or until the top has become lightly colored.
While it is still lukewarm, carefully loosen the tart from the bottom of the pan, lift it with spatulas, and transfer to a platter. It is very nice served while still warm, or at room temperature.
Cooking Notes
1.  I made the tart with peaches instead of pears — my fitting tribute to summer.  But when using pears, Marcella Hazan recommends using Bosc or Anjou and not Bartlett.
2. Serve this fruity tart with a dollop of freshly whipped cream.  Simply delicious.
Freshly Whipped Cream Recipe
Recipe by Irma Rombauer from the Joy of Cooking

1/2 pint heavy whipping cream
sugar
vanilla
Beat the whipped cream in a chilled bowl with chilled beaters at high or medium-high speed until thickened.  Add sugar and vanilla and beat to the desired consistency.