The soy sauce and calamansi bubbled briskly in the hot pan as I browned the paper-thin slices of steaks. The fragrance, so familiar, lingered throughout the kitchen. It was the scent of home that evokes so many memories.
The versatile marinade of soy and citrus was one of the first things I learned to make in the kitchen. When I was in graduate school, far away from home, I lived on rice and bistek [bis-tek], pan-fried sirloin steaks, along with menudo and pork and chicken adobo. They were lifesavers for the homesick kitchen novice that I was. They are simple to make and they call for ingredients that can be easily sourced or substituted. I used lemon for calamansi and apple cider for cane vinegar, making do with what's readily available. I made big batches on Sunday mornings and rotated them during the week, bringing them to school for lunches and reprising them at home for dinners.
I placed the steaks, onions, and potatoes back in the pan and tossed everything in the rich sauce. I pictured the perfect bite in my head while I set the table for dinner. A ring of sweet onions wedged in between steak and potatoes, threaded into the tines of my fork. I would finish it off with a spoonful of rice copiously dressed in the steak's salty and tangy sauce. Pure comfort, in every sense of the word.
Bistek Recipe, makes four to six servings
1/4 cup soy sauce
2 tablespoons calamansi or lemon juice
1 pound beef sirloin, cut into 1/4-inch thick slices
freshly ground black pepper
vegetable oil
1 medium onion, cut into 1/4-inch thick rings
4 medium potatoes, cut into 1/4-inch slices
Marinate beef in soy sauce, calamansi and freshly ground black pepper. Refrigerate overnight.
Before cooking the beef let it rest at room temperature for over an hour. Do not discard marinade but set aside. Fry steaks in oil in a pan over medium to high heat until almost done. Transfer beef and pan juices to a plate and set aside.
Add more oil to the pan, if needed, and fry onion rings until tender and browned. Set aside. Add more oil, if needed, and fry potatoes until cooked through. Set aside.
Add the marinade to the pan and bring to a boil. For a thicker sauce, simmer and reduce until desired thickness is reached. Add steaks, onions, and potatoes back to the pan and toss a few times. Serve hot with cooked rice.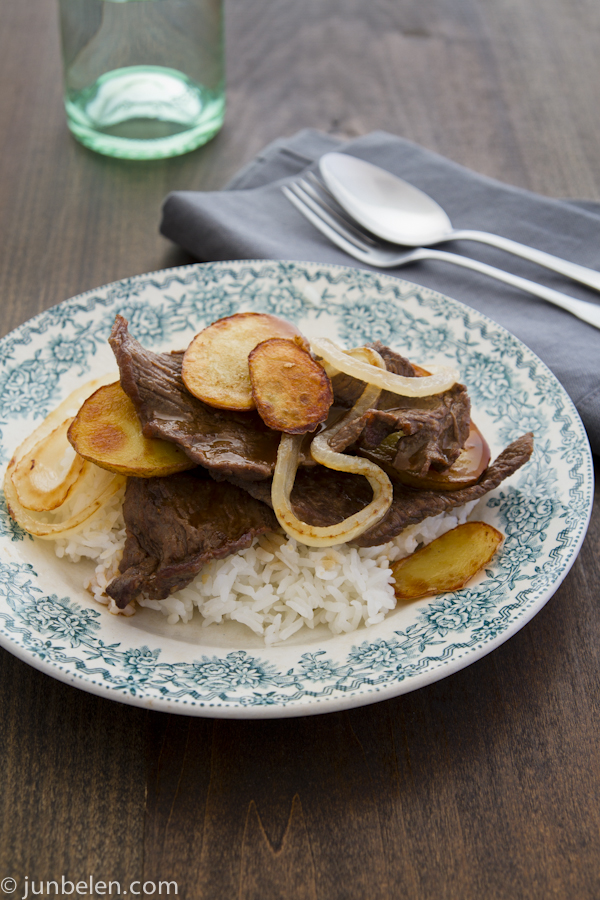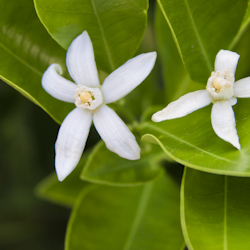 A huge thank you to everyone who wrote and sent birthday wishes for Jun-blog. I have been reading and rereading the notes you sent and I am blown away by how much you enjoy reading the blog. Jun-blog is a labor of love. There is so much work involved in developing the recipes, testing them, cooking, styling, photographing, and writing the stories. You make all the hard work worthwhile. Maraming, maraming salamat.
The winner of our first calamansi tree giveaway is Lara of Pennsylvania. Lara writes,
"The love of my life is a Philippine national, currently working in Saudi Arabia. I started studying the culture as a way to connect with him and his five amazing children. That is when I first found your blog. I started returning to it more frequently after my first trip to the Philippines. I live in a town where there are no Filipino restaurants. I am embarking on the adventure of trying to cook the foods I have fallen in love with and your blog is my favorite resource."
Congratulations, Lara! We're hoping the calamansi tree will come in handy in your Filipino cooking adventure. We will get in touch with you soon so we can send the tree to Pennsylvania right away.
Thank you to everyone who joined the giveaway and stay tuned for more giveaways to come.