Oh, whisk me away from this winter, please! I was cold. I was miserably cold. I was bundled up in layers but I was still cold.
There was frost on our rooftop. There was frost on the ground, on the grass where the girls graze. There was even ice in our pond in our front yard. Ice, believe it or not. A fragile sheet of ice but a sheet of ice, nonetheless. Stanford — unfazed by the cold, unfazed by practically anything — tugged firmly at his leash while I lugged myself begrudgingly behind him for our morning walk.
I planned the weekend in my head as we shuffled around the block. I planned it around one thing — around food, of course. I ticked off my to-do's one after another while I ticked off ingredients, checking if I already had them at home or if I had to venture out to the store. Sticky rice and chocolate for champorado. Coconut milk, saba bananas, and sweet potatoes for ginataan. My kind of comfort food for this kind of weather.
Then I remembered my ritual on cold mornings when I was little. My morning ritual of waiting for the cry of the hawker peddling taho [tah-hô] on the streets, of waiting for him and his pair of metal tubs he balanced deftly on a bamboo pole fixed on his shoulders. My ritual of warming up to a glass of chewy sago [sah-goh] and creamy silken tofu sweetened with arnibal [ahr-nee-bahl], a simple syrup made of brown sugar. The mere thought of the childhood treat made the cold that morning a little less miserable.
Sago pearls, silken tofu, and more brown sugar. I added them to my grocery list and hurried back home.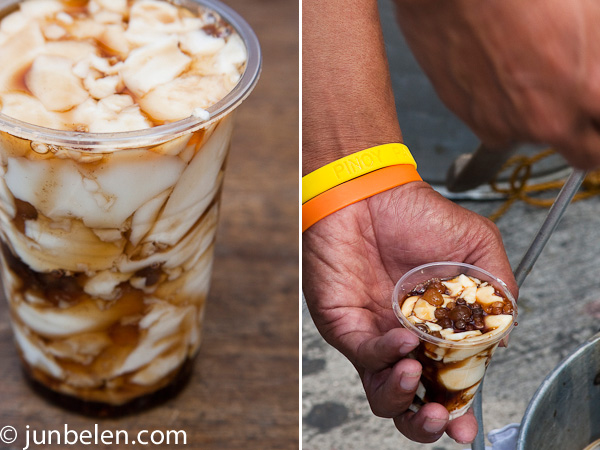 Taho Recipe, makes four servings
For sago pearls
1/4 cup dark brown sugar
6 cups water
1/4 cup sago pearls
For arnibal, brown sugar syrup
1/2 cup dark brown sugar
1/2 teaspoon vanilla
1/2 cup water
1 one-pound package organic silken tofu
Put sugar and water in a large saucepan and bring to a boil over high heat. Add sago pearls and stir until water returns to a boil. Reduce heat to a simmer, and continue cooking sago with the lid on, stirring occasionally, until they are almost translucent with a pinpoint of white in the center. Sago is cooked when it is tender but still chewy. Drain, rinse under cold water, and drain again.
Small sago pearls take about 20 to 30 minutes to cook while the bigger ones take much longer. In low heat, simmer big pearls with the lid on for 30 minutes, stirring occasionally, then turn off the heat and let them continue to cook in the saucepan for about an hour. If they are still not done, bring water to another boil, reduce heat, and simmer with the lid on for another 30 minutes. Repeat the process until they are almost translucent with a pinpoint of white in the center. Cooking sago in a rapid boil for a long time breaks them apart and makes them too soft and too mushy. Sago can be prepared ahead of time. Transfer drained cooked sago pearls to a container, add enough water to cover pearls, cover and refrigerate for up to a few days. Stir well and then drain before using.
To make arnibal, put sugar, vanilla, and water in a saucepan and bring to a boil. One part sugar to one part water. Reduce heat to a simmer and stir a minute or two, until the sugar dissolves. Take off heat and set aside.
Steam silken tofu in a steamer until heated through, about 15 minutes.
Divide tofu equally into four glasses or bowls. Add sago pearls and sweeten with arnibal. Mix together and serve warm.