Dear Blackberry Bush,
I hate you. I really do. You take over the garden like it's yours. You are everywhere. Along the deer fence, along the driveway. Under the fig tree, under the oak. Side by side with the overgrown oleander.
You are tenacious. You are too difficult to prune. I've scratched my arms and my hands with your thorns while trimming your jagged canes. They've bled! I have the scars to prove it. They crisscross up and down my arms.
Then, you resurface. Almost instantly. Effortlessly. You return with even thicker thorns. You are untamable. You are worse than the weeds, even worse than the wisteria I so detest.
But there is no point in wrestling with you. I can never win over you. I can never get rid of you. So let's make a deal. I promise to keep you in the garden in exchange for one thing. I want berries. Plenty of blackberries. Pressed down, shaken together. Running over.
Truth is, I cannot get enough of blackberries when summer time comes around. They are wonderful freshly picked. Still warm from the heat of the summer sun. They are incredible baked in a pie. Canned as jam. Mangoes and blackberries make a fine pair. Blueberries and blackberries make breakfasts sing.
So I'll leave you be. Go ahead and thrive.
Mango Blackberry Ice Pops Recipe, makes 10 ice pops
3 to 4 large, ripe Manila mangoes
1-1/2 cups milk
1/4 cup honey
3/4 cup blackberries
Cut and pit the mangoes. Using a spoon, scoop the mango pulp out of the cheeks.
Place mango, milk, and honey in a blender to puree. Alternatively, place mango in a bowl and mash with a fork. Add milk and honey, and whisk together until smooth.
If using conventional molds, place a a few blackberries in each mold. Divide the mango mixture among the molds. Snap on the lid and freeze until solid, about 4 hours. If using glasses, cups, or other unconventional molds, freeze until the pops are beginning to set, about 2 hours, then insert the sticks and freeze until solid. If using an instant ice pop maker, follow the manufacturer's instructions.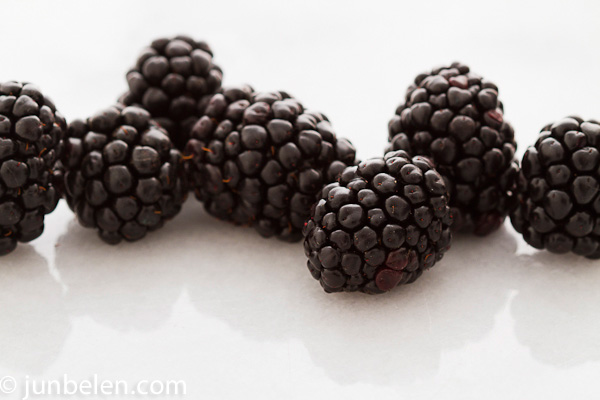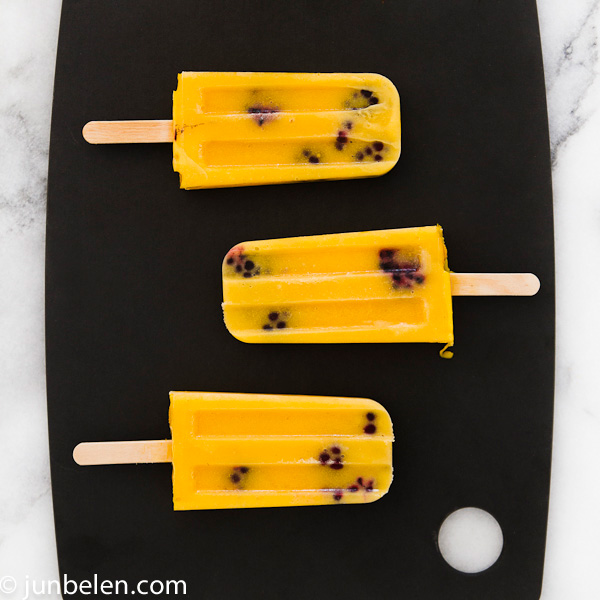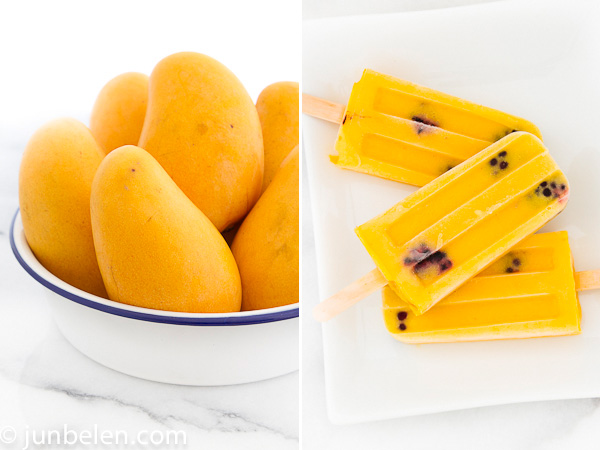 More Summer Recipes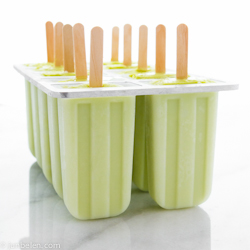 With one long, steady stroke I cut the pebbly-skinned avocado around its pit. I twisted the two pear-shaped halves with my hands and pulled them apart then tapped the sharp edge of my knife gently on the pit to remove it. I sliced its yellow and green flesh into thick half moons and placed them in a glass bowl…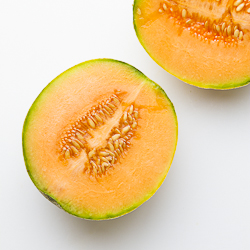 I reached for my melon stripper, the tiny gadget my mom brought me from home, and started carving the ripe melon. I deftly carved long, noodle-like strips. With every stroke, juice dribbled out of the fruit and into my glass bowl. My mouth watered. I hurriedly poured myself a glass of the sweet melon juice and tossed …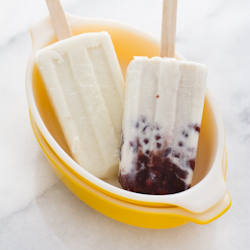 Coconut Ice Pops with Red Mung Beans

Creamy coconut ice pops crowned with sweet red mung beans. Thick shreds of buko [boo-koh] — young coconut — strewn throughout. I wanted to savor every bite. I wanted to save the best for last. Save the sweet beans for last. But I knew it wasn't going to happen. Before long, it started to melt. Precious drops …