Handfuls of red, ripe New Girl tomatoes and Black Krims just picked from the kitchen garden. Along with a motley mix of red and green leafy mesclun.
Soft, plump pan de sal rolls just out of the oven. Made from scratch.
Crisp strips of bacon. Cured with the sweetness of maple and bourbon. Cured at home.
These are the makings of a great meal, in our book.
You know it's summer in our home when there are BLTs in the kitchen: home-cured bacon with homegrown lettuce and tomatoes in homemade pan de sal. These BLTs are our summer tradition, our first taste of our proudly homegrown tomatoes, our way of warmly welcoming the season's sweet bounty.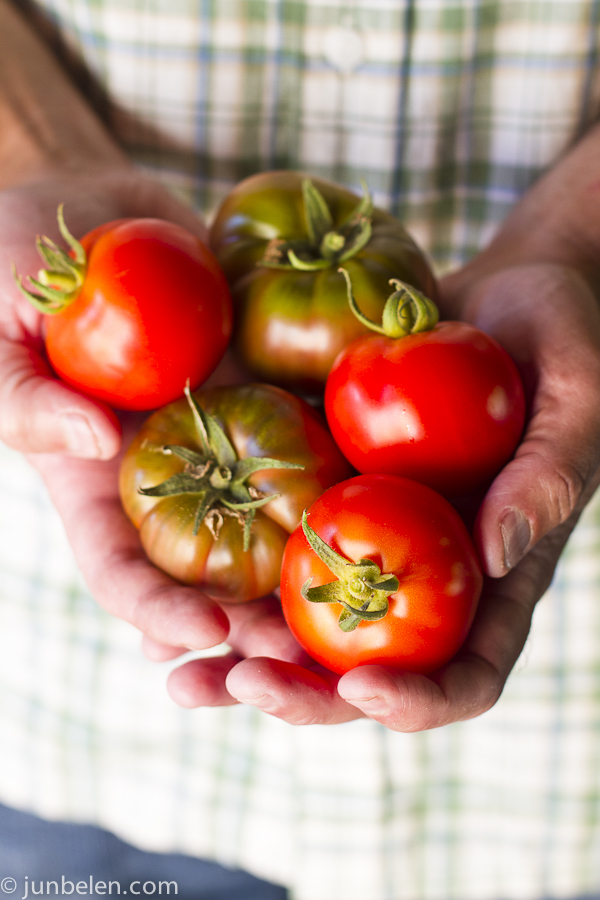 Home-cured Bacon Recipe
Recipe adapted from The New York Times
2-1/2 pounds pork belly, squared off, rind removed
2-1/2 tablespoons kosher salt
1/4 cup maple syrup or honey
2 tablespoons bourbon or apple cider
Place pork belly in a large Ziploc bag. Add salt, maple syrup, and bourbon. Rub the cure into the pork belly, turning the bag over and over while pressing the cure into the meat. Close the bag, squeezing out as much air as you can and refrigerate for seven days. Each day, flip the bag over and press the cure into the meat.
After seven days, wash the cure off the meat, rinsing thoroughly. Pat the bacon dry with paper towels and set it on a rack over a baking sheet. Allow the bacon to air-dry in the refrigerator for 6 to 24 hours.
Preheat the oven to 225 degrees F. Roast pork belly in the oven to an internal temperature of 150 degrees F, about one to one-and-a-half hours. Chill bacon well in the refrigerator, then slice thin or thick to preference or cut into chunks. Bacon will keep for three weeks in the refrigerator and three months in the freezer.  To store wrap bacon in parchment paper, then wrap in plastic wrap or foil and place in a Ziploc bag.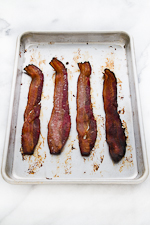 How to Cook Bacon
Lay out slices of bacon on a baking sheet, fitting as many as you can without having them overlap each other. Place the baking sheet in the oven. Turn the oven on to 425 degrees F.
Bake the bacon to the desired crispiness. Start keeping an eye on them after about 15 minutes to avoid burning. Use a flat spatula to lift bacon slices, then pour the bacon fat into a small bowl for future use or for proper disposal after it has cooled and has hardened.