Polpette is Italian meatballs.  Generally made with beef and pork, combined with some olive oil, garlic, cheese, bread crumbs, egg and parsely and rolled by hand, polpette can be easily made at home.  Toss them with tomato sauce and spaghetti to make the beloved American favorite, spaghetti with meatballs.  Or grab some crusty bread to make a hearty meatball sandwich. Or simply roll them in grated or shredded Parmesan cheese and serve them as an hors d'oeuvre or even a main course.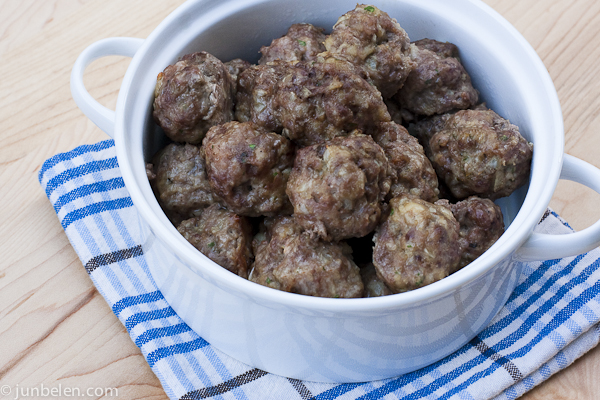 Polpette Recipe
Recipe by Alice Waters from The Art of Simple Food
1 pound ground grass-fed beef
3/4 pound ground pork shoulder
1 cup torn-up pieces of day-old white bread with crusts removed
1/2 cup milk
1 small yellow onion
1 Tbsp olive oil
2 garlic cloves, peeled and pounded to a paste
1 Tbsp chopped fresh oregano (or 1 tsp dried oregano)
1 Tbsp chopped parsley
1 egg
1/4 cup grated or shredded Parmesan cheese
a pinch of cayenne pepper
salt and fresh-ground pepper
Season the ground beef and ground pork with salt and fresh-ground black pepper.
In a small bowl, combine the bread pieces and milk. Set aside to soften. Grate the onion using the large-holed side of a box grater or if you don't have a grater, chop the onions very finely until it becomes a rough puree, which will add moisture on top of flavor to the meatballs. Squeeze most of the milk out of the bread and put the bread in a large mixing bowl together with the seasoned meat and the grated onion.
Add the rest of the ingredients and mix them with your hands gently and thoroughly. Mixing them too much makes the meatballs tough. Fry a little meatball in a small pan and taste. Adjust the salt and pepper as needed. If it seems a bit dry, add a little milk. Gently roll the mixture into golf-size meatballs by hand.
Preheat the oven to 450 degrees F and bake the meatballs on a rimmed baking sheet until just cooked through. Waters suggests a baking time of about 6 minutes. When I made mine, I baked for 8 minutes and then turned up the broiler and broiled the meatballs for another 2 minutes to brown them a bit. An alternative to baking is frying the meatballs in little oil in a pan, turning them occasionally for even browning. I personally prefer baking since I find it hard to brown the meatballs uniformly by frying them.
Waters suggests the following variations.
Use ground turkey instead of ground beef.
Use cold cooked rice or potato instead of the bread.
Add other chopped herbs such as mint, marjoram, sage or thyme.