My favorite way of cooking mussels is to steam them in white wine and to enjoy them with warm crusty bread. Steamed Mussels Provencale is amazingly easy to make and is perfect as an hors d'oeuvres or even a main course.
Steamed Mussels Provencale Recipe
Recipe adapted from Alice Waters' The Art of Simple Food
2 lb live mussels, cleaned
olive oil
1 tsp crushed garlic
3/4 cup of dry white wine (chardonnay or sauvignon blanc)
1 medium tomato, diced
2 Tbsp flat leaf parsley, roughly chopped
salt, pepper, and cayenne to taste
crusty bread
Picking live mussels
Always make sure that you pick only fresh live mussels in the market. Discard mussels with broken shells or shells that will not close when tapped or after you put them in the freezer for a couple of minutes. Live mussels with their shells open will close shut when tapped.
Some mussels have a beard, a tangle of dark fibers that they use to cling on to rocks. Remove the beard only just before cooking since the mussels will soon die after it is removed. How do you remove the beard? Simply pull off the the dark fibrous strands.
Mussels stay alive for days in the fridge but do not store them in a sealed plastic bag, where they will suffocate. Store them in a mesh bag or place them in a bowl and cover with a damp towel.
Steaming the mussels
Put your saucepan on high heat and add some olive oil. Add the garlic and sauté until lightly brown. Add the mussels and stir well. Add the white wine, tomatoes and parsley. Add a pinch or two of salt, pepper and cayenne or red pepper flakes. Stir together, place the lid back on and cook until most of the mussels have opened, up to a few minutes.
Once the mussels are cooked, use a slotted spoon to remove the mussels that have opened and place in a serving bowl. Discard any that have not opened. Strain the broth over the mussels through a fine-mesh strainer. Drizzle some olive oil and lemon juice over the mussels and garnish with more chopped parsley. Serve with warm crusty french bread to soak up the delicious broth.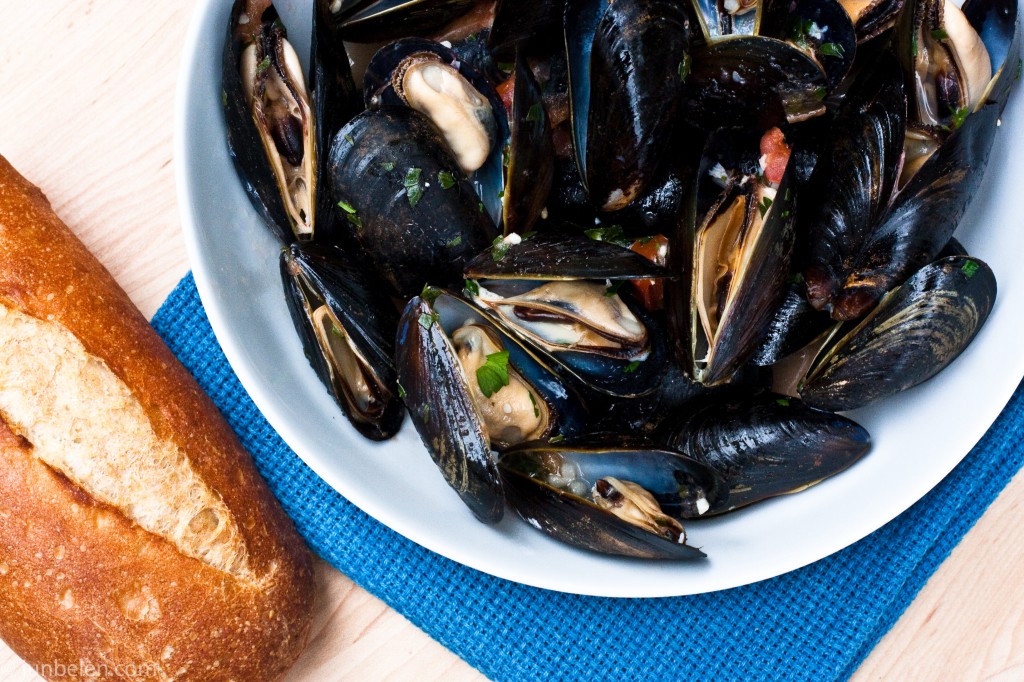 What's a good white wine to use?
My rule of thumb is that I cook only with wine that I enjoy drinking. To enhance the sweet flavor of the mussels, use a good dry white wine like a Chardonnay or a Sauvignon Blanc. Stay away from sweeter white wines like Riesling.