I used to write family and friends Christmas cards. (Remember those?) I used to keep a book of stamps handy at my desk and a list of addresses of family back home. Of old friends I've kept and of new ones I've made. I used to spend afternoons in a coffee shop, writing personal I-am-well-and-how-are-yous, scribbling the day away with a big cup of steaming hot cocoa.
Sadly, I don't anymore. I hardly could find the time for creative pursuits let alone make the time for my handwritten Holiday hellos. Days slip by so swiftly and before I know it, I am unearthing a box of cards untouched from the year before. Oh, if only I had more time!
But I do have time. I whine about not having plenty, about not having enough but, truth is, I do have time. "Time is not free — that's why it's so precious and worth fighting for," Anne Lamott says. "Fight tooth and nail to find time, to make it."
And that's exactly what I did one afternoon. I turned off Twitter and tossed my phone. I could live another day without another status update. I decided the moving boxes sitting idly in the living room could sit idly for another week. The fig tree and blackberry bushes in the garden that badly need pruned would have to wait, too. I bought a bag of chestnuts and dusted off last year's Christmas cards — the ones with penguins and reindeers still dressed to the nines.
As the scent of chestnuts roasting in the hot oven wafted from the kitchen, I pictured Christmas back home. I pictured my seven-year-old self shyly clutching my mom's hand while we waited. Bagong luto [bah-gong loo-toh] — just cooked, just roasted — is the way my mom likes castañas. I pictured a grey-haired, sunburned man stirring the chestnuts in a deep pan filled with hot round, black stones. I pictured his wife next to him piling them high in a heap in a shallow bamboo basket. All we could afford back then was a small paper bag's worth but it was enough. All we wanted was a taste. Christmas, after all, isn't complete without sweet castañas.
If productivity were measured in Christmas cards and Christmas cakes then I had a very productive afternoon. Plus visiting home in a whim, in a day — through the sweetness of roasted chestnuts — was a beautiful bonus.
Roasted Chestnuts Recipe

Recipe adapted from Marcella Hazan's Essentials of Classic Italian Cooking
1 pound fresh chestnuts
Preheat oven to 475 degrees F.
Wash chestnuts in running water. Soak in a bowl of water for about 20 minutes to help soften their shells. This will make them easier to slash. Make a horizontal cut starting at one edge of the flat side, going around the chestnut's belly, and stopping at the edge of the opposite flat side. Do not cut into the flat side and try to keep the slash shallow.
Spread the chestnuts on a baking sheet and roast them until they are tender, about 30 to 45 minutes, depending on their freshness. Take them off the baking sheet and wrap them tightly in a cloth towel for about 10 minutes before shelling them. The chestnuts will steam a bit inside the towel, which will make it easier to shell and skin them.
Shell and skin the chestnuts and serve warm.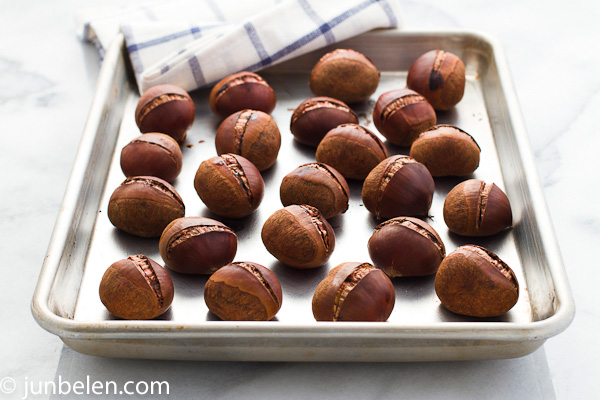 Chocolate and Chestnut Cake Recipe
Recipe adapted from La Cucina Italiana Magazine
1 cup roasted, shelled and skinned chestnuts (1/2 pound in shell)
1-1/2 cups sugar
1 vanilla bean, cut in half lengthwise
pinch of salt
11 tablespoons unsalted butter
12 ounces bittersweet chocolate
5 large eggs, separated
2 tablespoons all-purpose flour
Place chestnuts, 3/4 cup sugar, vanilla bean, and salt in a large saucepan and cover with water by 2 inches. Bring to a boil, reduce heat, and simmer covered for 45 minutes. Remove from heat and let chestnuts cool in syrup, then drain.
Preheat oven to 350 degrees F. Grease a 9-1/2-inch deep fluted tart pan with a removable bottom or a springform pan.
Chop chocolate into small pieces. Melt the chocolate in a double boiler or in a metal bowl set on top of a pot of simmering water. Add remaining 3/4 cup sugar and butter, stirring until smooth. Remove bowl from heat and whisk mixture until cooled to lukewarm. Whisk in egg yolks and flour.
Beat egg whites until stiff but not dry. Gently fold whites into batter in two additions.
Pour batter into greased pan. Gently lay chestnuts on top of batter. Bake until top of cake has formed a thin crust, about 40 minutes. Cool cake in pan on rack for 5 minutes, then release from pan and let it cool completely.
This Italian cake — Torta Morbida di Castagne e Cioccolato — is our new Christmas favorite. The cake is rich but not too rich, sweet but not too sweet. It is delightfully moist and the chestnuts and chocolate go wonderfully well together.