What makes it special?
Is it the extra butter you brushed on top? Or the duck egg you brined yourself?
Is it the cheese bubbling under the broiler? Or the fragrant banana leaves cradling it?
Is it the memories that it brings back? Memories of sisters and cousins, of ninangs and inaanaks, of old friends and old loves, near and far. Memories of days long gone, of Christmases past, bitter and sweet.
It is special because bibingka makes Christmas in any part of the world — in California, Australia, or Saudi Arabia — feel a little more like and taste a little more like Christmas back home.
Bibingkang Espesyal Recipe
Recipe adapted from Gerry G. Gelle's Filipino Cuisine, makes two 9-inch cakes

banana leaves cut into two 10-inch circles
2 cups all-purpose flour
2 teaspoons baking powder
1 teaspoon salt
3 eggs
1 cup sugar, more for sprinkling on top of the cakes
1-1/4 cup coconut milk
2 tablespoons butter, melted, and more for brushing cakes
1 salted duck egg, sliced thinly
1/4 cup grated Edam or cheddar cheese
sugar and grated coconut (optional)
Preheat oven to 350 degrees F.
Line two 9-inch pie plates or baking pans with banana leaves.
Whisk together flour, baking powder, and salt together in a bowl and set aside. Beat eggs in a bowl using a mixer on medium speed. Add sugar, 1/4 cup at a time, beating well after each addition. Alternate adding flour and coconut milk to the egg and sugar, mixing on medium speed after each addition. Add butter and mix well.
Divide batter equally into the two plates. Bake for 15 minutes then take out of the oven, lay slices of salted duck eggs on top and sprinkle generously with grated cheese. Continue baking until cake is cooked through, about 10 minutes more. Turn the broiler to low and broil the cakes to brown the top for about a few minutes. Watch cakes carefully to keep them from burning.
Brush the cakes with butter and sprinkle with sugar and grated coconut. Serve warm with tea or hot cocoa.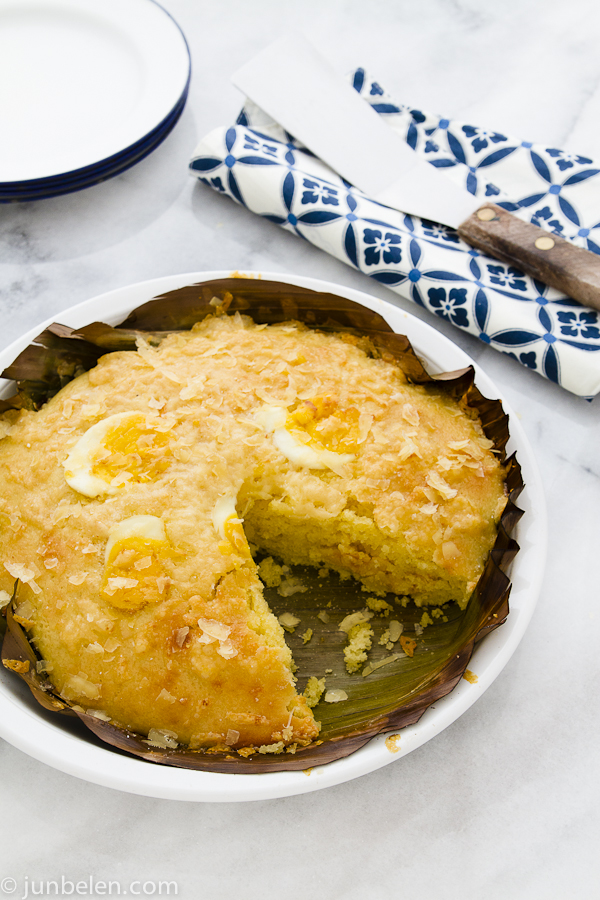 More Bibingka Recipes
Bibingkang galapong is the classic Christmas rice cake baked traditionally in clay ovens over hot coals. This cake, which uses rice flour, is moist and mildly sweet. The sliced salted eggs on top and the grated coconut with sugar give them a distinctly delightful taste and texture.
This version of the Filipino Christmas cake is made of cassava and strips of sweet macapuno instead of rice. This cake is topped with caramelized coconut milk and baked in banana leaves.