Pancit bihon and kutsinta [kooch-in-tà].  I can still taste the rice noodles and the coconut crumbs on the soft, round rice cakes. They were makunat [mah-koo-nat], the way I like them, the reason I fancy them. I don't think there's a word elsewhere that comes close to describing the cake's one of a kind texture. Chewy comes to mind but it isn't quite the same.
The meal was good but nothing out of the ordinary and yet I can still piece the memory of that meal together very well. It was December, weeks before Christmas, days before the start of Misa de Gallo. I was eating alone serenaded by Jose Mari Chan piped through the radio in the dingy food court in Divisoria. I was shopping alone for Christmas presents. My mom gave up on shopping with me one time she accompanied me to the mall. My mom and I are alike in so many ways but when it comes to shopping we are night and day. It takes her mere minutes to shop; she spots something she likes and she buys it. I, on the other hand, take hours. I like to take my time, circling around from store to store, hunting for the best deal, and haggling for the best price. Divisoria was, and still is, the perfect place for such deals and such prices.
I remember planting myself on a hard, plastic bench in a quiet corner of the bustling mall to rest my feet weary from all the walking all morning. I had everything I needed. I had presents for everyone on my list, mostly knockoffs and twofers too good to pass. I had toys for my nieces and nephews. I had rolls of wrapping paper and gift tags. All that was missing was bibingka to bring back home and I was all set for Christmas.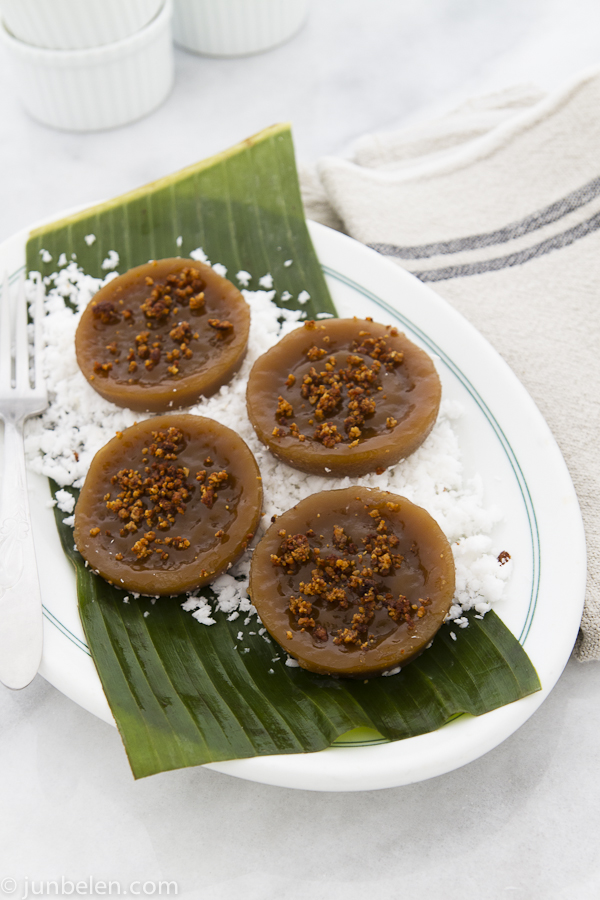 Kutsinta Recipe
Recipe adapted from Reynaldo G. Alejandro's Authentic Recipes from the Philippines, makes 12 cakes, four servings
1 cup rice flour
3/4 cup brown sugar
1-1/2 cup water
1/2 teaspoon lye water, preferably Koon Chun brand
homemade latik
grated coconut
Whisk rice flour and sugar in a bowl. Add water and lye water and stir until well combined. Use a rubber spatula to break up any lumps and stir until mixture is smooth. Lye water gives kutsinta its deep brown color. Lye water for cooking is readily available in most Asian stores. I prefer the Koon Chun brand. You can leave the lye water out of the recipe. The cakes will still be makunat but their color will be pale brown.
Pour mixture into 3-inch ramekins or muffin pans until about halfway full. Place ramekins or muffin pans in a steamer and steam until cakes are firm and cooked, about 30 minutes. In place of ramekins, you can use small prep bowls or dipping dishes used for sawsawan.
Run a paring knife around the edge of the cakes and carefully remove them. Serve warm or let the cakes cool completely before serving. Garnish with latik and grated coconut. Pair with a plate of pancit, the way I like to eat them.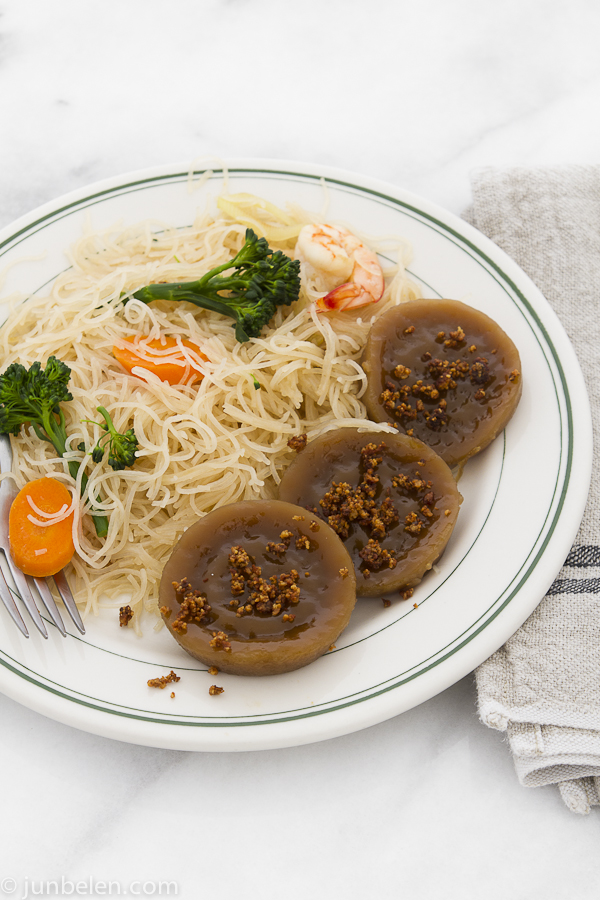 More Christmas Recipes
But for Filipinos it isn't so. It's never too soon. Take my mom, for example. She starts counting the weeks and the days once the "ber" months start rolling in. She holds off with the decorations until a full month before the twenty-fifth but she starts thinking about gifts and get-togethers as early as September. …
What makes it special?
Is it the extra butter you brushed on top? Or the duck egg you brined yourself? Is it the cheese bubbling under the broiler? Or the fragrant banana leaves cradling it? …
When I was in grade school, I wanted to be a teacher when I grew up. I was lucky I had teachers who inspired me and whom I looked up to. I thought it would be noble to help shape young minds the way they had helped shape mine. And I thought I would get a kick out of standing tall atop the wooden platform …