When I was in grade school, I wanted to be a teacher when I grew up. I was lucky I had teachers who inspired me and whom I looked up to. I thought it would be noble to help shape young minds the way they had helped shape mine. And I thought I would get a kick out of standing tall atop the wooden platform in front of our classroom, scribbling notes on the chalkboard all day long.
But, I must admit, there was another reason I fancied becoming a teacher. I so wanted the Holiday gifts! Come Christmas time, our teachers get lavished with the tastiest presents by doting parents and students. Think fruitcake studded with dates and cherries. Decadent brownies. Food for the Gods wrapped in whimsical cellophane. And, of course, heavenly lengua de gato [len-gwah deh gah-toh].
Borrowed from Spain, lenguas de gato are paper-thin buttery sugar cookies, so named because they are shaped like cat's tongues. Snugly packed in jars fitted with yellow lids, lengua de gato is a classic Filipino Christmas treat. They are great dunked in coffee or cocoa, paired with ice cream, or simply nibbled one after another.
My I-want-to-be-a-teacher-pampered-with-presents phase didn't last too long. One Christmas I discovered a penchant for wrapping gifts. I thought folding Holiday paper and making pretty pleats would be more fun than grading homework. I changed my fickle mind and dreamed of working in retail someday.
Lengua de Gato Recipe
Recipe adapted from Penelope Casas' The Foods and Wines of Spain, makes about 5 dozen cookies
1/2 cup (1 stick) unsalted butter
3/4 cup powdered sugar
1/4 teaspoon vanilla
1/4 teaspoon calamansi zest
2 egg whites
3/4 cup flour
pinch of salt
Preheat oven to 350 degrees F. Grease cookie sheets and set aside.
Cream butter and sugar with a mixer on medium speed. Add vanilla and calamansi rind and beat on medium. Add egg whites and continue to beat until very lightly textured.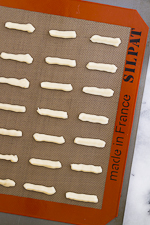 Slowly stir in the flour and add salt.
Put dough in a pastry bag fitted with a 1/4-inch round opening — plain tip #11 or #12. A ziploc bag with one of its tips snipped is a good substitute for a pastry bag. Press dough onto cookie sheet in 2-1/2 inch lengths, well-spaced at least an inch apart since the dough will spread when baked. Bake until cookies are very lightly browned around the edges, about 8 to 10 minutes. Remove them immediately from the pan and cool on cooling racks.
The cookies burn in a flash, the original recipe cautions. I take this to heart every time I make lengua de gato. I watch the cookies like a hawk while I wait patiently for their edges to crisp and brown.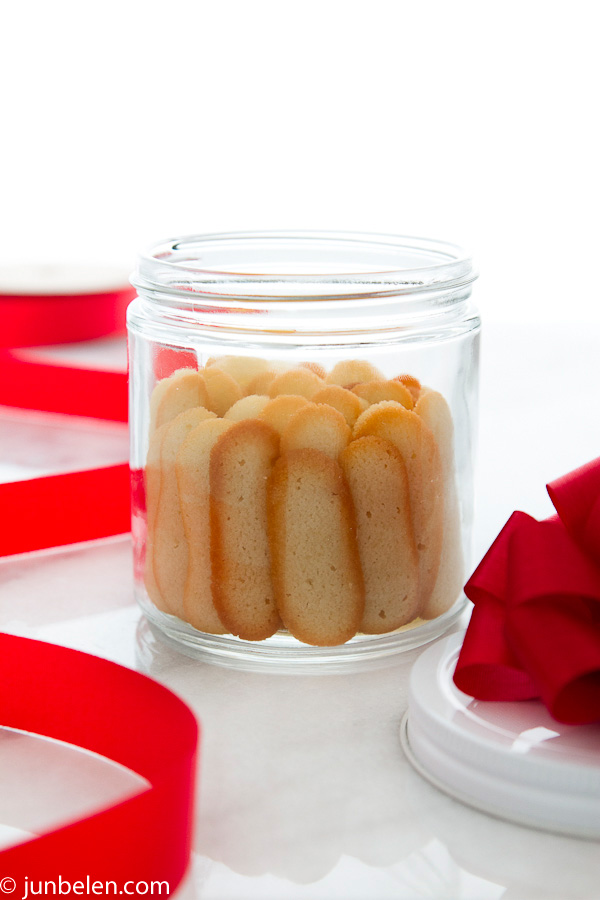 More Holiday Baking from the Jun-blog Archives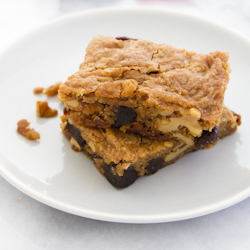 Food for the Gods (Christmas Date and Walnut Bars)
Wrapped in festive red and green cellophane, Food for the Gods are buttery Christmas confections lavishly peppered with dates and walnuts. The texture is a cross between a crumbly cookie and a moist brownie. They are chewy with the crunch of chopped walnuts and the dates lend a rich caramel flavor with hints of honey.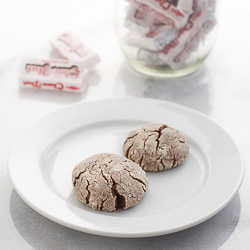 Choc-Nut Chocolate Crackle Cookies
As you peel off its red pinstriped wrapper, Choc-Nut almost always crumbles. The fragile milk chocolate confection has a subtly grainy texture and has a delightful nutty taste. It is cocoa powder, milk powder, ground roasted peanuts and sugar mixed and molded into thumb-sized, ridged candy bars.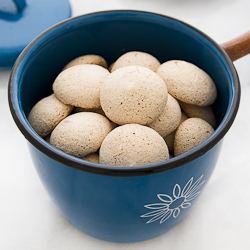 The cookie's origin is Spanish, without a doubt. Ever since I was little and my mom introduced me to these light, crisp cookies, I've always wondered how paciencia got its name. Patience is a virtue and its sweet reward comes in the form of paciencia cookies.