My thumb left a dimple on its cheek. I must have held it too tightly. You really couldn't blame me. I get delirious when I am around mangoes. A whiff of its scent is enough to send me into fits of uncontrollable happiness. Fits of uncontrollable nostalgia, too.
Mangoes have this compelling effect on me. I drool as soon as I spot them. Classic Pavlovian response. Green mangoes with bagoong. Ripe mangoes for himagas. Even if they're manibalang [mah-nee-bah-lahng] — nearly ripe — my mouth waters in a snap. I get insanely mad about mangoes. Even if local peaches and plums abound this time of year, I still find myself drawn to my favorite summer stone fruit. And even if the mangoes available here in California — those grown in Mexico — are nothing compared to the mangoes back home, I still find myself longing for a taste, for a fix.
I cradled the mango in my hand where it fit like a glove. It was ripe and ready. I sliced off its plump cheeks with a deft slide of my knife's edge. I picked up its pit, peeled off what was left of its skin and, before long, its juice dribbled down my chin. Before long, the pits piled high in my sink.
Mango Bread Recipe, makes one loaf
Recipe adapted from Saveur Magazine
3 to 4 large ripe Manila mangoes
1/3 cup vegetable oil, plus more for greasing
1-1/2 cups flour, plus more for dusting
3/4 teaspoon baking soda
1 teaspoon cinnamon
1/2 teaspoon freshly ground nutmeg
1/2 teaspoon salt
1 cup dark brown sugar
2 eggs and 1 egg yolk
1/2 teaspoon vanilla extract
1/2 cup chopped walnuts
1/2 cup shredded unsweetened coconut (optional)
Preheat oven to 350 degrees F. Grease a 9 x 5-inch loaf pan, dust with flour and set aside.
How to Cut a Mango. Using a sharp chef's knife, start cutting just off the centerline and cut parallel to the seed. If you come into contact with the pit, follow the contours of the pit and continue cutting. You'll get three pieces: the pit and two so-called cheeks of mango pulp. Using a spoon, scoop the mango pulp out of the cheeks. Dice mango pulp coarsely. You need about 2-1/2 cups coarsely diced mango pulp.
Whisk flour, baking soda, cinnamon, nutmeg, and salt in a bowl and make a well in center. Whisk oil, sugar, eggs and yolk, and vanilla in a separate bowl. Add to well and stir. Fold in mango, nuts, and coconut and pour into prepared loaf pan. Bake until a toothpick inserted into the center comes out clean, about 1 hour 20 minutes.
Make this bread with Manila mangoes — Champagne, Honey, Ataulfo, or whichever way you call it. I find Haden and Kent mangoes too sweet and stringy. Of course, mangoes grown back home are unquestionably best.
More Mango Recipes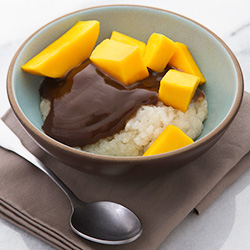 We then indulged ourselves in remembering summers of long ago.  Hikes on a trail next to a river that fed a waterfall.  Picnics under a mango tree.  Pork adobo and pancit in plastic containers.  Sticky rice cakes wrapped in young palm leaves — suman sa ibus. Jars of coconut jam.  And mangoes chilled in cold river water.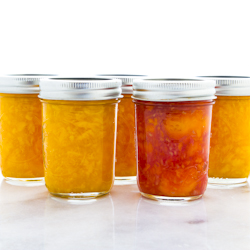 To my heart's content, I was feasting on mangoes I had just picked from the trees. I swaddled them in my white handkerchief whose two opposite corners I tied into a knot. I let them soak in the cold river water for a while to chill them and then, one by one, I peeled them whole.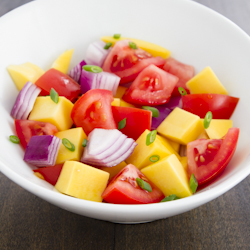 Why am I enamored of this green mango salad? Is it the medley of colors that makes me swoon? A motley mix of yellow and red. White tinged with deep purple and specks of lush green strewn here and there.