"Aren't you cold?" I hollered out to my mom across the yard.
"I'm fine," she cried back. "Don't you worry about me." She clutched her trusted walis tingting, bent forward, and proceeded with her chore, clearing out the fallen leaves under the mulberry tree.
"Be careful with your back," I said. "And with your knees, too! Aren't they bothering you?"
"My knees are fine," she said curtly.
This was our customary conversation every morning before I head out for work. My mom complains incessantly about how cold it is here when she visits but still insists on helping us with the work around the house. She's up before the sun rises and she's out and about in the yard even when there's frost on the ground. "This is what I do," she always says. She cooks and she cleans tirelessly. She does the laundry and irons our shirts. She even irons the drapes in the bedroom windows. "I don't get to do this for you and Dennis often," she reminds me. "Only when I'm here."
Of course, I let her be. How can I not when there's a hot home cooked meal, when there's adobo and ginataan waiting for us at the dinner table? You know she's around when Dennis and I carry those extra mom-is-visiting pounds. But my mom is seventy seven. She's active and spry but I can tell she isn't as strong, isn't as sharp anymore. At her age all she needs to be doing is resting and relaxing. She has rightfully earned it after all these years of being a devoted wife, mother, and grandmother. But for her, it seems, the idea of resting and relaxing means looking after her own the way she knows best.
"Take care of yourself," I tell her always along with the reminders of watching what she eats and paying her doctor a regular visit. "Stay healthy," I tell her. "Stay strong so you can come and visit us again."
"Siyempre naman," she always says. "Surely, indeed."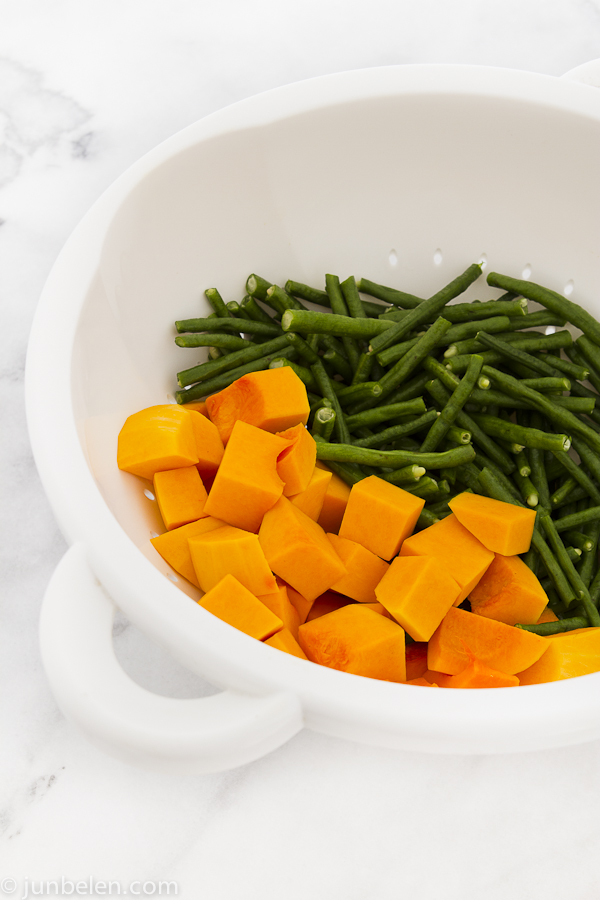 Ginataang Kalabasa at Sitaw Recipe, makes six servings
1 tablespoon vegetable oil
2 cloves garlic, crushed
1 small onion, chopped finely
1/4 pound shrimp, shelled and deveined
1 pound butternut or kabocha squash, peeled and cut into 1-inch cubes, about 2 to 3 cups
1 13.5-ounce can coconut milk
sea salt and freshly ground black pepper to taste
1 bunch yard long beans, cut into 1 to 2-inch lengths
Heat vegetable oil in a pan over medium to high heat. Add garlic and stir fry until lightly browned. Add onions and stir fry until fragrant and soft. Add shrimp and stir fry until just cooked.
Add squash and coconut milk. Add sea salt and freshly ground black pepper to taste. Bring to a boil, then simmer with the lid on, over low to medium heat, until squash is tender, about 10 to 15 minutes. Add beans and continue to simmer until just cooked, about 10 minutes. Adjust taste with sea salt and black pepper. Bagoong, or shrimp paste, adds another layer of flavor to the sweet stew. In place of butternut, kabocha or delicata squash can be used.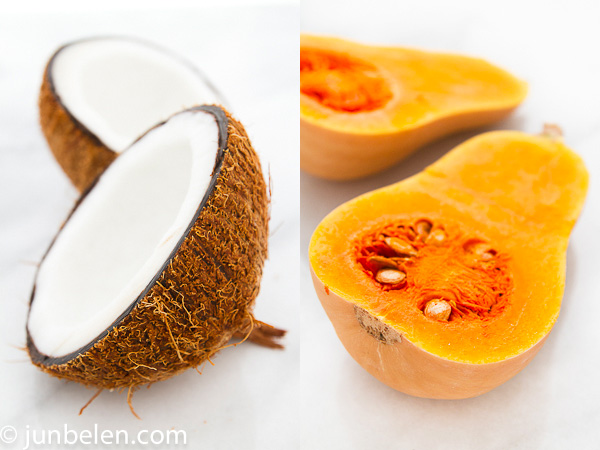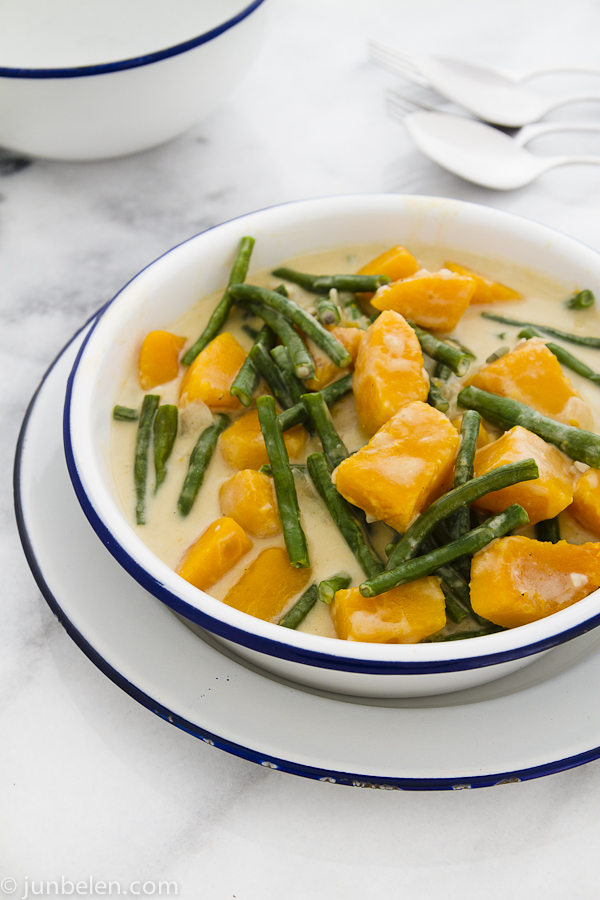 More Gata Recipes

The air was still and the fog glided in a stream that virtually kissed the ground. The blanket of early morning mist that rolled across the marshlands of Coyote Hills looked strikingly dramatic. The slender reed stood tall, nearly motionless, against the faint orange sky lit by the sun that peeked through Mission Peak. It was a stunning sight to see.
Half a cup of coconut milk for a pound of shrimp. Roughly. Use cream instead of milk, when you can. Devein shrimp but keep heads and shells on.
I skimmed through my mom's recipe for shrimp in coconut milk once more. The shrimp had been deveined and cleaned.
"It must be borne in mind that the tragedy in life doesn't lie in not reaching your goal. The tragedy lies in having no goal to reach." — Benjamin E. Mays
I knew it wasn't going to be easy. My legs burned as I dragged them out in the cold. All I could think about was my ginataang bilo-bilo waiting for me at home.