A montage of old, black and white photographs of immigrant families arriving on Ellis Island is playing on the screen. I'm sitting in the Paramount Theater in downtown Oakland on a Wednesday morning in September. The theater is packed. I'm one of the nine hundred fifty one immigrants from ninety one countries taking the Oath of Allegiance this morning, the last step to our naturalization as Americans.
My eyes begin to well up with tears. The images of fathers and mothers with their sons and daughters, dressed up in their Sunday best with hands full of suitcases, remind me of the day I arrived in California nearly sixteen years ago. Los Angeles International Airport was my Ellis Island. Dressed in a white short sleeve button-down shirt, dark blue jeans, and brown loafers, I flew in from Manila on a one-way ticket. I had a Philippine passport stamped with an F-1 student visa, two heavy suitcases, twenty crisp one hundred dollar bills, and a Filipino dream.
I was twenty four when I left home. I was young. I was green but had a good head on my shoulders. I had a good job in a good company. I had a lot going for me but despite of it all I felt deeply unhappy. It wasn't about wanting more or needing more. My family wasn't poor but we weren't rich either. We had enough to live a comfortable life. I wasn't out to my family and to my friends and I knew this burden was the reason for the hollowness I was feeling. I knew that if I stayed I would never be free to be who I am, that I would never be completely happy.
The opportunity to leave and start over elsewhere came as an opportunity to attend graduate school in California. Through a remarkable twist of fate, I met the chair of the Petroleum Engineering Department in Stanford University. We met at a function at work. He was visiting the Philippines to teach a class and to scout for students for their masters program. He invited me to apply and I did. I thought I had nothing to lose. I had all the qualifications and attending school, if I get admitted, would be no cost to my family. A little over a year after we met, I was on a plane bound for California with a fellowship grant to study in one of the world's best universities.
"Be careful," my mother told me as we said our goodbyes. I remember the tearful sendoff at the airport very well. My mother and my sisters wept while my father remained quiet. "You're on your own now." she said. "Take care of yourself."
It was true. I had never been on my own and I soon realized as I settled in that I was not prepared for it. The first few months were one of the most difficult times of my life. Homesickness often snowballed into self-doubt. I often questioned myself if I had made the right decision, if the burden of starting over was all worth it. I flew back home less than three months after I left to celebrate Christmas with my family. It was one of the happiest if not the happiest Christmas I spent with my family. When I returned for winter quarter, I promised my family and myself that I would stay strong. School kept me busy. I started to make friends. I bought a cheap, old, second-hand Mazda 626, which I drove around California. I lost weight and got back in shape. I learned how to cook.
By the time I graduated, the price of petroleum was cheap and the petroleum jobs were disappointingly scarce. I was banking on a job in California but the only jobs I could find were in Texas and Louisiana. There was also the job I left behind back home, which was still waiting for me. But I had already fallen in love with California and I wanted to stay. My best option to stay legally and hopefully permanently was to go back to graduate school for another advanced degree. I was fortunate to receive a fellowship grant to attend the University of California in Santa Barbara. I switched fields of research and studied semiconductors. I weathered another four years in school, which earned me a doctoral degree and a work permit. I waited three years to get my green card and five more years after that to be eligible to apply for my American citizenship.
Surely, I had been lucky. But as I look back, I think I was more patient than lucky. I was more determined than lucky. I worked hard while waiting patiently for everything to fall into place. It took sixteen years. Kung may tiyaga, may nilaga, Filipinos say. Patience comes with reward. I learned about the value of patience early on. My mother taught me my first lesson in the kitchen when I was little.
"Be careful," my mother said.
"I will stay still," I promised her as I hopped on the chair she anchored to the floor in front of the stove. I would promise her practically anything for the chance to follow her around in the kitchen. I peered inside the pot of pig's trotters and the steam from the madly boiling water made my eyes squint. She calmed the flame to let the stock simmer quietly.
With her siyanse, the large metal spoon she uses to stir fry vegetables for guisado, my mother skimmed off the fat from the pot of trotters. I watched her as she deftly wielded the siyanse, running it along the edges of the pot, picking up the foam and pieces of fat but leaving off the stock. She ladled the foam and fat in a shallow bowl next to the stove, which she later tossed in the sink. She dipped the siyanse in the stock then swirled it around to let more foam bubble up to the top. She handed me the siyanse and told me to give it a try. Nervously and clumsily, I slopped stock into the shallow bowl. "Skim just the fat," she said while she wiped off the spill with a rag. I dipped the siyanse the same way she did, swirled it around, and tried it again.
Then she placed the lid back on the pot. "Is it done?" I asked.
"Not yet," she said. "Now, we have to wait."
"But for how long?" I asked again.
"Be patient," she said. "Nilaga takes time to cook."
A lot has happened in sixteen years since I came to California. I came out to my mother and my sisters. I met my husband. I started writing a blog. I became Filipino-American. Patience indeed comes with reward. My mother was right. Nilaga indeed takes time to cook.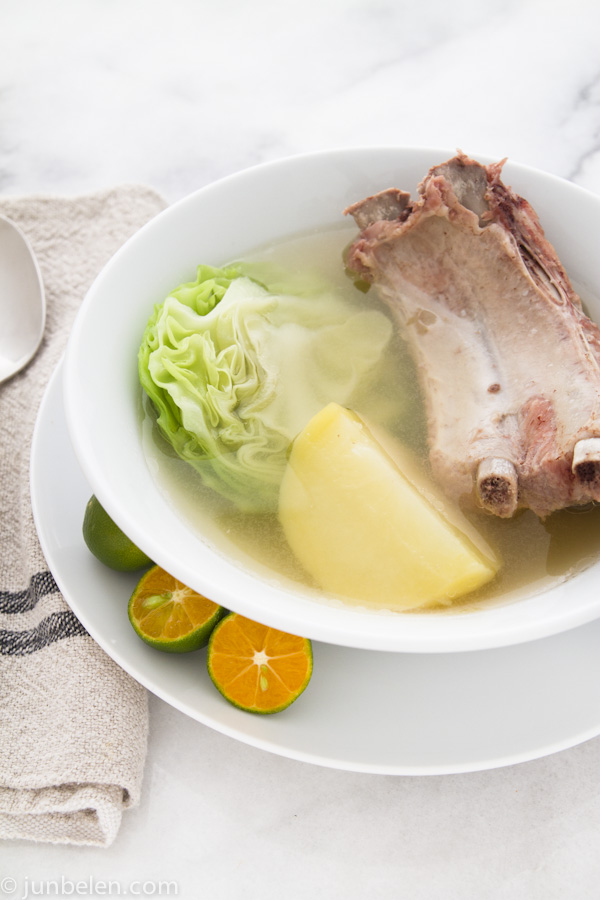 Pork Ribs Nilaga Recipe, makes six to eight servings
1 rack baby back pork ribs, about 2-1/2 pounds, cut into one or two-rib serving pieces
1 small onion, peeled and quartered
1 large carrot, peeled, cut into 1-inch pieces
4 bay leaves
1/2 teaspoon whole black peppercorns
4 teaspoons salt, more to taste
2 medium potatoes, peeled, and quartered
1/2 head small cabbage, cut into strips
fish sauce and calamansi limes
Laga [lah-gâ] means to boil in Filipino. Nilaga [nee-lah-gâ] means boiled. Nilaga is a soup of boiled meat with vegetables. It can be nilagang baka [bah-kah] — beef like shank, or nilagang baboy [bah-boy] — pork like ribs and trotters.
Place pork ribs, onions, carrots, bay leaves, peppercorns, and salt in a stock pot. Add water just enough to cover the ribs, about 8 cups. Bring to a rolling boil over high heat and skim off foam and fat with a spoon. Reduce heat to low and let ribs simmer until fork tender and the meat pulls away from the bone, about 2 hours. Skim off as much fat as you want.
Transfer ribs to a bowl. Strain the stock through a fine mesh strainer. Toss onions, carrots, and other solids. Place strained stock and ribs back to the pot. Add more salt to taste. Add potatoes. Bring to a boil then simmer over low heat until potatoes are cooked, about twenty minutes. Add cabbage just before serving. Cook cabbage for a few minutes then serve with sawsawan of fish sauce and calamansi.