Today was my second trip to Mission Burger in ten days.  I have been raving about their burger ever since I discovered their clandestine operations at Duc Loi in the Mission and I promised Dennis that I'd take him there as soon as we get the chance.  Dennis is my trusted burger connoisseur, among other things, and so I was curious to know what he thinks of it.
After a hike from the Dogpatch to Dolores and back, we made a pit stop at Mission Burger for lunch today.  I was thrilled.  Dennis got their burger and fries and I, on the other hand, feasted on their new offering: the fried chicken sandwich.
Harrison free-range chicken with crispy chicken skin, pickled jalapeño, cucumber, shredded lettuce and secret sauce on an Acme roll.  The sweet and hot pickled jalapeños complemented the crispy and salty fried chicken very well.  And the crispy chicken skin was a wonderful bonus.  It was a bit messy but all great fried chicken sandwiches are messy anyway!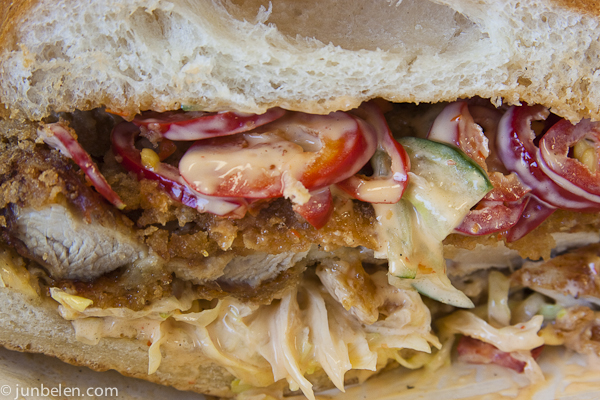 Just a few notes about Mission Burger.  Should you order fries? Absolutely.  If you're not a lemonade person, such as myself, grab a drink at Duc Loi since they only serve mint lemonade and nothing else, not even water.  The dining area is a little snug and you may end up enjoying lunch on a milk crate but, seriously, who cares?  And their sandwiches are only $8, it's an amazing deal.  They're even donating $1 from every sandwich to the San Francisco Food Bank.  And a final word, they're open everyday except Thursday.