Deep reddish brown. Crinkled skin. Richly sweet. Its sweetness reminds me of caramel and subtle hints of wild honey. Medjool dates are one of my favorite things.
My love affair with this Moroccan confection started not too long ago. Four, or maybe five Christmases ago. My friends, Scott and Francis, invited me to their annual holiday party. I almost didn't go because I absolutely hated going to Christmas parties alone. I was alone at that time. Alone and lonely. I was the token single guy in a roomful of cheery couples. Think Bridget Jones. After a few glasses of bubbly, bored and buzzed, I headed over to the buffet table to check out Francis' infamous holiday spread. Grilled flank steak skewers. Cheese and olives. Salmon canapés. And there it was. Medjool dates filled with goat cheese and topped with walnuts. Love at first bite. As I took my first bite, my teeth sinking in its warm, chewy and sticky flesh, I fell in love instantaneously. And helplessly. For the rest of the evening, I stood in one corner, away from everyone, and happily drowned myself in a plate of delicious dates.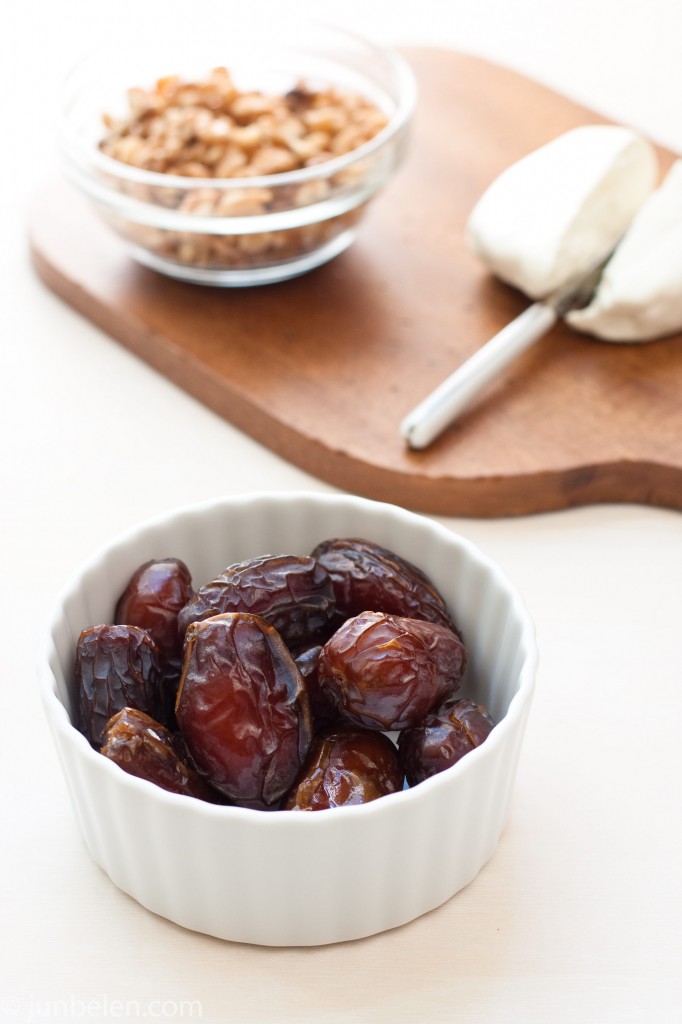 Medjool Dates with Goat Capricho and Walnuts Recipe
California-grown Medjool dates, pitted
goat cheese, or a soft cheese like blue cheese
walnuts, halved or almond slivers
Preheat the oven at 350 degrees F.
Fill the pitted dates generously with goat cheese. I particularly love the Spanish Capricho made from goat milk. I prefer its delicate flavors over the bolder, more pungent blue cheese. Top the cheese-filled dates with walnuts, line them up them on a baking tray and warm the dates in the oven for around 10 minutes.
I made these fabulous Medjool dates for our Spanish-themed dinner party a few weeks ago and everyone loved it. These sweet and sticky treats paired very well with a light and refreshing Albariño.
In San Francisco, California-grown Medjool dates are available in bulk at the Rainbow Grocery Store and at the Alemany Farmers' Market.