It was so hot beads of sweat crawled down my temple.
It wasn't the heat of the sun. It wasn't the colossal crowds — thousands of street food aficionados, crammed in a tiny city block in the Mission celebrating La Cocina's very first San Francisco Street Food Festival. It wasn't the barbecue grills or the deep fryers, either, all cranked up for the festivities, spitting out skewers, tacos, and funnel cakes incessantly.
Instead, it was the fiery harissa on Mourad Lahlou's Moroccan taco flatbreads that made me break a sweat and yelp in delight. The beautifully braised beef cheeks and the spicy harissa melted in my mouth and set it on fire. The crunchy strands of summer squash gave a fleeting relief from the numbing spice but it was the sweet mint tea that finally extinguished it. It was deliciously fiery hot.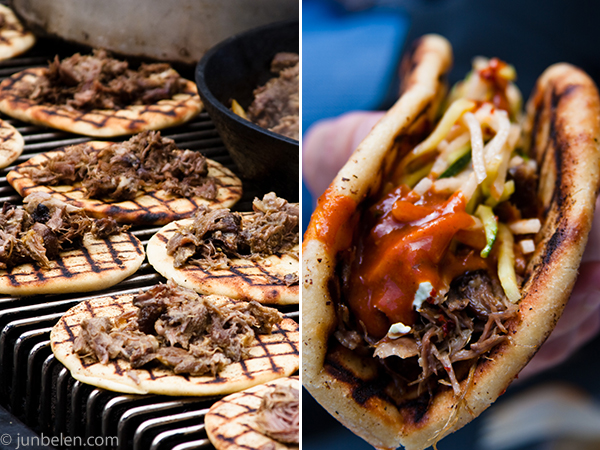 Harissa's heat reminds me of siling labuyo, feisty cayenne peppers I grew up with back home but with hints of garlic, cumin and coriander. Harissa is a Moroccan spicy chili paste made from red chili peppers. It is served as a condiment, or stirred in couscous, soups, and tagines — the classic, rich, and fragrant Moroccan stews. Traditionally, tagines are served in the pot where it's cooked, which is also called a tagine. The traditional tagine consists of a shallow, round dish and a tall, conical lid, which is made entirely of clay and sometimes painted or glazed. The cover is so shaped so that moisture returns back to what is being stewed.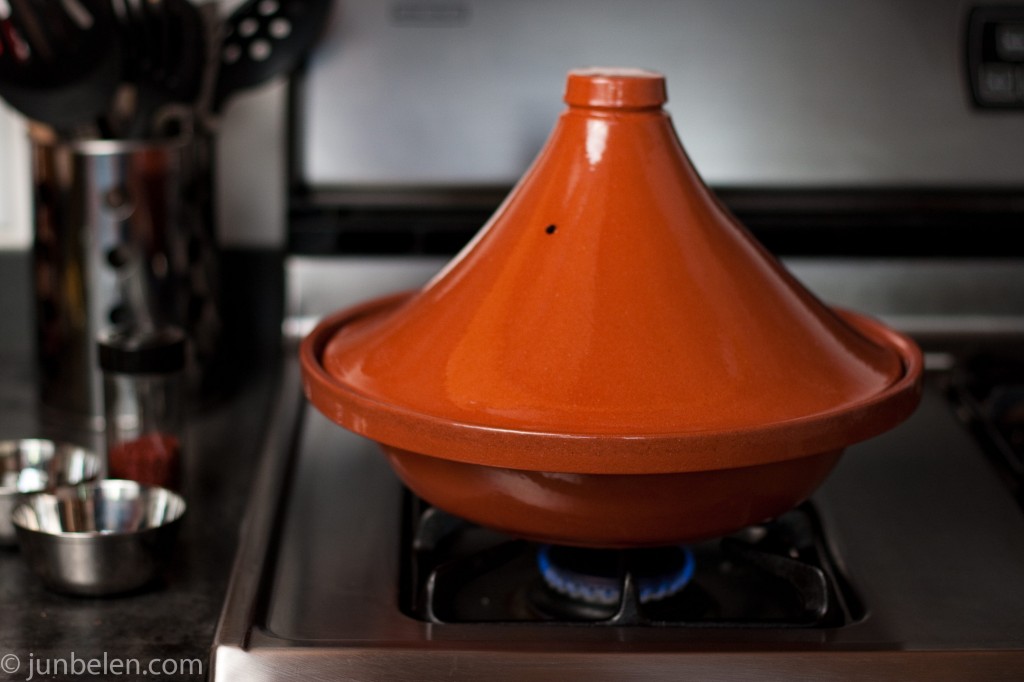 I channeled my inner nomad last weekend and made harissa from scratch and cooked my very first tagine. I wish I could write about a fabulous weekend outing to Marrakech, where I feasted on snails and kefta kebabs and brought home a traditional tagine I bought at the souqs in the square. But it was, instead, a trip to my favorite Sur La Table in the Ferry Building where I bought a glazed terra cotta tagine. There were fancier ones like Le Creuset's but I thought I'd give this inexpensive one a try first and see how my Moroccan cooking skills fared before I fully committed to a loftier vessel. The tagine was stamped Made in Portugal at the bottom, which made me feel a little more confident about my purchase. Then I spotted a tiny hole at the top of the lid, which was another sign it was the real deal. Most authentic tagines, I read, have a small hole to release some of the steam, so that it doesn't try to escape at the seam between the base and the lid. My new tagine did not come with any instructions but came with a label on the box, almost inconspicuous, which directed me to soak the tagine in water for twelve hours and to dry it completely before using. And so I did.
I sought the help of international food and cookbook writer Ghillie Başan for my Moroccan recipes. Making harissa was straightforward but required a bit of brawn to pound the peppers into a perfect paste. I used ancho chilies and made a milder harissa, considering my unremarkable tolerance to heat. For a hotter harissa, cayenne and chile de árbol are recommended.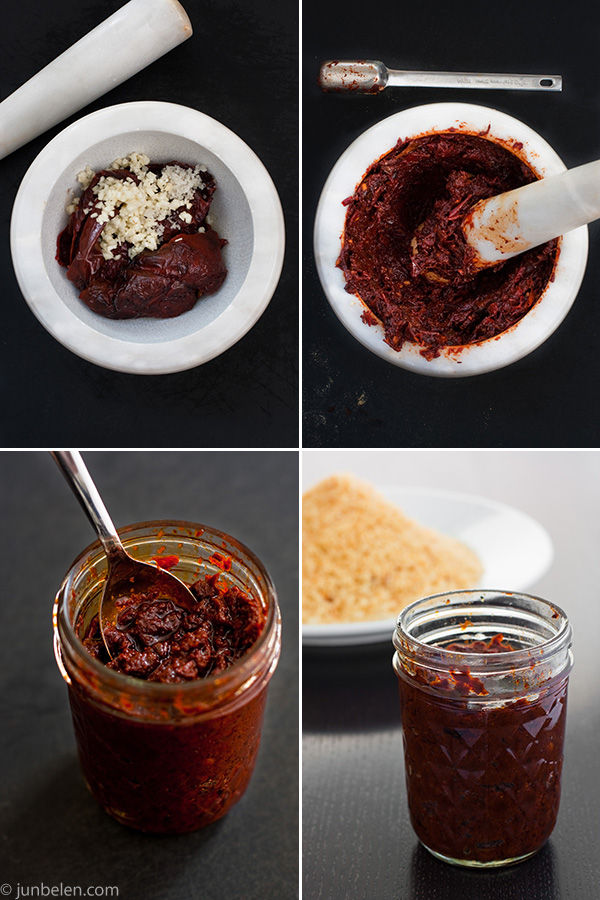 The tagine, I must admit, intimidated me since I had never cooked in a clay pot before. It intimidated me even more after I read Jen Steff's blog at Chicago Foodie and her not-so-pleasant tagine experience. Jen writes,
"The bottom of the tagine cracked completely through, draining the broth onto my oven, counters and floor! I wasn't sure what went wrong: did I cook at too high a temperature, should I have done something to prepare the tagine before hand, was this more of a decorative/serving dish…"
Stanford would be delighted to have tasty tagine broth on the floor but I surely would not. Jen later found out that (1) she did not soak the tagine in water, which I did; and (2) she browned the meat in the tagine on a stove-top over high heat and kept the heat on high when she simmered it, which I promised myself not to do. The great secret of an authentic tagine, Başan writes, is to simmer the ingredients over low heat, which makes everything deliciously moist and tender.
I made a classic lamb tagine with Medjool dates, almonds and pistachios. It is a traditional date and nut tagine, which is a favorite at Moroccan weddings and feasts. I simmered the lamb slowly in a mixture of turmeric, ginger, cinnamon, and onions for almost two hours. I added the dates, simmered it for a little while longer and then added the pan-fried almonds and pistachios.
I piled up a pyramid of harissa-rubbed couscous, flattened out the peak, formed a well and ladled the lamb tagine on top, just like they do in Morocco. The lamb was impeccably moist and tender. The tagine, sweet and fragrant. The harissa, mildly spicy. My rich Moroccan stew paired very well with a light refreshing salad of cubed honey dew melons sprinkled with mint. It was a memorable first Moroccan meal.
For now, a trip to magical Marrakech would have to wait. And while I dream of sitting in a cafe in Djemma el Fna, enjoying dates and sipping mint tea, I have my new tagine to keep me company in the kitchen — a whole new world of cooking to explore.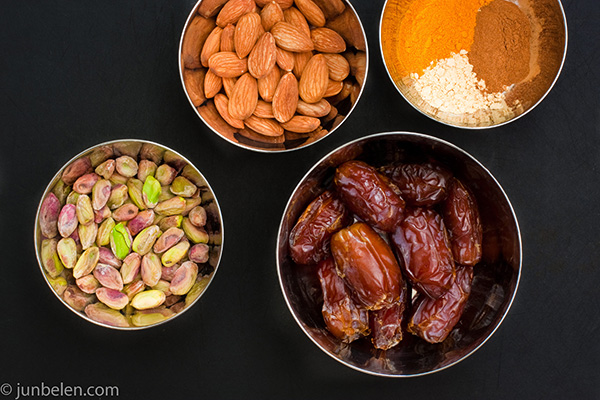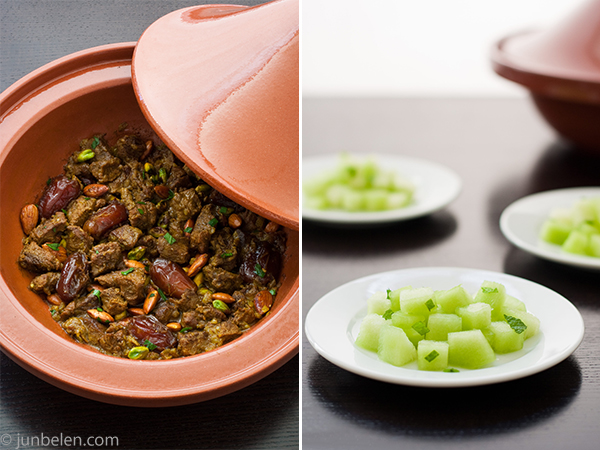 Harissa Recipe
Recipe by Ghillie Başan, makes a 1/4 cup
8 dried red chilies, ancho or New Mexico, seeded
2 to 3 garlic cloves, chopped
1/2 tsp sea salt
1 tsp ground cumin
1 tsp ground coriander
1/4 cup olive oil
Put the chilies in a bowl and pour over enough warm water to cover them. Let them soak for 1 hour. Drain and squeeze out any excess water. Using a mortar and pestle, pound them to a paste with the garlic and salt (or whizz them in a food processor). Beat in the cumin and coriander and bind with the olive oil.
Store the paste in a sealed jar in the refrigerator with a thin layer of olive oil floating on top. It will keep for a month.
Lamb Tagine with Dates, Almonds, and Pistachios Recipe
Recipe adapted from Ghillie Başan, makes 4 servings
1 Tbsp ghee, or olive oil with a pat of butter
1 medium onion, finely chopped
1 tsp ground turmeric
1/2 tsp ground ginger
1 tsp ground cinnamon
1 lb lean lamb, from the shoulder, neck, or leg, cut into bite size pieces
4 oz moist, ready-to-eat, pitted Medjool dates
1/2 Tbsp dark honey
sea salt and freshly ground black pepper
1 Tbsp harissa
1/2 Tbsp olive oil
1 to 2 Tbsp blanched almonds
1 to 2 Tbsp shelled pistachios
fresh flat leaf parsley, finely chopped
Heat the ghee in a tagine or heavy-based caseerole dish. Stir in the onions and saute until golden brown. Stir in the turmeric, ginger, and cinnamon. Toss in the meat, making sure it is coated in the spice mixture. Pour in enough water to almost cover the meat and bring to a boil. Reduce the heat, cover with a lid and simmer gently for roughly 1-1/2 hours.
Add the dates and stir in the honey. Cover with a lid again and simmer for another 30 minutes. Season with salt and lots of black pepper.
Heat the olive oil with the butter in a small pan. Stir in the almonds and pistachios and cook until they begin to turn golden brown. Scatter the nuts over the lamb and dates, add some harissa, and sprinkle with parsley.