In the early morning of the first day of the year, I remember waking up to a thick blanket of white smoke that lingered outside. Everything reeked of firecrackers. The remains of the revelry of the night before cluttered the streets.
It has always been a Filipino tradition to welcome the New Year with a big bang — literally, with sparklers, Roman candles, and hardcore pyrotechnics. The bigger the bang, the better. They say firecrackers ward off bad spirits and reel in prosperity in the New Year. I was too frightened to light a firecracker when I was a kid and so I always ended up screaming "Happy New Year!" at the top of my lungs and shaking my piggy bank spiritedly while jumping up and down when the clock stroke twelve.  Those were Filipino superstitions, too. Loud noise drives unwanted spirits away. Shaking a piggy bank brings abundance.  Jumping up and down helps one get taller. The higher one jumps, the taller one gets, which obviously wasn't as effective as I hoped.
In the early morning of the first day of the year, I remember waking up to the sizzle of embutido frying in a pan in the kitchen.  Year after year, my mom makes embutido for the Holidays.  She mixes ground pork and chorizo with carrots, raisins and pickle relish, forms them into logs, wraps them in aluminum foil, and steams them.  Whenever my sisters and their families come for a visit, she always makes sure they leave with plenty of embutido to take home.  She believes anything round — fruits, sweets, and embutido sliced into round disks — brings good luck in the New Year.  Looking back, I'm actually quite relieved to recall that my mom never made me wear polka dots during the Holidays when I was a kid. What a relief! Thanks, mom.
Once steamed, embutido freezes well for up to a month. Slice them into half-inch round disks and fry them until the edges get lightly seared to a delicious crisp.
Making Embutido
1-1/2 lb ground pork
1 pork chorizo, finely chopped
1 medium carrot, finely chopped
1/2 cup raisins
1/2 cup pickle relish or finely chopped sweet pickles
1/3 cup breadcrumbs
2 eggs
1 teaspoon salt
1/2 teaspoon freshly ground black pepper
Prepare the steamer or preheat the oven to 350 degrees F.
Combine all ingredients in a bowl until well blended. Take a small portion and fry it on a pan. Adjust the amount of salt and pepper to suit your taste.
Divide the ground pork into four equal portions. Cut four 10-inch-long sheets of aluminum foil. Place the meat in the center of the sheet of aluminum foil and form the meat into a log that is roughly 6-inches long. Roll the aluminum foil and seal both ends snugly. Wrap the remaining ground pork.
Steam until the pork is cooked through, 40 to 50 minutes. If you don't have a steamer, you can use a baking pan and wire racks. Fill the pan with half-inch-deep water and lay the embutido on wire racks placed on the pan. Steam bake until the pork is cooked through, about one hour.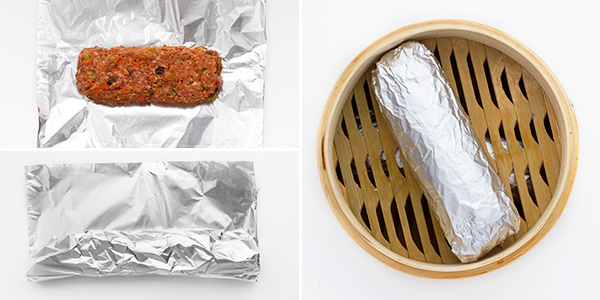 Cooking Notes:
1. Pork is fully cooked when the internal temperature is 160 degrees F. When steaming, it takes about 40 to 50 minutes to fully cook the pork but when steam baking it takes longer, about one hour.
2. Ham and hotdogs can be used in place of pork chorizo.
3. Slice the embutido into half-inch round disks and fry them until the edges get lightly seared to a crisp. Serve with rice and ketchup.