I couldn't believe my eyes. I was standing twenty feet from red molten rock flowing quietly into the sea. As the waves crashed against the fresh lava bench, the water flashed violently into a plume of gases. The stench of sulfur filled the air. It was terrifying, to say the least, and yet I was glued to my precarious spot, not out of fear but out of sheer fascination. I knew I was in a safe place. I couldn't believe what was unfolding before my eyes. It was, without a doubt, a validation of Science. I stood there for a while longer and marveled at the mighty Kilauea.
On our last night on the Big Island, Dennis and I were determined to see molten rock before heading home. It had been an amazing trip so far, packed with adventure. You see, we're the adventure-types who get too antsy on the beach. We celebrated Dennis' 40th 13,800 feet on Mauna Kea's summit. We watched the dazzling night sky and gazed at the Great Orion Nebula and Jupiter's four moons. We hiked across Kilauea Iki's vast crater floor and walked through the eerie Thurston lava tube. We stuffed ourselves with guyabano and rambutan from the Hilo Farmers' Market and feasted on malasadas, saimins and Ken's loco moco. The only thing left to do was pay our respects to Pele and hunt for the fascinating pahoehoe lava.
Decked with flashlights and cameras, we joined nine others in an evening hike across Kilauea's southeast coast to search for lava. We started our lava walk before sunset in Kalapana, the town most affected by Kilauea's eruption in 1983. Lava first entered Kalapana in 1986 and have not ceased ever since — twenty-five years, the longest continuous lava flow in recent history.
"We are standing on what used to be the town of Kalapana, now buried under forty feet of lava," Bo, our silver-haired guide informed us. Bo is a writer and musician who moved to the Big Island not too long ago and now lives in a one-bedroom house with rooftop solar panels in the middle of the immense lava field. "I love living here. I harness energy from the sun, collect drinking water from the rain, and breathe the freshest air."
From his lanai he pointed out the jungle-covered horst, which marks Kalapana's original coastline and the new land that has formed beyond it because of the perpetual lava flow. "The Big Island gets bigger every minute and Google Maps just couldn't keep up," Bo said facetiously.

View Kilauea Lava Walk in a larger map
Lava flows briskly like hot tar when it's very hot and gas-rich. It flows sluggishly like thick honey when its cooler and gas-poor. When red-hot lava cools it turns into black, sometimes gray, rocks that take the form of the ropy liquid they once were. Imagine smooth blobs, toes, folds, and coils. The resulting landscape is otherworldly — hills and valleys of fractured black volcanic rocks covered sparsely with hardy bright-green ferns.
Walking on lava is like walking on crushed glass. We hiked a good mile and a half past jagged cliffs and black sand beaches before we reached an active lava tube that flowed into the sea. Lava crystallizes into a crust and sometimes forms a roof resulting in a natural pipeline underneath the ground called a lava tube. The glow of molten rock flowing through the cracks in the tube was unbelievable. Did I say terrifying?
"You are one lucky group," Bo said. "The chances of actually seeing lava or even just a faint glow are slim most of the time so consider yourselves privileged."
In our hike back to Kalapana, we paused for a moment, turned off our flashlights, and savored the peaceful evening. All we could hear on the edge of the island was the wind blowing from the east and the nighttime serenade of the coqui frogs. It was a humbling experience and, indeed, a privilege. The lovely sunset. The starlit night sky. The orange glow from Halema'uma'u. The molten rock flowing quietly in the pali. For all these, for Dennis, and for so many more, I felt truly thankful.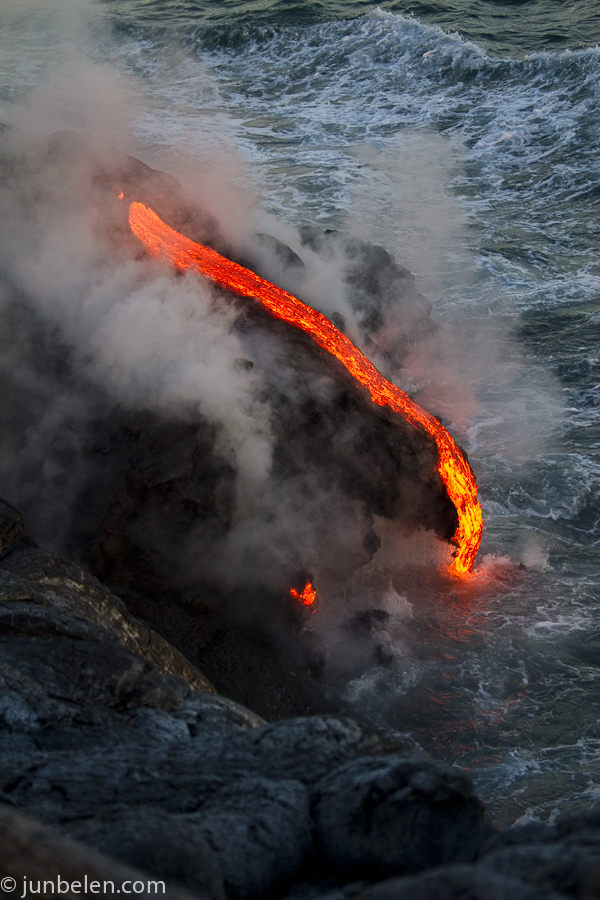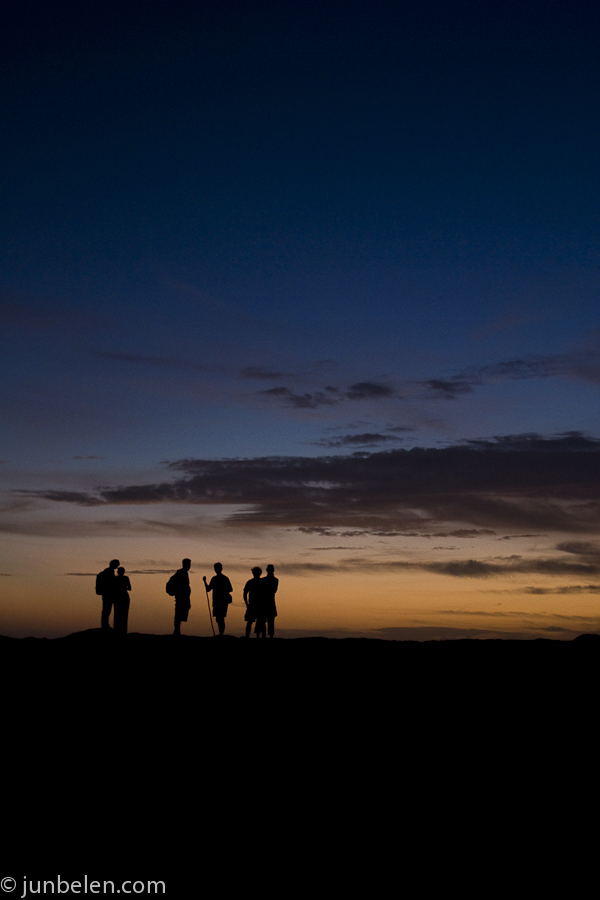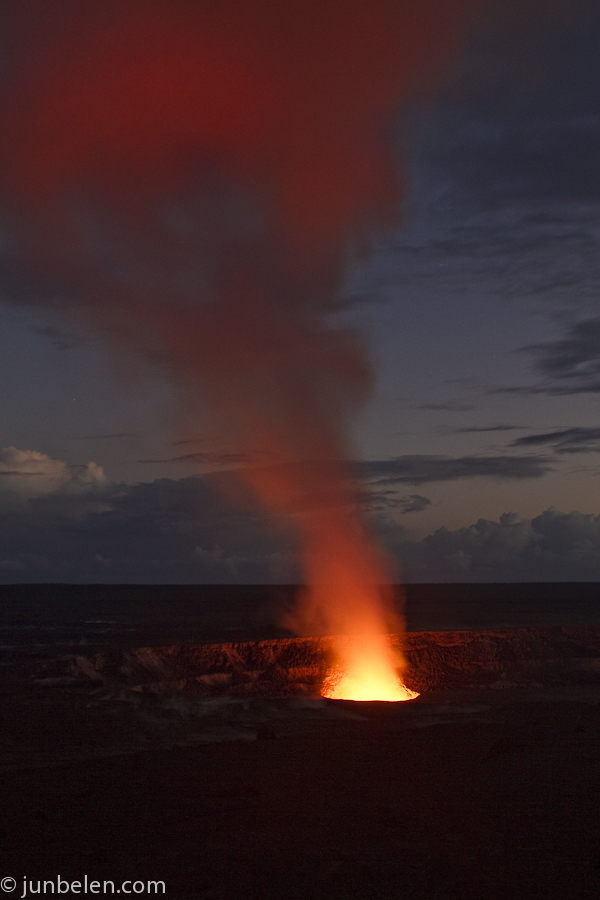 For the adventure-seeker, The Hawaii Volcanoes National Park is a must-see when visiting the Big island. Plan at least two days and two nights to enjoy the hiking trails and the fascinating pahoehoe lava. I highly recommend staying at My Island Bed and Breakfast in the Volcano Village. Kii and her wonderful father, Gordon, are truly accommodating hosts. The Volcano Village is only two miles away from the Visitors' Center and 45 minutes away from Hilo.
Hike the six-mile Kilauea Iki trail, which takes you through the fern-covered rain forest and down to the crater floor. Visit the Jagger Museum at sunset and wait for rainbows and the orange glow from the Halema'uma'u crater. Drive to Hilo for the Hilo Farmers' Market on Wednesday and Saturday mornings, where you can get your fill with the freshest produce from Hilo's local farmers. And of course, don't forget a bowl of loco moco at Ken's House of Pancakes. They're open 24 hours.
Loco Moco Recipe, makes four servings

1 lb ground 85% lean grass-fed beef
1 teaspoon salt
1/4 teaspoon freshly ground black pepper
1/4 teaspoon onion powder
1 tablespoon butter
1 tablespoon all-purpose flour
2 cups beef stock
4 cups cooked rice
4 eggs, fried or poached
Season the ground beef with salt, black pepper and onion powder in a medium bowl and form them into four three-inch patties. Fry the burger patties in a pan, a few minutes each side.
In the same frying pan, melt the butter, add the stock, and heat over medium heat. Sprinkle the flour and whisk until the gravy thickens and turns golden brown, two to three minutes. Season with salt and pepper. Strain the gravy through a fine mesh and set aside.
Assemble the loco moco in a bowl. Top the rice with a fried egg, burger and gravy.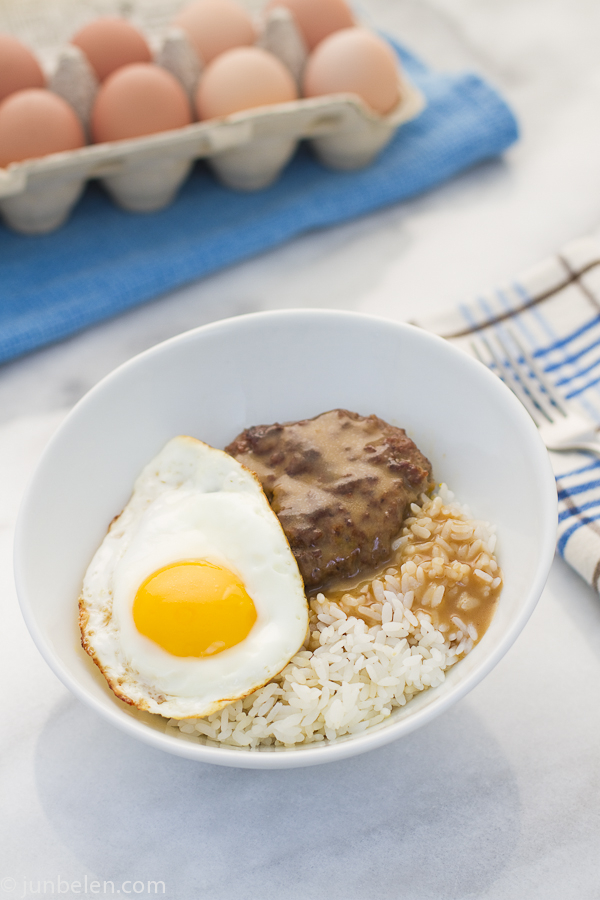 I want Jun-blog!

Jun Belen is the voice behind Jun-blog, a mouthwatering and heart-warming journal of Filipino home cooking nominated for Best Culinary Blog by the IACP. Subscribe to Jun-Blog and receive new posts by email.