At last, the sky cleared up. The rain trickled to a stop and a bow beamed from end to end over Waimea Canyon. We pulled over somewhere along Highway 550 to savor the scene. Fog continued to roll down the red, jagged slopes of the Na Pali mountains while the sea to the south surged and swelled.
Kauai felt like home in so many ways. There is rain. Plenty of rain. Even more so in the North Shore where we stayed.
There are chickens in the wild. Chickens out on parking lots. Chickens out on hiking trails. Chickens right on the beach, I kid you not. The rain pitter-pattered and lulled us to sleep at night while the roosters crowed and woke us up in the morning.
There are rambutans in fruit stands along the roadside, papaya trees heavy with fruit in the locals' yards and taro fields in checkerboard pattern that stretched out for miles.
And there are Filipinos. Plenty of Filipinos. My kababayan — my countrymen — are everywhere, from the general store in Kilauea to the poke joint in Waimea. The best bowl of saimin noodles and the best plate lunch of Kalua pork and cabbage I had on the island were made by Filipino cooks. I was convinced that Kauai is run by Filipinos, that the entire island will shut down without them.
One good thing, I guess, about visiting Kauai in December is that the beaches are empty. We discovered quiet Kahili in the North Shore where the Kilauea Stream opens up to the Pacific and enjoyed our solitude there immensely. If you haven't tried swimming in the ocean in a little rain with a rainbow in the sky then you should try it. You cannot have a rainbow without a little rain, so they say.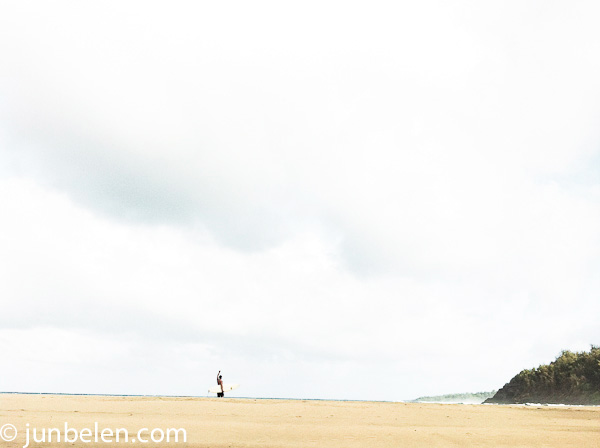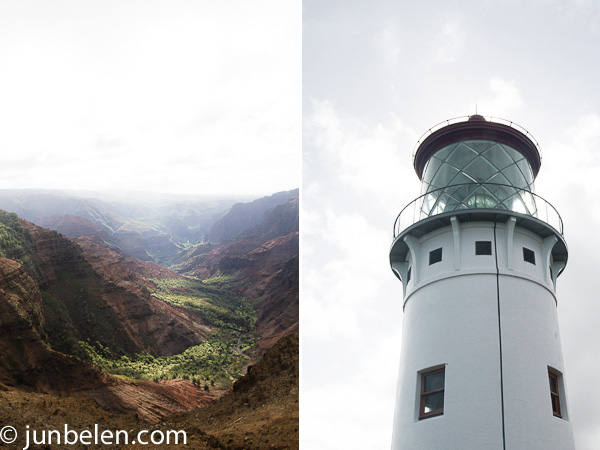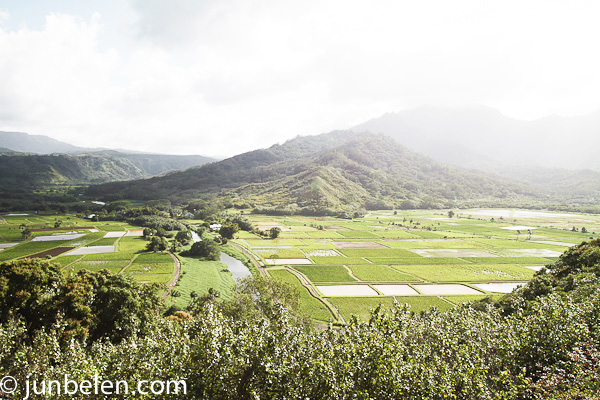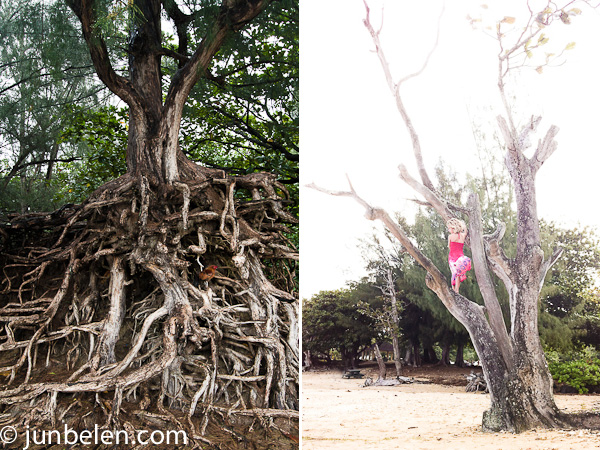 Kalua, in Hawaiian, means to cook in an imu, an earth oven. Kalua pig is a pig cooked in a pit, which is the centerpiece of many a Hawaiian feast called luau. It can be recreated at home by slowly roasting pork rubbed with sea salt and liquid smoke then wrapped in ti or banana leaves. Liquid smoke is a smoke-flavored liquid seasoning available in most grocery stores.
Stir-fry Kalua pork with shredded cabbage and serve with rice and macaroni salad for a classic Hawaiian plate lunch. Fry Kalua pork with garlic, onions, and potatoes and serve as a hash with fried rice and fried eggs.
Oven-Roasted Kalua Pork Recipe
Recipe adapted from Rhonda Kahaunani Lizama's Hawaiian-Style Cooking
2 tablespoons coarse Hawaiian sea salt
1/4 cup soy sauce
2 cloves garlic, crushed
1/2-inch knob of ginger, peeled and crushed
1 teaspoon liquid smoke
5 pounds pork butt roast
frozen banana leaves, completely thawed and thoroughly washed
Preheat oven to 350 degrees F.
Whisk together sea salt, soy sauce, garlic, ginger, and liquid smoke in a small bowl and set aside.
Cut 1/4-inch-deep slits 1 inch apart all over pork roast. Rub pork with salt and soy sauce. Wrap pork in banana leaves and secure with kitchen twine. Place pork in a Dutch oven or in a roasting pan. When using a pan, place a piece of foil over the top of the pork and crimp edges to the pan. Roast until meat is fork tender, about 45 minutes per pound.
Remove banana leaves and kitchen twine. Shred pork with a fork and season with salt to taste.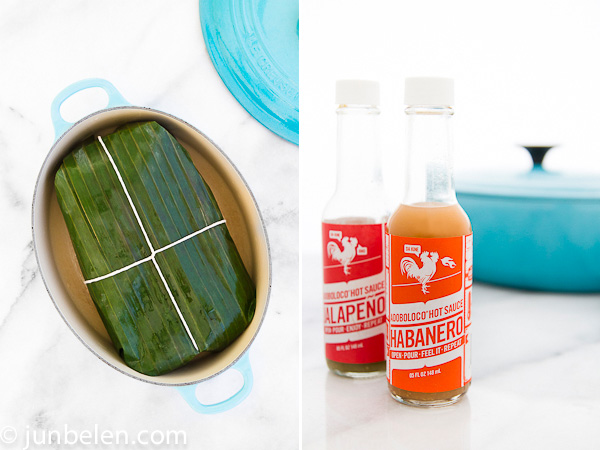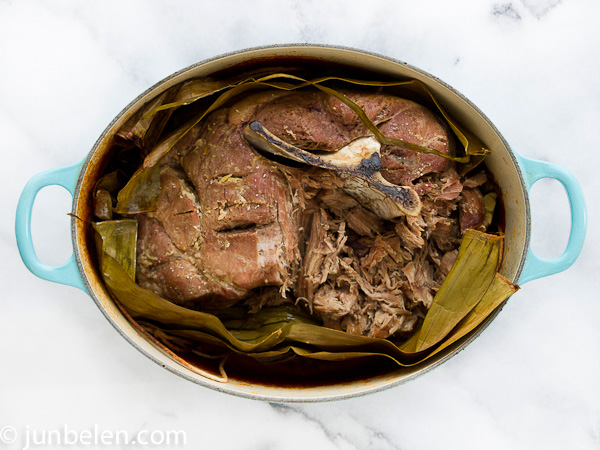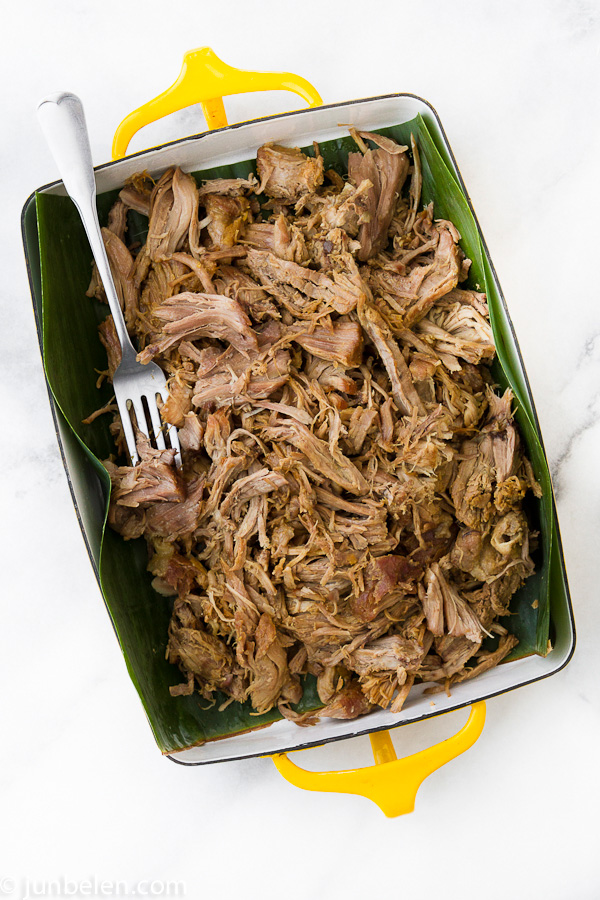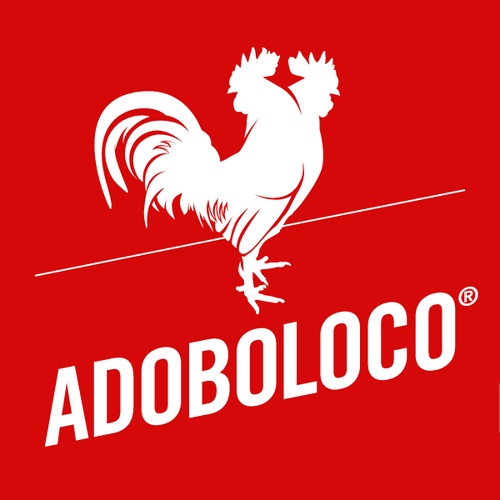 Adoboloco is Tim Parsons' Maui-made hot sauces. Adoboloco was inspired by his love of chicken and pork adobo. It started as a homeschooling garden project with his wife and three children. His handcrafted hot sauces are made from just four ingredients: apple cider vinegar, Hawaiian sea salt, garlic, and chili pepper — jalapeno, Thai and habanero — all organically grown in their home in Maui. Adoboloco gives dishes like Kalua pork, pork and chicken adobo, and pretty much anything a tangy kick.
More Hawaiian Recipes
I couldn't believe my eyes. I was standing twenty feet from red molten rock flowing quietly into the sea. As the waves crashed against the fresh lava bench, the water flashed violently into a plume of gases. The stench of sulfur filled the air. It was terrifying, to say the least, and yet I was glued to my precarious spot…
The colors were incredibly vivid. Lush green foliage. Volcanic black rocks. Water cascading through a series of pools, flowing into the seemingly boundless deep blue sea. The view of the gulch from the old, moss-covered bridge along Highway 31, was absolutely stunning. I managed to filter out the cackle of tourists…
With a plastic fork I salvaged from breakfast, I scooped the guyabano's soft pulp gingerly from its delicate skin. Each bite brought back memories of sweat-soaked summers of long ago. I remembered how its sweet juice dribbles down my chin. I remembered how its white flesh flakes off into countless thin…