The year has been good so far. The mention in the New York Times, however small, and the second Saveur nomination for Best Regional Cuisine Blog were thrilling news but nothing compares to an accolade that comes from fellow Filipinos back home.
Food Magazine, the largest culinary magazine in the Philippines, just turned 17. Food, whenever it turns a year older, has a tradition of paying homage to the country's noteworthy dishes, restaurants, products, and personalities in a list it calls 50 Best — think Saveur 100. In its anniversary issue this year, Food named my humble Jun-blog one of its 50 Best.
"The Pinoy Cuisine Champion. Filipino-American Jun Belen and his website Jun-blog gets our vote with its minimalist yet mouth-watering visuals, nostalgic narratives, and unyielding passion for his home country's cuisine. From our point of view, he's catering to three readers: locals being reintroduced to their food; overseas Filipinos who find comfort in these flavor memories; and international readers who get to understand why we are so proud of our cuisine. Twice-nominated by Saveur Magazine for Best Regional Cuisine Blog, Jun has certainly helped thrust Pinoy cuisine into the international spotlight." — Food Magazine, October 2012.
Thank you Food Magazine for the very kind words. The recognition is, indeed, a huge pat on the back and I am immensely honored to be part of your esteemed list. And thank you more so to you, my dear friends, who follow Jun-blog week after week. Story after story. Recipe after recipe. Writing Jun-blog has been truly rewarding because you have made it so. I can not thank you enough.
A sweet tribute deserves a sweet treat. That's how it goes around here. So help me celebrate with rich chocolate banana bread pudding straight from the same October issue of Food. Grab a bowl and fill it up with warm bread pudding. Enjoy it with a cup of Barako or a scoop of ice cream. Grab a copy of Food, too. The magazine is available in print back home and online elsewhere.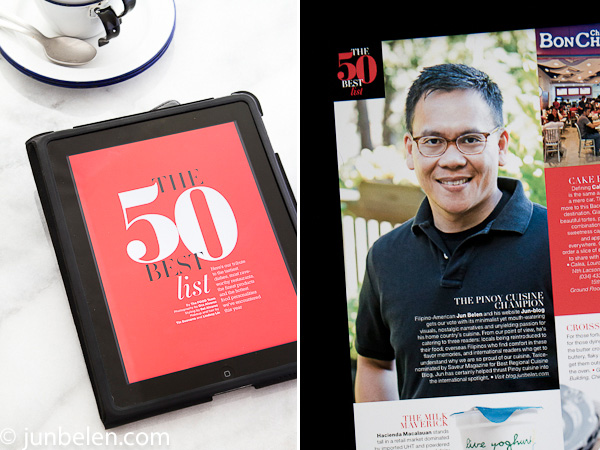 Chocolate Banana Bread Pudding Recipe
Recipe adapted from Food Magazine's October 2012 Issue, makes 8 servings
8 large slices banana bread or 2 store-bought loaves
2 cups milk
3 cups dark semisweet chocolate, about 18 ounces
1 tablespoon instant coffee powder
1 tablespoon butter
3 large eggs
1/2 cup sugar
1/2 teaspoon vanilla extract
powdered sugar for dusting
Preheat oven to 350 degrees F. Grease an 11 by 7-inch or 8-inch square baking pan.
Break banana bread into large cubes. Scatter evenly in the baking pan and toast lightly in the oven, about five minutes. Set aside.
Combine milk, chocolate, coffee, and butter in a double boiler or in a metal bowl set on top of a pot of simmering water. Heat stirring constantly until chocolate melts, about five minutes.
Whisk eggs, sugar, and vanilla together in a large bowl. Add warm milk and chocolate. Whisk together until well combined. Pour over lightly toasted banana bread. Press the bread down to make sure bread absorbs the mixture. Bake until pudding puffs and is firm, about 25 to 30 minutes. Dust with powdered sugar and serve warm.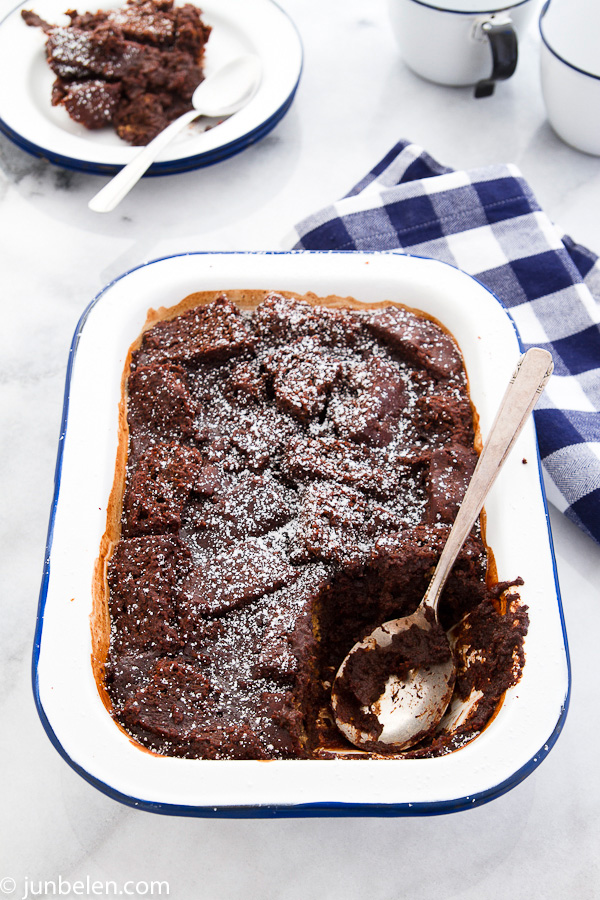 More Chocolate Recipes
My head was stuck in indecision. I straddled the fence as I melted the drops of dark chocolate in the hot metal bowl. Should I ladle the hot chocolate rice porridge into bowls as soon as the rice is done? Or should I wait and let the porridge chill in the fridge until it gels into a sweet rice pudding? Difficult decisions.
It wasn't a sinful seven-layer or a meticulous meringue but a simple chocolate cake with chocolate buttercream frosting. But, mind you, the chocolate cake was like no other chocolate cake. I used tablea for a Filipino twist. I crushed a few blocks of Antonio Pueo into fine powder in my heavy almires and added it to the usual suspects.
My mom isn't a baker. My sisters and I grew up with birthday cakes that were and still are store-bought. So we thought it would be fun to spend the last day of her visit baking in the kitchen. She and I spent the entire afternoon tinkering with spatulas and mixing bowls. We made a decadent black forest cake with cherries that we picked together.