The dirt was as dark as dark chocolate. It crumbled effortlessly in my hand. It smelled wonderful. Fresh. It teemed of life. All good signs the soil was healthy.
I planted my left arm onto the ground to support my back while I knelt on both knees. I leaned forward. I could feel the dampness of the morning on my knees. The plants had already flowered and the leaves had turned yellow and brown. A few months ago I watched Dennis mound dirt around the young, green plants and now they looked spent. A sign they were ready for the harvest.
I brushed off the foot-tall mound of dirt and started digging for treasure. Gathering potatoes is like digging for buried treasure, for buried gold — for buried Yukon Gold. I used a trowel and my hands to dig through the soil, sorting carefully to avoid bruising the potatoes.
One by one they appeared.  Some were bigger than my fist, bigger than my cheeks. Some were as small as marbles. Some were easy to find. Some were buried deep in the ground. Every time I spotted a golden potato I gasped with excitement. I could toss them in olive oil, salt, and black pepper, and roast them until beautifully browned. Crisp in the outside, creamy in the inside. I could peel them, slice them thinly, and fry them for bistek. I could peel them, cube them, and add them in a stew with tomatoes for menudo or afritada. I could peel them, boil them, and mash them with milk and butter. I could even take it a step further and lay the mashed potatoes over a casserole of lamb for shepherd's pie.
Before long, the bins started to fill up. Never mind the dirt stains on my jeans where I knelt. Never mind the dirt stuck to my fingernails. I didn't care for these because I had a treasure trove of golden potatoes.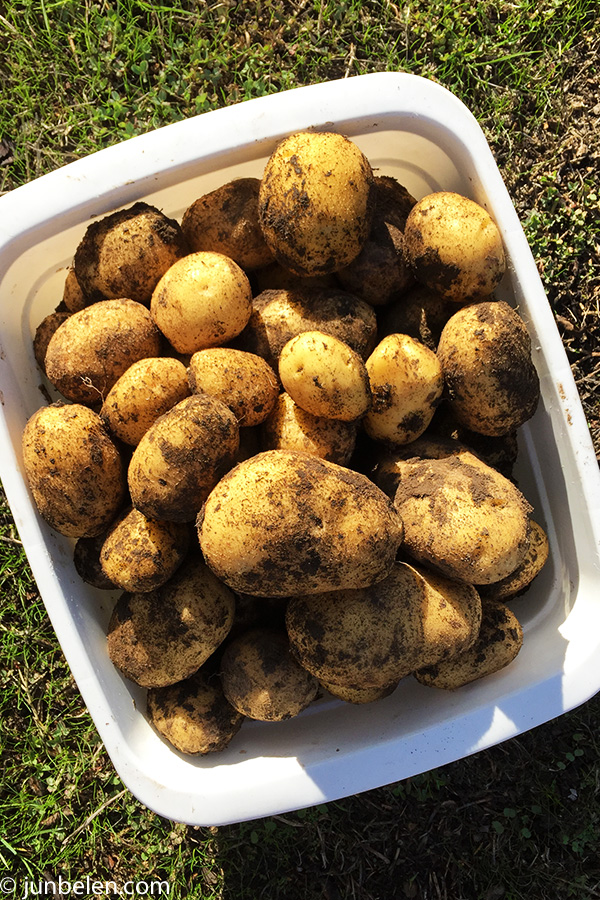 Lamb Shepherd's Pie Recipe
Recipe adapted from Jamie Oliver, makes eight servings
2 pounds ground lamb
2 tablespoons flour
salt and freshly ground black pepper
2 tablespoons olive oil
1 small onion, roughly chopped
2 sticks celery, trimmed and roughly chopped
2 cloves garlic, crushed
1 medium carrot, peeled and roughly chopped
4 strips bacon, roughly chopped
3 short stalks fresh rosemary, leaves separated
1 14 ounce can diced tomatoes
2 pounds Yukon Gold potatoes, peeled
1 cup milk
2 tablespoons butter
Preheat oven to 375 degrees F.
Combine ground lamb and flour in a bowl. Season with salt and black pepper and toss until well combined.
Heat oil in a Dutch oven or a large pan over medium high heat. Saute garlic, onion, and celery until fragrant and softened. Add ground lamb and fry until browned. Add carrot, a large pinch of rosemary leaves and tomatoes. If pan is not ovenproof, transfer to an ovenproof dish. Cover and bake in the oven until lamb is cooked, about an hour.
Meanwhile, boil potatoes in salted water until cooked through. Drain well. In a bowl, add milk to potatoes and mash well until smooth.
Melt butter in a pan. When it starts to bubble, add rosemary and fry until crisp. Add butter and rosemary to mashed potatoes and season with salt and black pepper.
Take the lamb out of the oven. Skim fat and discard. Adjust salt and black pepper. Spoon mashed potatoes over lamb. Turn up the temperature in the oven to 400 degrees F and bake until bubbling and brown on top, about 20 minutes.