Char siu baos are Cantonese buns, bao, filled with a barbecued pork filling, char siu.  They can either be steamed or baked.  I personally prefer the steamed variety either as a snack or as part of dim sum with Chinese tea.  The bao filling can either be savory like char siu pork or it can be sweet like a Lotus seed bun made with sweetened Lotus seed paste.
Siopao is the Filipino char siu bao, which can be filled with pork, chicken, or even salted eggs.  When I was a kid growing up, I always enjoyed tasty siopao with a cold bottle of soda as a tasty snack after school.
How do you make homemade char siu bao?  First make the char siu or barbecue pork filling and then the yeast dough.  Place the filling inside the bun and steam them.  It sounds easy, doesn't it?  This recipe is adapted from .

Char Siu Bao Recipe
Recipe adapted from Andrea Nguyen's Asian Dumplings

For the char siu pork filling
1 Tbsp sugar
1 Tbsp soy sauce
2 tsp oyster sauce
1 Tbsp water
2 tsp canola oil
salt and ground white pepper to taste
2 scallions, chopped white and green parts
1/2 pound char siu, homemade or store-bought, diced (click here to find out where to buy store-bought char siu pork)
1 Tbsp Shaoxing rice wine or dry sherry (optional)
1-1/2 Tbsp cornstarch dissolved in 2 Tbsp water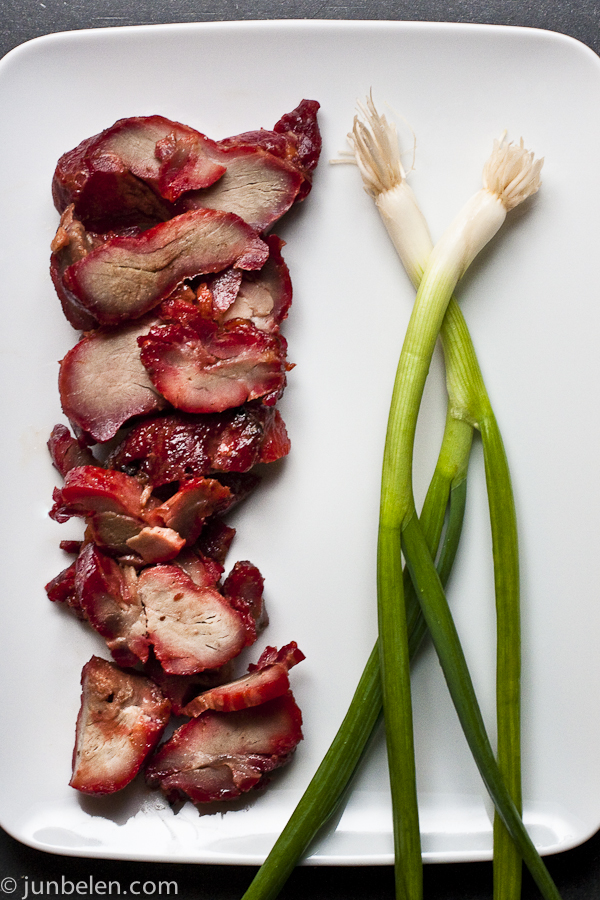 Combine sugar, salt, white, pepper, soy sauce, oyster sauce and water in a small bowl and set aside.
Heat the oil in a skillet over medium heat. Add the scallions, and cook, stirring constantly, for about a minute. Add the char siu pork and stir well.  Add the soy sauce and oyster sauce mixture and cook, stirring frequently, for about 2 minutes, until the pork is heated through.
Add the Shaoxing rice wine to the dissolved cornstarch. Add the wine and cornstarch mixture to the warm pork and cook, stirring constantly, for another minute until the mixture has come together into a mass that you can mound. Transfer to a bowl and set aside to cool at room temperature before using.
The filling may be prepared up to 2 days in advance, covered with plastic wrap, and refrigerated. Return to room temperature before using.
For the yeast dough
1 1/2 tsp instant dry yeast
3/4 cup lukewarm water
2 Tbsp canola oil
2 Tbsp sugar
2 tsp baking powder
3 cups (12 1/2 ounces) flour
Put the yeast in a small bowl, add the water and set aside for 1 minute to soften. Whisk in the oil to blend and dissolve the yeast. Set aside.
Combine sugar, baking powder and flour in a large bowl. Make a well in the center and pour in the yeast mixture.  Slowly stir with a wooden spoon, moving from the center toward the rim, to work in all the flour.  Keep stirring as a ragged but soft dough forms. Then use your fingers to gather and pat the dough together into a ball. Transfer to a clean work surface and knead for about 5 minutes.  You should not need additional flour if the dough was properly made.  Keep kneading until the dough is smooth and slightly elastic.Press your finger into the dough and it should spring back with a slight indentation remaining.
Place the dough in a large bowl that has been lightly oiled. Cover with plastic wrap and put it in a warm, draft-free place to rise such as an oven and let it sit for around 45 minutes until the dough has nearly doubled.  You can refrigerate the dough if you do not need it right away but make sure that it is covered well with a plastic wrap.
Lightly dust your clean work surface with flour.  Cut the dough in half and roll into a foot-long log.  Cut the log into eight pieces.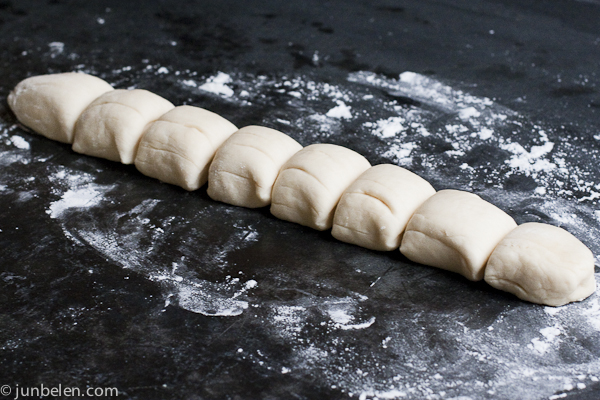 Roll each piece into a ball and flatten each piece gently into a small disc using your palm. Using a small rolling pin (either a 1-inch wooden dowel or the end of a wooden spoon like what I used, would do) roll the edges and only the edges. There should be a small bulge at the center of the dough, which the Chinese calls the belly.
Place a generous tablespoon of your char siu pork filling in the center of the dough, right on the belly. Wrap the filling by pressing and pulling the edges of the dough.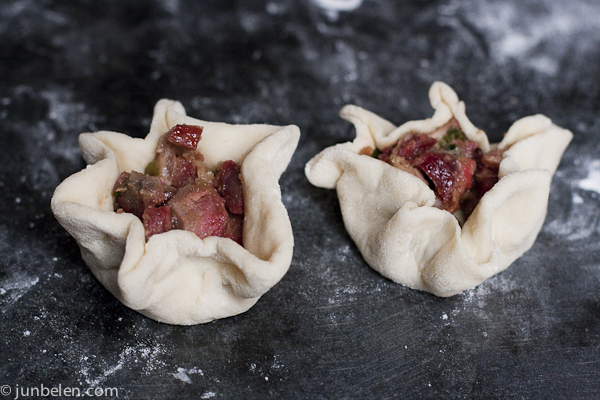 Gather and pull the edges up and twist the top to fully cover the filling.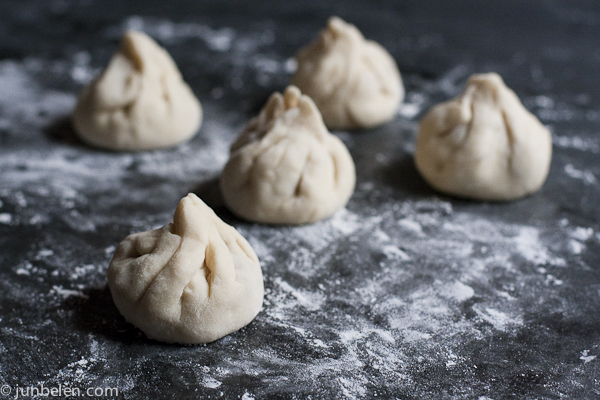 Cut 2-inch square wax paper sheets and use these to line the bottom of each bun before steaming them. Steam up to 4 buns in an 8-inch bamboo steamer. Make sure that there's around a 1 to 2-inch space in between buns inside the steamer.  A bamboo steamer is definitely not a must; a regular steamer will work, too.
Boil water in your wok or a large pan and place the steamers with the buns in your wok or pan. Steam for around 15 minutes. Make sure that the water does not come in contact with the buns.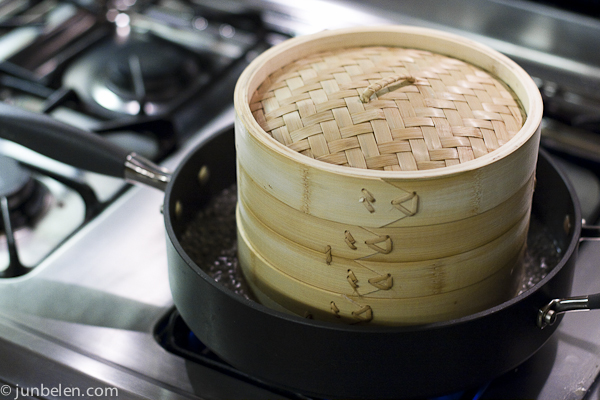 Remove the lid before you turn off the heat to avoid condensed water from dripping back to the buns. Continue steaming the rest of the batch.
You can pretty much put anything inside your bao.  You can make your own barbecue pork from pork loin and your favorite barbecue sauce.  You can even make good ol' Sloppy Joe if you want and make it your bao filling.  But as Dennis cleverly pointed out, it has to be called Un-Sloppy Joe because it isn't sloppy anymore. The fact that the filling is conveniently contained inside the bun actually makes baos a really cool snack.