One of the best things in life is enjoying a freshly baked cinnamon roll. Fresh out of the oven, cinnamon rolls can be sinfully addicting with its soft and buttery interior enveloped in a crisp crust drizzled with a smooth and gorgeous glaze.  Best enjoyed with a delicious cup of drip coffee, they really are life's simple pleasures.
I stumbled upon a cool recipe for cinnamon rolls from food blogger Donalyn Ketchum. What drew me to her rolls was that she made them with cornmeal and molasses, ingredients for making Anadama bread — the dark, sweet and grainy New England treat. The cornmeal adds a delightful texture to the cinnamon rolls that I really loved. There are a lot of recipes for glaze but I chose a recipe that uses brown sugar, which gives a beautiful brown color to the rolls.
Cinnamon Rolls Recipe
Recipe by Donalyn Ketchum, makes 16 rolls
For the dough
2 cups all-purpose flour for making the dough
1/2 cup all-purpose flour for kneading the dough
1/2 cup cornmeal
1 packet (1/4 oz) instant yeast
1/2 tsp kosher salt
1 cup hot water
1/4 cup dark molasses
3 Tbsp melted unsalted butter
For the filling
8 Tbsp (1 stick) melted unsalted butter
1/2 cup sugar
2 tsp cinnamon
For the glaze
12 Tbsp (1-1/2 sticks) unsalted butter
3/4 cup brown sugar
2 Tbsp vanilla
1/4 tsp salt
powdered sugar
In a large mixing bowl, whisk together the dry ingredients: flour, cornmeal, yeast and salt. Mix the hot water, molasses and melted unsalted butter in a small bowl. Pour the wet ingredients into the dry and combine well using a rubber spatula. The dough will be fairly sticky.
On a clean surface generously dusted with flour, knead the dough while gradually incorporating another 1/2 cup of all-purpose flour. Alternate adding flour and kneading the dough. Knead for about 8 minutes or until the dough is smooth and barely moist. Let the dough rest in a bowl greased lightly with canola oil. Cover the bowl with plastic wrap and let the dough rise for about an hour to an hour and a half in a warm spot. We usually turn on the oven to a 100 degrees F and let the dough rest inside. This is a fairly fast-rising dough (a lot faster than pan de sal's) that doubles in size in about an hour.
Roll the dough to a thin rectangular sheet, approximately 16 by 8 inches. Spread the melted butter evenly over the dough, sprinkle the sugar and cinnamon evenly over the butter.
Roll the dough tightly into a log and gently pinch the seam to seal it.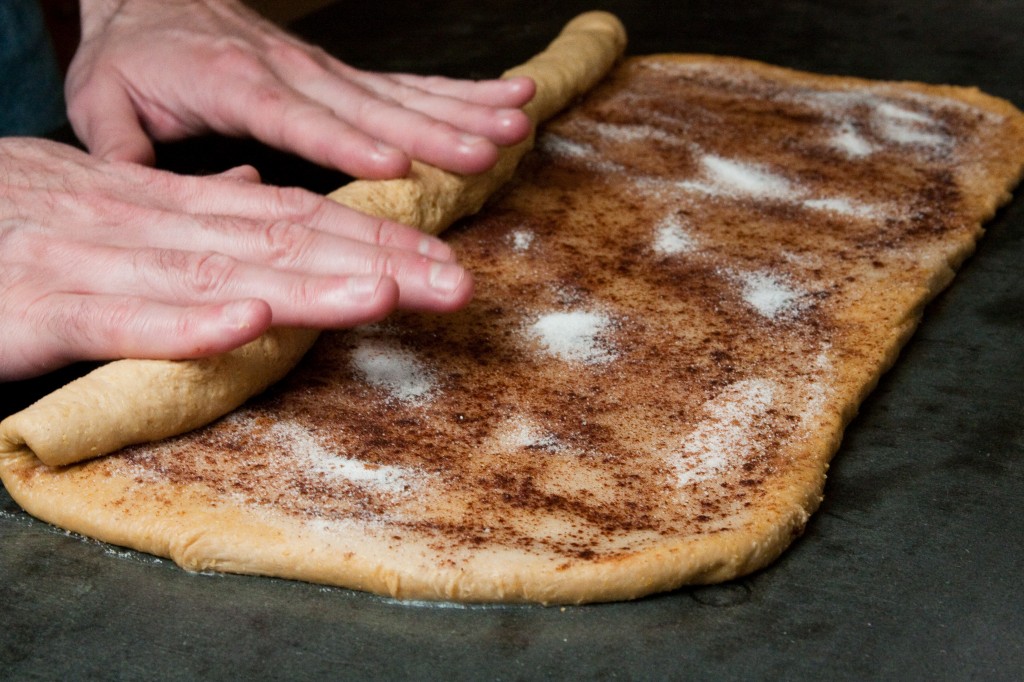 Cut the log into 16 rolls. Place them with a cut side down in two well-greased 9-inch round pans, giving enough space between rolls.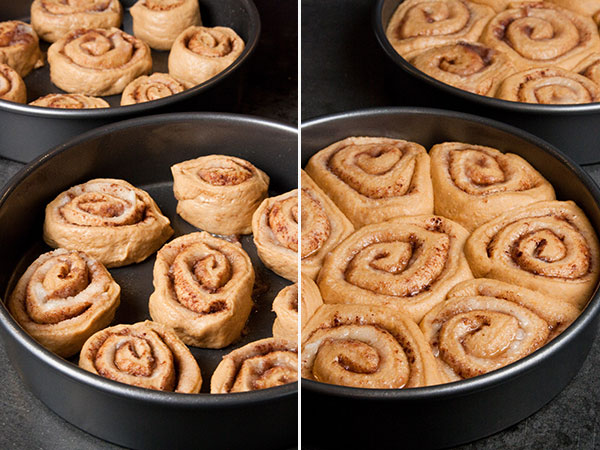 Let the rolls rise for another hour to an hour and a half, until they double in size. Bake the rolls at 350 degrees F for about 20 minutes, until the top of the rolls is golden brown. Set aside and let them cool a bit before topping them with the glaze.
Melt the unsalted butter in a small saucepan, add the brown sugar, vanilla, and salt and combine well over medium heat. Take the saucepan off the heat and add enough powdered sugar to bring it to the consistency that you wish. Beat with an electric mixer until it becomes smooth.
Pour the glaze over warm rolls and enjoy. These Anadama cinnamon rolls are truly amazing.