It was a perfect Spring day.  The sun was beaming but the cool sea breeze was refreshing; breezy but not windy and so the waters were not choppy at all. It was a perfect day to be out on a boat in the deep blue Pacific. It was a perfect day to reconnect with the great King Chinook.
It has been a long time, says Heather Shirley, the friendly deckhand of the Queen of Hearts. It has been a long time indeed, two years to be exact, since the waters off the California and Oregon Coast were last open for commercial and recreational salmon fishing. Last week, the Pacific Fishery Management Council voted to approve a brief Chinook salmon season. The return of salmon fishing represents an effort to save a declining industry despite clear signs that the West Coast's once thriving salmon population has alarmingly dwindled. To fish or not to fish, the issue is obviously polarizing. On one hand, commercial fishermen expressed concerns that the restrictions in the decision may cause more harm than good:
"The cost of rigging a fishing boat for only a few days of fishing, as well as the impact of removing salmon from an already diminished population, outweighs the benefits, many fishermen said." – San Francisco Chronicle.
On the other, recreational fishermen were extremely excited to be back in the water to enjoy something they have missed terribly for so long. This was the case with the folks in the Queen of Hearts last week when Dennis and I joined them for our very first salmon fishing trip.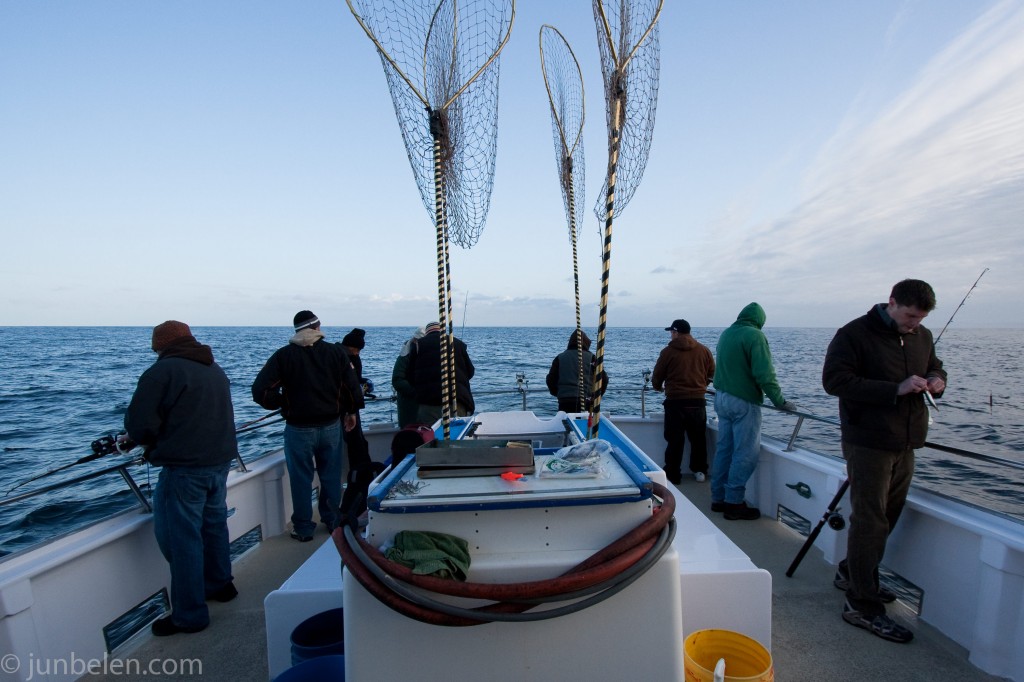 The day started very early. I was still half-awake when we drove down to Half Moon Bay from the city. Dennis insisted that we wake up at the ungodly hour of three in the morning so that we'd get first dibs on the best spots on the boat. Dennis loves to fish. He, together with his dad, brothers, cousins and uncles, takes annual summer trips to the town of North Bay in Ontario, Canada to go fishing for walleye and perch — a family tradition. I, on the other hand, have never gone fishing in my life, not even once. I have faint memories of my dad fishing farm-raised tilapia with his friends when I was little but I never really expressed any interest in joining him. But this time I was excited, and curious about this popular California sport.
After we got our fishing license — single-day for me and one-year for Dennis — we got on board, picked our spots and got our rod and basic tackle kit: a release, a leader and two 2-1/2-lb sinkers.
So how do you catch salmon? You can either troll or mooch. In trolling, the boat is constantly moving through the water at very slow speeds with everyone fishing at predetermined spots with rod holders placed along the rails. When a fish is hooked, the rod tip starts rapidly bouncing and shaking up and down. The fishing rod is removed from the rod holder and the fish is walked to the back of the boat where it is landed.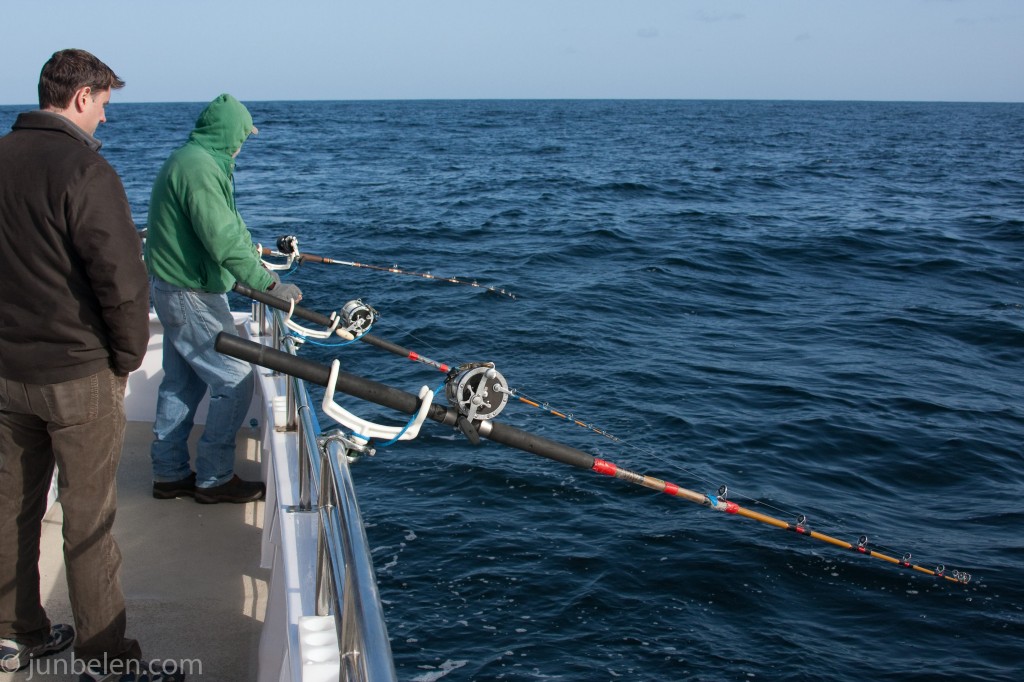 In mooching, the engines are turned off and the boat is allowed to drift. Everyone holds their fishing pole and feeds the line in and out to try to entice a bite. Once the fish bites, the rod is gradually raised and the line is reeled until the fish hooks itself.
We trolled salmon that morning using anchovies as bait.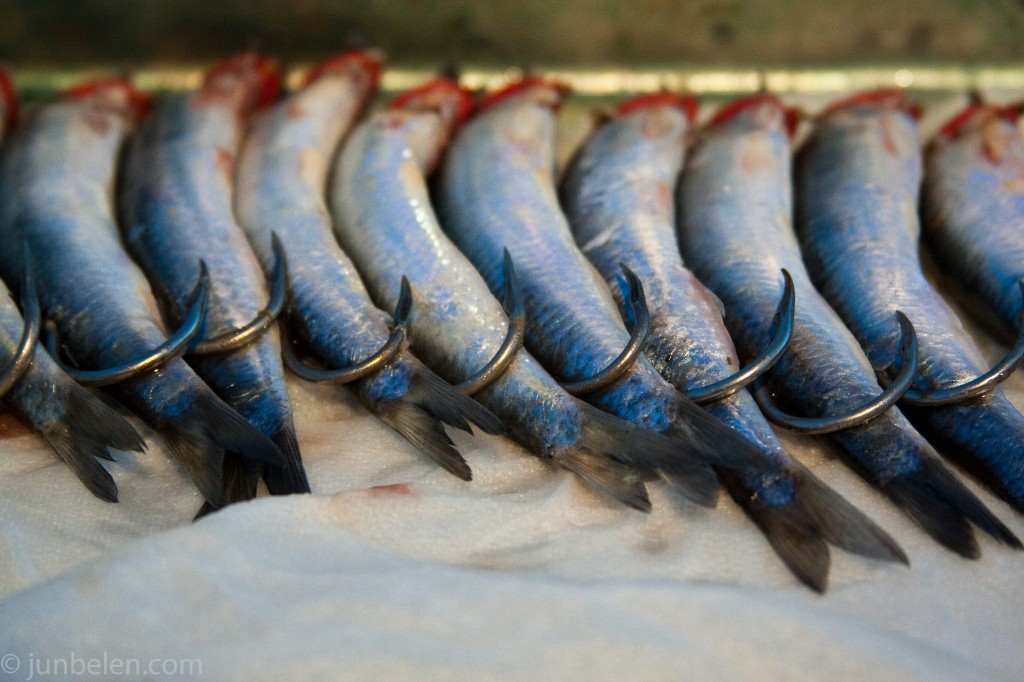 I was initially worried about being nauseous since I have a history of not doing too well on boats but I felt surprisingly good that day. I was snapping photos and snacking voraciously while checking my bait and watching my fishing rod intently. Everyone was assigned a particular depth of water to fish. Dennis fished at 50 feet while I fished at 35. And everyone was supposed to check their bait every ten minutes or so, which was a task that I found a tad more difficult than I envisioned it to be. Lifting the 2-1/2-lb sinker against the drag proved to be challenging for a novice like me but I soon got the hang of it. After all, I had to make sure I can manage to reel in a 20-lb Chinook.
And so you may ask, did I catch a 20-lb Chinook on my maiden voyage?
Let's just say that the only fish photos I snapped that day were photos of the anchovies we used as bait and the tiny krill we caught. The King proved to be elusive. There were a few other boats out in the water that day and none of them caught anything as well.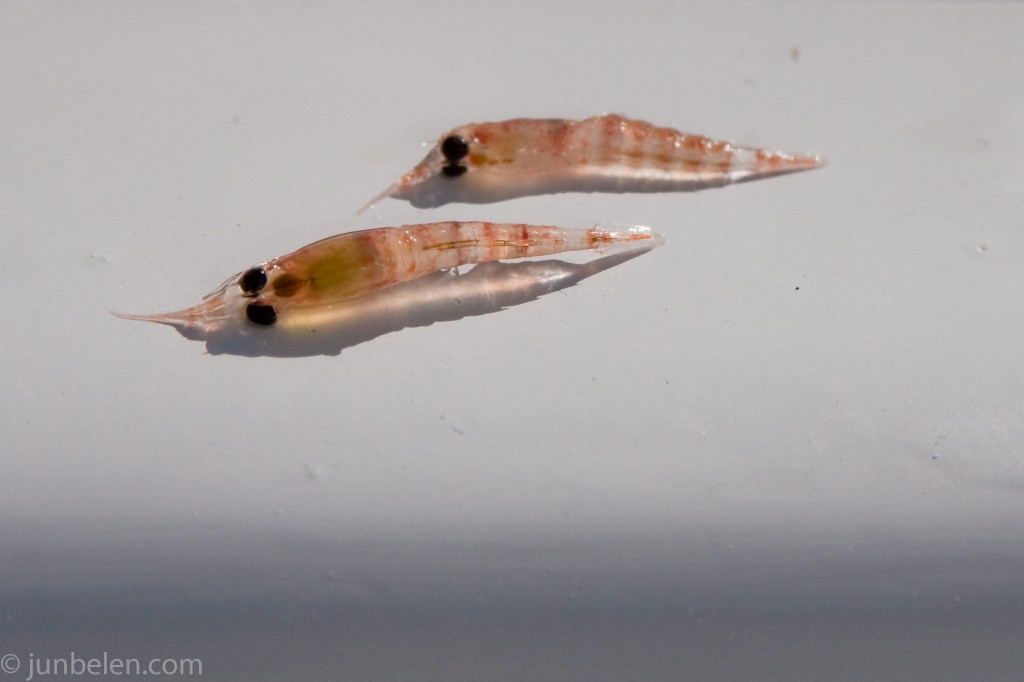 I wasn't disappointed at all — even if we had already made plans to have friends over for dinner to celebrate our catch. Okay, I was a little disappointed but I quickly got over it. Seriously, I wasn't too brokenhearted. It would have been nice if at least someone on the boat had caught something but it was enough for me to experience fishing. It's a lot of work! The experience definitely gave me a deeper sense of appreciation for the hard work fishermen do so I can enjoy a plate of delicious grilled fish for dinner.
But more importantly, the experience clearly underscored the need and the urgency for caring for our environment. According to the LA Times, only an estimated 39,500 Chinook salmon found their way back up the Sacramento River Delta last fall, which is less than a third the number scientists had predicted. The salmon population is plummeting at an alarming rate and the exact reason remains unclear. But one thing is clear: there are certain fishing practices that damage our waters, destroy habitats, and deplete fish populations. As consumers, the best way to help is to support sustainable ocean-friendly seafood — by knowing where the seafood we purchase came from and whether it was farmed or wild-caught.
Here is a link about sustainable fishing, which has a great guide about what to buy and what to avoid.
My first salmon fishing trip was truly fun and memorable but will I come back? Maybe not. It was enough for me to experience it once and to come back home with valuable lessons about food and the environment.